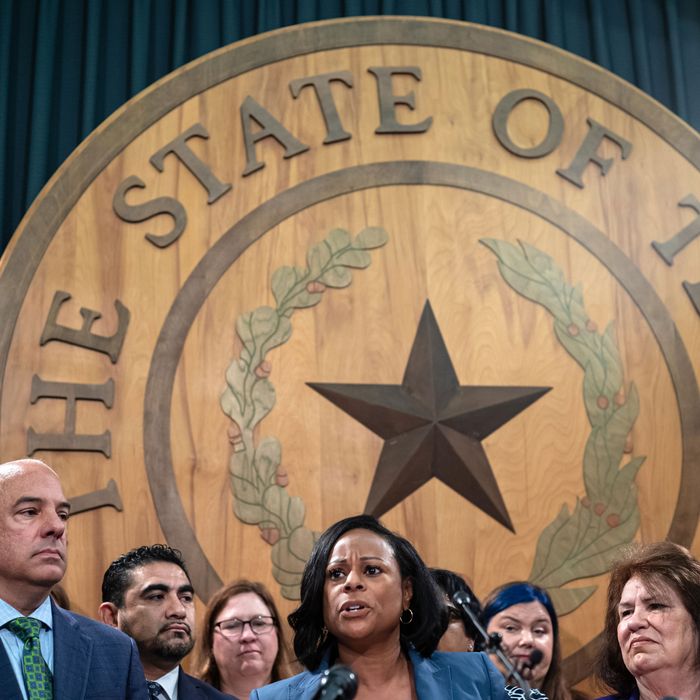 Texas state Representative Nicole Collier, D-Fort Worth, speaks alongside members of the democratic caucus last week.
Photo: Tamir Kalifa/Getty Images
After Democratic lawmakers left the Texas legislature last week in a dramatic, last-ditch attempt to prevent Republicans from passing restrictive voting measures, five members of the caucus have tested positive for the coronavirus.
At least 58 Democratic lawmakers flew out of Austin on chartered flights to Washington, D.C., according to the Associated Press and NBC News. The move is meant to deny Republicans the necessary number of lawmakers present to hold a special session of the legislature convened last week by Governor Greg Abbott. Republicans want to pass a litany of bills tightening voting laws, banning the teaching of so-called critical race theory, restricting transgender athletes in public schools, and making it harder to obtain an abortion.
Since arriving in the capital, five of the Democratic representatives have tested positive for COVID. On Sunday night, in a statement announcing the latest case number, the Texas House Democratic Caucus said that it would "go beyond CDC guidance and provide daily rapid tests for all Members and staff in Washington D.C. for this week." The five representatives who tested positive — Celia Israel, Trey Martinez Fischer, and three others who have not been named — will isolate for 10 days.
The Democrats have used their time in D.C. to rally support for federal voting-rights legislation. They'll have to remain away through the end of the special session, which could last up to 30 days. This is the second time Texas Dems used this strategy in protest of the bill, according to the Texas Tribune, which led Abbott to call the special session in the first place. And in 2003, to prevent a Republican session from passing a redistricting proposal that eventually wiped out several Democratic seats in Congress. Democratic lawmakers fled over the state line to New Mexico.
Upon their return, Democrats could be arrested by law-enforcement officers, though the threat is considered mostly hypothetical. That hasn't stopped Republican officials from wielding that threat: On Tuesday, Governor Abbott said the Democratic lawmakers will be arrested as soon as they touch down in Texas. In an interview with ABC News, GOP House Speaker Dade Phelan said that "a sergeant-at-arms and any officers appointed by him are directed to send for all absentees whose attendance is not excused, for the purpose of securing and maintaining their attendance, by warrant of arrest if necessary." Eddie Morales, one of four Democratic representatives who stayed behind, said that while the sergeant-at-arms "will go to your apartment in Austin or wherever you live close by when you're in session," it's unlikely they will leave the state for an arrest.