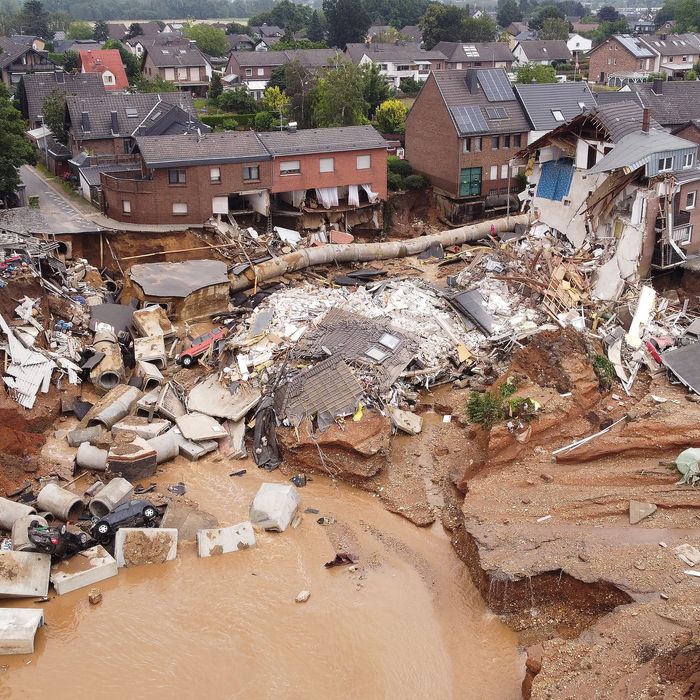 Flood damage captured by a drone camera on Friday in the town of Erftstadt, southwest of Köln, in the state of North Rhine-Westphalia in western Germany.
Photo: David Young/dpa/picture alliance via Getty Images
At least 188 people are dead and hundreds of others still missing after torrential rainfall triggered catastrophic flooding and landslides in parts of Germany, Belgium, Austria, and the Netherlands over the past week. Where floodwaters have begun to recede, local authorities' search and rescue efforts continue, including the grim work of looking for bodies in homes, buildings, and vehicles. Recovery efforts are also underway, picking up the pieces and pumping out the water in mostly riverfront communities which were struck. In Germany, at least 160 people have lost their lives in the floods, almost all in the western states of Rhineland-Palatinate and North Rhine-Westphalia, and hundreds more are still missing. More than 15,000 rescue workers, including police and the military, have been deployed in Germany for the recovery effort. In Belgium, at least 31 people were killed in the floods, and 163 people were still missing as of Sunday. Power, water, and gas outages persist across the region as well.
Scientists and European officials have linked the extreme weather, a slow-moving low-pressure system which dumped five to seven inches of rain or more within 24 hours in some areas of western Europe — to the effects of climate change.
Over the weekend, the flooding shifted to east and south Germany, as well as Austria, after rivers swollen by heavy rain in Alpine areas overwhelmed several towns, reportedly killing at least one person in Bavaria on Saturday night.
Dramatic footage of the floodwaters and rescue efforts continues to emerge, as do startling images of the aftermath. Below is some of what we've seen.
This tweeted video shows the Austrian town of Hallein being overwhelmed by the Salzach River on Saturday:
Germany's Ahrweiler district, south of Köln, appears to have been hit hardest by last week's floods. At least 110 people were killed there and the death toll is expected to climb.
This is a wider shot of the destruction last week in the German town of Erftstadt, which was evacuated (a closer look at where the crater meets the edge of the town can be seen atop this post):
A video from Thursday:
On Thursday, The Guardian compiled drone and helicopter footage for a more expansive view of the flooded region: