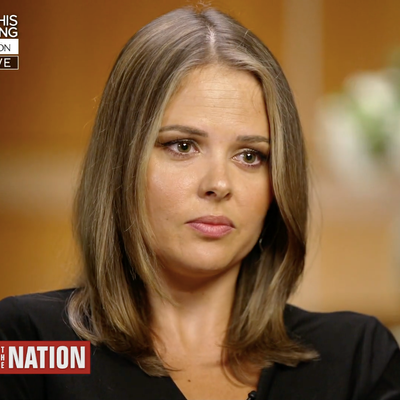 The woman who says Andrew Cuomo groped her in his office is speaking publicly for the first time, explaining her decision to press charges against the governor.
Brittany Commisso told CBS This Morning in an interview that aired on Monday that "what he did to me was a crime, he broke the law," according to a snippet of the interview released Sunday.
Commisso is an executive assistant who works for Cuomo in Albany, one of 11 women referenced in a report by the New York attorney general's office alleging the governor sexually harassed women in and out of state government. In the report, "Executive Assistant #1," as she's named, claims that Cuomo engaged in a pattern of sexual harassment that escalated from sexually suggestive remarks to being groped twice.
On New Year's Eve 2019, Commisso was at the governor's mansion helping Cuomo prepare his State of the State address to be delivered the following day. After finishing a draft of the speech, she said he suggested they take a selfie together. "I then felt while taking the selfie, his hand go down my back onto my butt, and he started rubbing it. Not sliding it. Not, you know, quickly brushing over it — rubbing my butt," she told CBS News.
The alleged harassment crescendoed last November when she was sent to his official residence. Inside his office there, she says Cuomo slid his hand up her blouse and cupped her breast over her bra. She pulled away and told him, "You're crazy." Cuomo has repeatedly denied her allegations, as well as all claims of sexual misconduct.
"I remember walking down the stairs, escorting myself out the front door, going back to my car, taking a deep breath and saying to myself, 'Okay, everything that just happened I have to now pretend like it didn't just happen,'" she recalled in the report. Cuomo's attorney disputed this timeline in a press conference last Friday.
Commisso told investigators she didn't respond more forcefully out of fear of losing her job — or even being arrested if she had fought back. "I was going to take this to the grave," she said.
That was until March 3, when Cuomo held a press conference where he denied claims of harassment brought by other women publicly. At her desk down the hallway from Cuomo in the Capitol, she broke down sobbing. "I felt like he was personally saying it to me that 'I never touched anyone inappropriately,'" Commisso told CBS News. "And, yes, you did."
Two other assistants saw Commisso and she confided in them some of what she says happened. The assistants subsequently relayed her allegations to a higher-up in Cuomo's office. Days later, Commisso's anonymous account appeared in the Albany Times-Union, which published its own interview with Commisso on Monday.
On Thursday following the attorney general's report, Commisso filed a criminal complaint with the Albany sheriff's office, which said it is investigating the allegations against Cuomo (as are four separate district attorneys' offices in the state). When asked by CBS News why she was pressing charges, Commisso answered: "It was the right thing to do, the governor needs to be held accountable."
Commisso apologized to the other women who accused Cuomo of sexual misconduct for not coming forward sooner. "I hope that the other women understand and that I've seen them and I support them. And I thank them, because without them, I don't know if I would have come forward," she said.
"I was afraid that if I had come forward, and revealed my name, that the governor and his 'enablers' I like to call them would viciously attack me, would smear my name as I had seen and heard them do before to people," she continued, an apparent reference to how the governor's inner circle, led by newly departed top aide Melissa DeRosa, alleged retaliated against his first accuser, Lindsey Boylan.
Commisso said she was motivated to finally speak out to protect her daughter from predators. "I never want her to be afraid to speak. I never want her to be afraid of any person in power, a man or a woman."