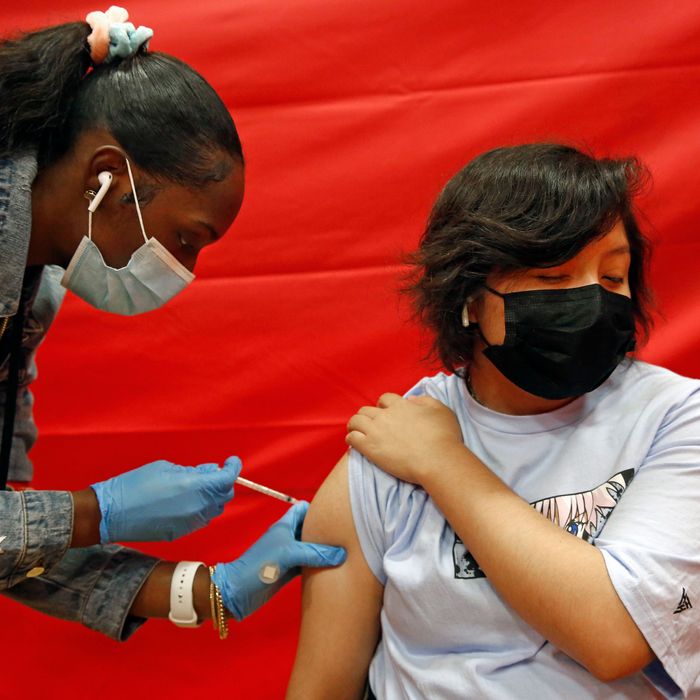 Photo: Dania Maxwell/Los Angeles Times via Getty Imag
To be jabbed again, or not to be jabbed again, that is the question. Though the current crop of COVID-19 vaccines are effective against severe disease and death, a surge in new cases fueled by the Delta variant has contributed to the debate about whether booster shots may soon be necessary, especially as the first people to be vaccinated in the U.S. get beyond the six-month mark. Here's what we know so far about booster shots and who may be first in line when they're available.
What does the science say about immunity?
It's difficult to say just how long vaccine-induced immunity will last given the relatively short time that the COVID vaccines have been tested in people. Early research indicates it could last for several months or a couple of years, but several recent studies have found that antibody levels fade over time. Executives from Pfizer, Moderna, and Johnson & Johnson — the three COVID-19 vaccines authorized for use in the U.S. — have all said their company's data suggests people will eventually need a booster following their first series of vaccinations in order to continue to fend off the virus. It's not unusual for vaccines to require multiple doses spaced out over time, such as those for measles, mumps, and rubella administered to children.
Pfizer shared preliminary data from lab tests recently that suggests a third dose of its shot is associated with a five-fold increase in antibodies in people between the ages of 18 to 55 after their second dose; for those between 65 and 85, it's 11-fold. The company plans to submit its application for booster approval to U.S. regulators in August. Moderna is also looking into booster doses of its shot but has yet to release data on any booster studies.
New data also suggests that COVID-19 vaccines may be taking a hit in efficacy when it comes to the highly transmissible Delta variant. For instance, a study from researchers at Public Health England last week found the Pfizer shot is 88 percent effective at preventing symptomatic COVID against Delta versus 93.7 percent against the original virus strain. Another study found that the Moderna vaccine was 72 percent effective against the Delta variant after one dose compared to 78 percent, while the one-shot adenovirus AstraZeneca shot was just 67 percent effective. While they might not prevent all infections, vaccines still dramatically reduce hospitalizations and deaths to almost zero.
What do the experts think?
Anthony Fauci, the nation's leading infectious disease specialist, told CNN's State of the Union recently that a booster shot "might likely happen" for certain Americans who fail to mount a strong defense against the coronavirus after vaccination: "Namely, people who have suppressed immune systems, those who are transplant patients, cancer chemotherapy, autoimmune diseases, that are on immunosuppressant regimens," he said. That's about 2.7 percent of the U.S. population, according to CDC's advisory committee meeting held last week to discuss whether an additional shot could significantly boost the chances that a person with a weakened immune system will have a protective response. Among immunosuppressed patients who had no detectable antibody response after two doses, 33 percent to 50 percent developed an antibody response after receiving a third dose, according to CDC officials at the meeting. Booster shots for adults with impaired immune systems are already under way in Israel: On Thursday, with cases topping 2,000 for the third day in a row, the country decided to offer a third shot of the Pfizer vaccine to people over 60. Israel's health ministry cited data that Pfizer shot's effectiveness against serious illness for those over 60 who were vaccinated in January dropped from 97 percent to 81 percent. "If this holds up, it's the first sign of a significant dropdown of protection against hospitalizations and death for these vaccines," Eric Topol said of the waning immunity.
To that end, Pfizer reported on Friday that the U.S. government purchased 200 million more doses of their COVID-19 shots, should booster shots be widely administered later this year.
Still, there's been disagreement about how necessary COVID-19 booster shots are. When Pfizer made waves in July about a booster shot, the Centers for Disease Control and Prevention and the Food and Drug Administration responded with a joint statement that fully vaccinated Americans "do not need a booster shot at this time." The same month, the World Health Organization's top vaccine doctor, Dr. Kate O'Brien, said the group doesn't have "enough information to provide a recommendation at this point." In an interview with STAT News, she elaborated on the group's reasoning: "When we are in a position where the evidence is weak and yet people proceed with the intervention, it's really difficult to walk back from that," she said, adding that "one can envision that there would be a world five years from now, ten years from now where we've sort of backed our way into giving doses where we actually can't fully defend the evidence on which that decision was reached."
In a New York Times op-ed, three infectious-disease experts agreed with the WHO's temporary moratorium on boosters, saying that "giving additional shots to already vaccinated persons must not come at the expense of doses going to the unvaccinated and most vulnerable, which would save the most lives." But the consensus seems to be shifting, given the emergence of the ultra-transmissible Delta variant. "We should be prepared to accept that some groups may eventually need an additional dose for full protection," the op-ed's authors added.
"It's easier for this Delta variant to overwhelm low antibody levels, and that's why we were considering whether or not some people might need boosters," Scott Gottlieb, the FDA's former commissioner, told CBS Face the Nation. In the rare instances where vaccinated people contract the Delta variant, new data finds they have a similar amount of virus particles in the passage behind their nasal cavity as unvaccinated people — whose levels are 1,000 times greater than those detected in people infected with earlier variants of the coronavirus. The thinking is that this high viral load among infected, vaccinated people means they are capable of transmitting the virus to others.
On August 5, the Wall Street Journal reported that the FDA intends to have a booster-shot plan completed by early September that will dictate who should get a booster and when they should do so. The accelerated timeline is due to the fact that some seniors and immunocompromised Americans received their doses early enough in the vaccine rollout that they may require a booster as early as August.
What about Johnson & Johnson recipients?
Research suggests that vaccines made with mRNA technology, such as the Pfizer and Moderna shots, offer stronger protection against COVID than the Johnson & Johnson shot, which uses a harmless adenovirus to deliver COVID-fighting information to the immune system. Johnson & Johnson is researching whether doubling up on its adenovirus shot is more efficacious. As the Delta variant spreads across the nation, other experts are considering whether people should follow up the single jab with a second dose of mRNA to build more robust immunity. Though the CDC's official stance is that different types of COVID shots are not interchangeable, Michael Lin, a Stanford University biochemist, previously told Intelligencer that the Johnson & Johnson shot will "likely take a hit in efficacy" and that "a booster shot of mRNA would be very effective in increasing protection."