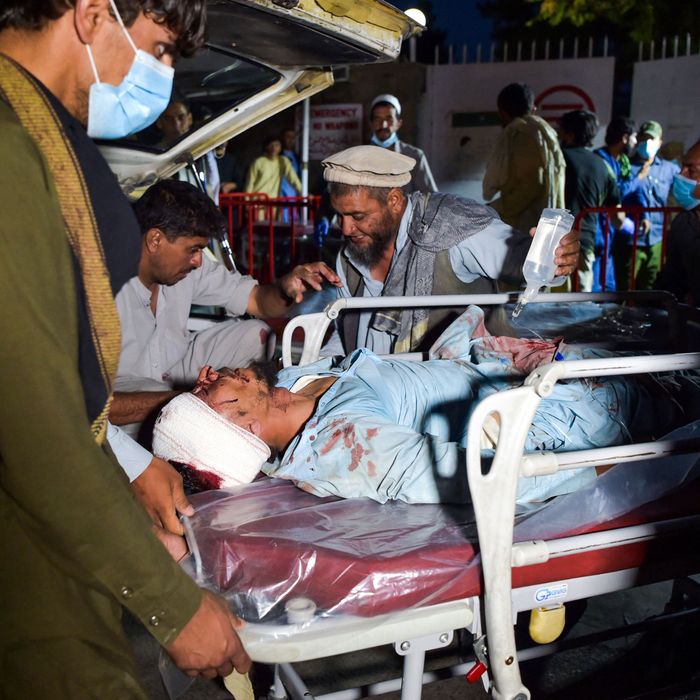 A victim being treated after the attacks.
Photo: Wakil Kohsar/AFP via Getty Images
An explosion triggered by a suicide bomber ripped through crowds outside Hamid Karzai International Airport in Kabul on Thursday, killing 13 U.S. service members and as many as 170 Afghans a— marking the deadliest day for American troops in Afghanistan since 2011. ISIS-K, the Afghanistan branch of Islamic State, claimed responsibility for the attacks. At least 15 American service members and more than 200 Afghans were wounded.
Evacuation flights resumed on Friday, and both U.S. and Taliban forces worked to prevent people from massing at the airport gates.
Responding to the attack in an address on Thursday afternoon, President Biden warned those responsible for the attack that "we will hunt you down and make you pay" and said that he has directed the Pentagon "to develop operational plans to strike ISIS-K assets, leadership, and facilities." Intelligence officials are warning of more possible ISIS attacks in the coming days, but Biden said that the U.S. would continue its evacuation of U.S. citizens and Afghans from the airport ahead of the August 31 deadline to withdraw completely from Afghanistan. In the aftermath of the attack, evacuation flights continued to leave the airport. Early on Friday, the White House said that 12,500 people had been flown out in the past 24 hours.
The suicide bombing took place at Abbey Gate, a main entrance to the airport. Initial reports indicated there was a second bombing at the Baron Hotel nearby, followed by gunfire into the crowd, but on the Friday, the Pentagon said that it no longer believed there was a second explosion. (Witnesses reportedly heard two, however.)
U.S. intelligence officials had warned in recent days of imminent violence from ISIS, which is a sworn enemy of the Taliban.
Taliban spokesman Suhail Shaheen said, "We strongly condemn this gruesome incident and will take every step to bring the culprits to justice."
"I saw a baby girl and I looked at her and I picked her up," an Afghan interpreter who witnessed the blast described to CBS News. "I took her to the hospital, but she died on my hands. What's going on right now is heartbreaking. This whole country is falling apart."
As thousands of Afghans have amassed at the airport in an effort to flee the country since the Taliban takeover earlier this month, the U.S. and U.K. recently warned that an attack could be imminent, while Belgium suspected it would take the form of a suicide bomber.
The U.S. military deaths are the first in the country since early 2020, when then-President Trump negotiated a peace deal with the Taliban. Around 1,500 Americans still remain in Afghanistan, Secretary of State Antony Blinken said Wednesday — days before Biden's deadline for all U.S. forces to withdraw from the country.
This post has been updated.