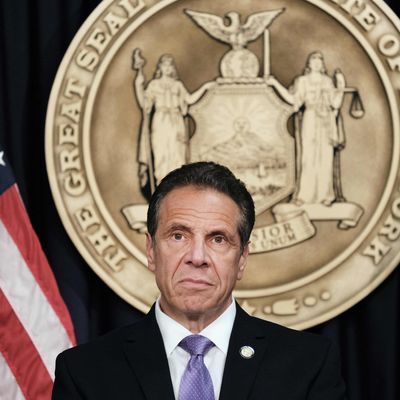 Photo: SPENCER PLATT/POOL/AFP via Getty Images
Governor Andrew Cuomo is being given the choice by his party to resign or be removed from office following a bombshell report released Tuesday by the New York attorney general's office accused him of sexually harassing nearly a dozen women, including current and former state employees.
A dormant impeachment effort in Albany is gaining steam, with a clear majority of members in the Assembly now willing to begin the process of removing the three-term governor, according to the Associated Press. Meanwhile, Democrats from President Biden on down have publicly called on Cuomo to leave his post. At the same time, major labor groups including the AFL-CIO, have rescinded their support for Cuomo, who previously said he would seek a forth term next year.
Cuomo also faces potential criminal charges: Three separate district attorneys in New York have opened criminal investigations off the basis of the report, which alleges he groped and inappropriately touched women. One accuser, Lindsay Boylan, has said she intends to sue Cuomo for allegedly retaliating against her for bringing a claim of misconduct against the governor.
Cuomo is accused of preying on 11 women, including nine who worked in state government, violating federal and state civil laws against workplace harassment. Three district attorneys in New York have opened criminal investigations into Cuomo's alleged conduct. The report also implicates the governor's top aides, who are accused of retaliating against one accuser for coming forward and fostering a "culture of fear" that intimidated women into not speaking up about the governor's conduct.
"The independent investigation found that Governor Cuomo sexually harassed many women, many of whom were young women, by engaging in unwanted groping, kisses, hugging, and by making inappropriate comments," Attorney General Letitia James said in a surprise Tuesday press conference, flanked by lead investigators Joon Kim, a veteran federal prosecutor, and Anne Clark, a well-known employment lawyer.
The 168-page report describes in excruciating detail how the governor allegedly sexually harassed women in his employ. Cuomo regularly touched women who worked for him and around him without their consent, the report found. He kissed them on the cheeks and on the lips, and he hugged them too close. In one instance, he made an assistant wear a skirt and heels and bend over in front of him to look at car parts on eBay.
This was "conduct that is not just old-fashioned, affectionate behavior, as he and some of his staff members would have it, but unlawful sex-based harassment," Clark said.
Investigators questioned 179 witnesses and reviewed more than 74,000 pieces of evidence, including a recording of a 2019 phone call of Cuomo singing "Do you love me?" over and over to his assistant, Charlotte Bennett.
Cuomo responded almost immediately in a 14-minute video statement, acting somber but ceding no wrongdoing on his part. "First, I want you to know directly from me that I never touched anyone inappropriately or made inappropriate sexual advances," he said. "I am 63 years old. I have lived my entire life in the public sphere. That is not who I am." Cuomo chalked up kissing and touching to a warm personal style he learned from his mother, airing the defense while a photo montage was displayed of his publicly kissing men and women.
The governor zeroed in on Bennett, who had previously accused him of making sexually suggestive comments to her at work, including asking the 25-year-old if she had ever considered sex with an older man. Cuomo said Bennett had identified herself as a survivor of sexual assault and that her story "resonated deeply" with him because a female family member of her age had also been sexually assaulted. He said that Bennett "had brought it all back" and that he was only "trying to make sure she was working her way through the best she could."
"Charlotte, I want you to know that I am truly and deeply sorry," Cuomo said, but he added that Bennett and her attorney ascribe motives to him that he never had. "They heard things that I just didn't say."
Cuomo was interviewed last month by investigators, reportedly sitting for 11 hours during which he issued "blanket denials" and said several of the women had initiated the conversations described as inappropriate, according to the report. His office posted to his official website an 85-page statement rebutting the allegations in the report, accusing the investigators of both ignoring his testimony and omitting "key evidence."
The investigation contains previously known allegations by women who had already stepped forward as well as at least one disturbing new allegation from a woman in Cuomo's security detail.
In 2017, according to the report, Cuomo met a female state trooper at the RFK Bridge and asked a member of his protective detail to have the woman hired onto the team. After the trooper was assigned to Cuomo, he repeatedly harassed her, according to Clark: "In an elevator while standing behind the trooper, he ran his finger from her neck down her spine and said, 'Hey, you.' Another time, she was standing holding the door open for the governor; as he passed, he took his open hand and ran it across her stomach from her belly button to the hip where she keeps her gun. She told us that she felt completely violated to have the governor touch her, as she put it, 'between her chest and her privates.'"
The report also provides an extremely rare insight into the world and internal communications of Cuomo's fiercely loyal and tight-knit inner circle. His close aides are accused of retaliating against one female employee for coming forward — part of an intimidating culture that permeated the Executive Mansion. "It was a culture where you could not say no to the governor," Kim said. "And if you upset him or his senior staff, you will be written off, cast aside, or worse."
An exhibit attached to the report gives a window into the tactics of Cuomo's senior aides: An audiotape of a nearly 40-minute phone call between secretary to the governor Melissa DeRosa, counsel Beth Garvey, and Albany Times-Union reporter Brendan Lyons. On the tape, DeRosa repeatedly Boylan and tries to send Lyons an "off the record" copy of Boylan's confidential personnel report in order to discredit her, a violation of state policy.
In recent weeks, several former staffers who talked to Intelligencer have spoken in tones of near terror about the exhaustive depositions they underwent for the attorney general's investigation. Some expressed fear about the professional damage the report would likely cause them when it was released. Some made dark jokes about going to jail. Others expressed rage at the governor for placing their careers in jeopardy with his own reckless behavior. In recent months, Cuomo acolytes and executive-chamber staff have described DeRosa's emotional state as "fragile."
The report leaves Cuomo's political future in doubt.
State Assembly Speaker Carl Heastie, whose chamber is leading an impeachment inquiry, said in a Tuesday-evening statement that Cuomo has "lost the confidence of the Assembly Democratic majority and that he can no longer remain in office." Heastie's counterpart in the State Senate, Majority Leader Andrea Stewart-Cousins, called on Cuomo to resign immediately. Lieutenant Governor Kathy Hochul, next in line to succeed Cuomo, made a thinly veiled reference to impeachment in a statement condemning his "repulsive and unlawful behavior."
They were joined by President Biden, House Speaker Nancy Pelosi, senior members of New York's congressional delegation, Mayor Bill de Blasio, and the presumptive next mayor, Eric Adams.
In the weeks leading up to the report, Cuomo and his aides tried to undermine the state attorney general's investigation, questioning the "transparent political motivation" of the inquiry. James, Cuomo's aides said, wants to run for governor. The deep irony of that accusation — that she had weaponized the office's considerable investigative powers to dirty up the sitting governor in order to clear a path for her own bid for governor — is exactly what Cuomo was accused of doing when he was attorney general under governors Eliot Spitzer and David Paterson.
A little more than 14 years ago, in late July 2007, Cuomo issued a scathing report accusing Spitzer of using state-trooper resources to monitor the whereabouts of powerful Republican State Senate Majority Leader Joe Bruno, a scandal that came to be known as "Troopergate." Cuomo's investigation into Spitzer yielded relatively little in the form of potential criminal offenses but laid out a juicy narrative that wounded Spitzer's reputation after he had run for the office on a platform of ethics reform and moral conviction. The Troopergate fallout damaged Spitzer's ability to legislate in Albany, leaving him with few political allies in the Capitol when federal investigators discovered he had been patronizing prostitutes in 2008, leading to his swift resignation.
Similarly scathing reports helped undo Spitzer's successor, Paterson, a man already prone to self-destruction.
In the spring of 2010, independent investigators tapped by Cuomo's office looked into allegations that the governor had intervened inappropriately when a top aide was accused of domestic violence and simultaneously investigated whether Paterson had lied to ethics investigators about receiving free Yankees tickets while serving in public office. The reports made Paterson look like an immoral small-time crook — a man who lacked the good sense to be governor. The timing was coincidentally convenient for Cuomo, who ran for governor and won the same year.