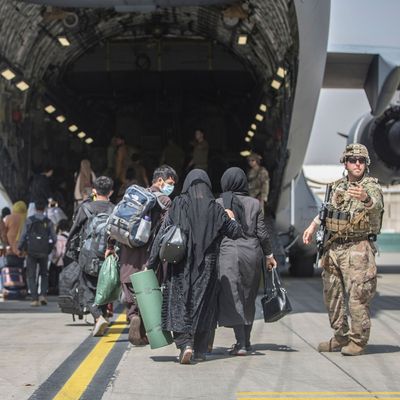 Families begin to board a U.S. Air Force Boeing C-17 Globemaster III during an evacuation at Hamid Karzai International Airport in Kabul on Monday.
Photo: Sgt Samuel Ruiz/AP/Shutterstock
President Joe Biden has decided not to try to extend the timeline for the U.S. evacuation effort in Afghanistan beyond the original August 31 deadline, a Biden administration official told reporters on Tuesday. The president has been facing pressure from European leaders, veterans groups, refugee organizations, and some U.S. lawmakers to extend America's presence in the country by at least a few days. Biden had acknowledged on Sunday that such an extension might be necessary.
Biden has also, however, reportedly asked military leaders for contingency plans if he decides to change his mind about the extension. In an address on Tuesday, Biden also stated that the withdrawal deadline is "contingent on the Taliban continuing to cooperate" by allowing access to the Hamid Karzai International Airport. As of now, the withdrawal of U.S. troops facilitating the evacuation is set to begin on Friday, according to administration officials.
On Tuesday, CIA Director William Burns met behind closed doors with Taliban representatives to discuss prolonging the American presence at the Kabul airport. But the Taliban has said the idea is a nonstarter. They reiterated that stance on Tuesday, and a spokesman for the group claimed it would no longer allow Afghan nationals to travel to the airport. U.S. officials have also expressed concerns about the stability of the security situation in and around the airport, citing the possibility that the airport could be targeted by Afghanistan's ISIS affiliate.
At the same time, amid persistent bipartisan and international condemnation of Biden's Afghanistan withdrawal, the administration has been having more success, at least numerically, in evacuating Americans and Afghan allies from Kabul. With the U.S. military rapidly accelerating the pace of airlifts, Biden stated on Tuesday that American forces have evacuated over 70,000 people since August 14.
White House officials said that in a 24-hour period from Sunday to Monday, 28 military flights left Hamid Karzai International Airport carrying 10,400 people, and that another 6,600 were evacuated later on Monday. Overall, the White House says the U.S. military has evacuated 58,700 people since August 14.
According to a leaked State Department cable, around 26,000 had been evacuated as of midday on Monday, though that number may encompass fewer days than the White House figure. The 26,000 leaned heavily toward Afghans who played a role in the two-decades-long American occupation of the country.
As of last week, there were as many as 15,000 American citizens left in the country, many of them contractors.
No Americans have been reported wounded or killed since the Taliban swept into Kabul. Still, scenes of chaos and violence are still commonplace at the airport. One Afghan soldier was killed on Monday by an unknown sniper; seven Afghans were killed on Saturday, including the 2-year-old daughter of an interpreter. Desperate Afghans continue to flock there, with many turned away.