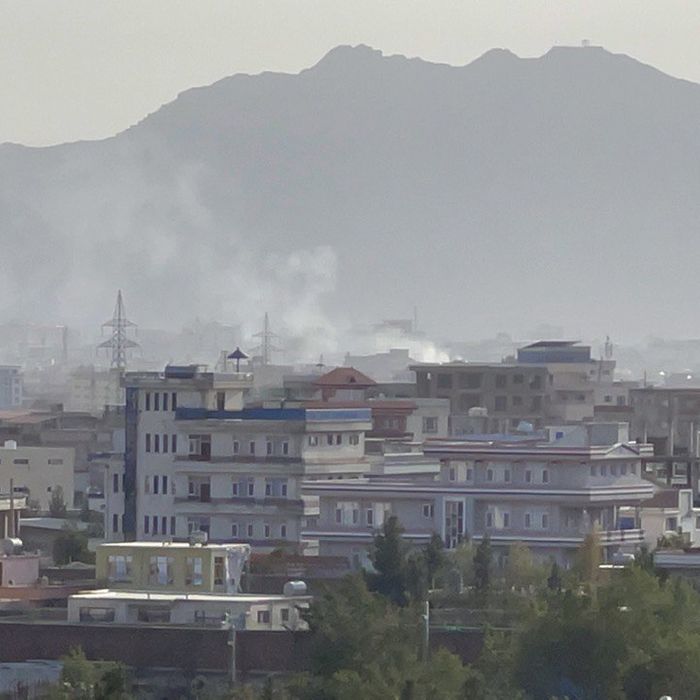 Smoke rises after an explosion in Kabul, Afghanistan, on August 29.
Photo: Haroon Sabawoon/Anadolu Agency via Getty Images
A U.S. drone strike targeting a suspected ISIS-K suicide bomber team in Kabul on Sunday killed at least ten Afghan civilians, including seven children, according to eyewitnesses.
Family members of those killed told the New York Times that the strike occurred as Zemari Ahmadi, who was employed by a non-profit, arrived home in his white Toyota Corolla in the courtyard of his walled family compound. A missile fired by a U.S. drone struck a nearby vehicle as Ahmadi's family members, including several small children, came outside to greet him.
"At first I thought it was the Taliban," Ahmadi's 21-year-old daughter, Samia, told the Times. "But the Americans themselves did it." Her fiancé, who was a military contractor for the U.S. and a former Afghan army officer, was also killed in the strike.
U.S. Central Command, which claimed that the strike also destroyed a vehicle full of explosives that were set to be used in a future attack against American troops at Kabul's airport, said in a statement that it was "aware of reports of civilian casualties." On Monday, Pentagon spokesperson John Kirby added that the U.S. is "assessing and investigating" the reports, as well as coordinating with the Taliban to confirm the deaths. When asked directly about the casualties, he said that "we are not in a position to dispute it right now." He added that "no military on the face of the earth works harder to avoid civilian casualties than the U.S. military."
Such casualties have hardly been rare during America's involvement in Afghanistan, and soared during the Trump years when rules of engagement were loosened. An estimated 700 civilians were killed in 2019 alone.
The U.S. operation came less than a day after President Biden announced that the Pentagon had warned him that another attack on U.S. forces at the city's airport was likely within 24 to 36 hours.
Sunday marked the second strike on suspected ISIS-K militants since Thursday's devastating suicide attack by the militant group outside Kabul's airport, which killed 13 U.S. service members and at least 170 Afghan civilians. On Friday, the U.S. conducted a drone strike near Jalalabad in Nangarhar province, killing two ISIS-K militants including a "planner" for the group, according to the Pentagon. President Biden had vowed to retaliate against ISIS-K, the Afghanistan affiliate of ISIS, following Thursday's attack at the airport.
This post has been updated.