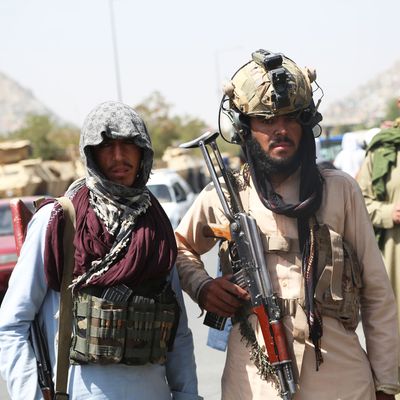 Taliban fighters.
Photo: Str/Xinhua via Getty Images
After nearly 20 years, the U.S. presence in Afghanistan is about to come to an end. Taliban fighters have taken control of every major city in the country, the Afghan president has fled, and U.S. and Afghan personnel are quickly being evacuated under the watch of thousands of American troops. Below are updates on this unfolding situation as it develops.
Biden Won't Acknowledge Any Errors
In an interview with ABC's George Stephanopoulos, President Biden said there was no way the withdrawal of U.S. troops from Afghanistan could have happened without significant chaos erupting, and he did not acknowledge any errors in his administration's handling of the situation.
When Stephanopoulos asked Biden whether what happened on the ground had been a failure of "intelligence, planning, judgment, or execution," Biden began to say it wasn't a failure, before pointing to the fleeing of the Afghan president and the "collapse of the Afghan troops we had trained" as the proximate cause of the problems.
When Stephanopoulos asked how he had reacted to pictures of the chaotic scenes at Kabul's airport, Biden snapped that the scenes depicted had happened "four days ago, five days ago" (it was actually two), and that the problems had hardened the resolve of American troops to restore order to the airport, which they have.
And asked if the whole affair could have been handled any better, Biden offered a flat "no." "The idea, somehow, that there was a way to get out without chaos ensuing, I don't know how that happens," he said.
The Supposedly Gentler Taliban Fires Into a Protest Crowd
After seizing control of Kabul on Sunday, the Taliban took pains to signal that their rule of Afghanistan this time around would be a less repressive version of the reign of terror they inflicted when they were last in control of the country, from 1996 to 2001. They began talks with ousted leaders from previous national governments and promised an "open, inclusive Islamic" system. And they made noises about respecting women's rights — at least to a degree. The group has said, vaguely, that it would respect women's rights "within the framework of Islamic law."
But there were early signs that this would not be a kinder, gentler kind of rule.
On Wednesday, Taliban forces violently broke up a protest against their rule, killing one and wounding six. The AP reports that the public show of dissent took place in Jalalabad, where a group of Afghans lowered a Taliban flag that had been raised, and put up a national one in its place. The Taliban fired into the crowd and struck people with batons; a local reporter said that he and his cameraman had been beaten.
The outlet also reported that "groups of armed men have been going door to door inquiring about Afghans who worked with the Americans or the deposed government." It was unclear whether they were under official Taliban orders, or were merely taking advantage of the chaos.
And The New York Times reports that in some areas, the Taliban — whether or not they were acting on top-down orders — had already turned back the clock for women. In some provinces, women were forced to stay in their houses unless accompanied by a male relative.
Many women around the country are bracing for an inevitable return to old ways.
As many as 15,000 Americans remain in Afghanistan
The Washington Post reports that Biden administration officials told Senate aides Tuesday that as many as 15,000 Americans are still in Afghanistan. Currently, there isn't a plan for evacuating those who are outside of Kabul, due to the Taliban checkpoints surrounding the capital. Later on Tuesday, national security adviser Jake Sullivan said that the Taliban "informed us that they are prepared to provide the safe passage of civilians to the airport, and we intend to hold them to that commitment." According to White House officials on Tuesday, 3,200
NYT: Intelligence agencies had bleaker outlook on Afghanistan
The New York Times reports that assessments from intelligence agencies had painted a bleak outlook on the chances that the Afghan military would collapse, in contrast with the optimistic tone that the Biden administration had taken publicly. One report from July indicated that the Afghan government was "unprepared" for an attack from the Taliban.
The outlet found that the agencies "predicted that should the Taliban seize cities, a cascading collapse could happen rapidly and the Afghan security forces were at high risk of falling apart."
A number of decisions that were crucial to the American withdrawal from Afghanistan were made prior to July, according to administration officials, and the intelligence consensus at that time was that a potential Taliban takeover could take more than 18 months to occur.
Inside a plane taking off from Kabul
Pentagon says Kabul airport is secure
U.S. Army Major General Hank Taylor provided an update to the situation in Afghanistan during a briefing at the Pentagon Tuesday morning.
"Yesterday, the U.S. military footprint in Afghanistan started at about roughly 2,500. And by the end of today, there will be more than approximately 4,000 troops in Kabul," Taylor said.
During the briefing, it was revealed that the airport in Kabul is now secured and that evacuation flights have resumed.
"Throughout the night, nine C-17s arrived, delivering equipment and approximately 1,000 troops," Taylor said. "Additionally, seven C-17s departed. These flights lifted approximately 700-800 passengers and, we can confirm, 165 of these passengers are American citizens. The rest are a mix of SIV applicants, third country nationals."
Taylor said that the speed of evacuations is currently at one plane in and out per hour, but that the hope is that the rate will increase.
"We predict that our best effort could look like 5,000 to 9,000 passengers departing per day. But we are mindful that a number of factors influence this effort and circumstances could change," Taylor said.
Taylor also said that there have been no "hostile interactions" from the Taliban.
"We remain vigilant," he said.
U.S. has plans to accelerate refugee relocation
On Monday, the Department of Defense confirmed that the U.S. would accept more Special Immigrant Visa applicants following the Afghan government's collapse. At a briefing, a Pentagon spokesperson said that plans are in motion to evacuate 20,000 to 22,000 SIV applicants in Afghanistan. These refugees could then be flown potentially to either Fort McCoy in Wisconsin or Fort Bliss in Texas. "There may be other sites identified if services are needed, if additional capacity is needed," the spokesperson added.
The announcement came a little less than 24 hours after U.S. forces temporarily halted the Afghan civilian evacuation in order to prioritize Americans in-country. Around 2,000 SIV applicants have already been evacuated, but advocates estimate that there are still 50,000 SIV candidates still in Afghanistan. The U.S. currently has 34,500 slots available in its SIV program. In his address on Monday, President Biden added that the U.S. would extend refugee access to many Afghans in danger who worked for NGOs and news agencies and are not already eligible for the SIV program.
Biden: "I stand squarely behind my decision."
President Biden returned from Camp David to the White House Monday to address the fall of Afghanistan to the Taliban. He did not sound any notes of regret regarding his decision to completely withdraw U.S. forces from the country.
"We went into Afghanistan almost 20 years ago with clear goals: get those who attacked us September 11, 2001, and make sure Al-Qaeda could not use Afghanistan as a base from which to attack us again. We did that," Biden said.
He continued, "Our mission in Afghanistan was never supposed to have been nation building. It was never supposed to be creating a unified, centralized democracy. Our only vital national interest in Afghanistan remains today what it has always been: preventing a terrorist attack on the American homeland."
Biden emphasized that the withdrawal of American troops began under President Trump, saying he "inherited a deal" that the former president negotiated with the Taliban, which had the U.S. leaving Afghanistan by May 1. He said he had to make a choice to follow through on that agreement or prepare for more fighting with the Taliban without the protection of the agreement.
"It was only a cold reality of either following through on the agreement to withdraw our forces or escalating the conflict and sending thousands more American troops back into combat in Afghanistan, lurching into the third decade of conflict," Biden said.
He continued, "I stand squarely behind my decision."
Biden acknowledged that the situation in the nation "did unfold more quickly than we anticipated," but did not attribute it to American actions or lack thereof.
"Afghanistan political leaders gave up and fled the country. The Afghan military collapsed, sometimes without trying to fight," he said.
He continued, "American troops cannot and should not be fighting in a war and dying in a war that Afghan forces are not willing to fight for themselves."
Taliban spokesman claims Afghanis who aided Americans won't be harmed
A Taliban spokesman said in an interview with MSNBC that the group will not go after Afghanis still in the country who have previously aided Americans.
"We will not punish them and we will not force an arrest for them, for their property and for their life," he said.
Biden Orders More Troops to Kabul
President Biden ordered an additional 1,000 U.S. troops to the Hamid Karzai International Airport to help maintain control of the complex, which has become the final redoubt for American forces as they prepare to fully depart from the country. The move came after at least seven deaths at the airport, where desperate Afghans massed on runways Monday morning, clinging to planes as they tried to find a way out of the country.
Afghans Cling to Departing Planes in Surreal Scenes
As the last U.S. forces prepare to leave Afghanistan, desperate Afghanis crowded Hamid Karzai International Airport, which is still controlled and fortified by American soldiers, in a last-ditch effort to find any flight out of the country.
Videos emerging on Monday show dozens of Afghan men running alongside an Air Force plane as it nears takeoff, in a surreal, disturbing scene.
In a subsequent video, multiple objects could be seen falling from the departing plane as it rose above the airport. It was unclear whether these were human beings.
In the aftermath of this chaos, American forces temporarily suspended operations at the airport.
The Biden administration had previously made clear that for the time being, it was prioritizing the evacuation of American personnel over the many Afghans who had helped U.S. forces over the country's long occupation.
U.S. pauses most evacuation flights for Afghan citizens
Amid the chaos of the evacuation, CNN reported that the U.S. has "curtailed the number of government-sponsored evacuation flights to the United States for Afghans who worked alongside the US for the time being as it prioritizes the evacuation of American personnel from the country." Though earlier on Sunday, the Departments of State and Defense issued a joint statement vowing to "accelerate the evacuation of thousands of Afghans eligible for U.S. Special Immigrant Visas," the last planned flight with SIV applicants and their families has reportedly taken off already. According to one SIV applicant who spoke with the International Refuge Assistance Project, they were told that "due to present security conditions, we are unfortunately unable to offer you relocation on this flight. Please DO NOT report to the airport. Continue to shelter in place."
Meanwhile, the rush to the airport was under way on Monday morning:
The U.S. boosts troop levels again to support the exit
Weeks ahead of the deadline for U.S. withdrawal, the Pentagon announced last week that an additional 4,000 troops would be stationed at the Hamid Karzai International Airport in Kabul to secure the withdrawal as the Taliban swept across Afghanistan. On Sunday, the Pentagon announced that an additional 2,000 troops would be sent to Kabul over the next 48 hours. U.S. forces will also take over air traffic control at the airport during that period.
The American flag has reportedly been lowered at the U.S. embassy in Kabul
According to a State spokesperson who spoke to CBS News, all embassy personnel have been evacuated and have been relocated to a facility on the grounds of the Kabul airport. While the U.S. ambassador to Afghanistan remains in country, the American flag has been lowered at the embassy.
Afghan president flees, government collapses
President Ashraf Ghani has fled the country to Tajikistan, a senior Afghan official told Reuters. Afghan peace negotiator Abdullah Abdullah has also announced Ghani's departure. In the meantime, Taliban leaders are reportedly ready to announce that they have taken control of the entire country from the presidential palace. There does not seem to be any chance of any kind of transitional government at this point.
Earlier, a Taliban spokesperson had said that the group's fighters had fully entered the city in order to secure it against looting as the Afghan security forces abandoned their positions. The spokesperson also claimed that "Our forces are quietly entering the city, they won't bother anyone, government employees both civilian and military should be assured that no one will harm them, no Mujahid is allowed to enter people's houses, or hurt or bother anyone."
The scene at Kabul's international airport
This video appears to show U.S. Afghan allies being loaded onto a Boeing C-17 to be evacuated on Sunday night:
Reuters reports that NATO officials have shut down commercial air traffic from Kabul's airport, permitting only military planes to operate there.
From the New York Times report about the ongoing evacuation:
A frenzied evacuation of U.S. diplomats and civilians kicked into high gear, while Afghans made a mad dash to banks, their homes and the airport. Crowds of people ran down the streets as the sound of gunfire echoed in downtown Kabul. …




The runway of the airport was filled with a constellation of uniforms from different nations. They joined contractors, diplomats and civilians all trying to catch a flight out of the city. Those who were eligible to fly were given special bracelets, denoting their status as noncombatants.

On the civilian side of the airport, a long line of people waited outside the check-in gate, unsure if the flights they had booked out of the country would arrive.




For millions of Afghans, including tens of thousands who assisted the U.S. efforts in the country for years, there were no bracelets.
Earlier, a U.S. Embassy security alert went out warning: "There are reports of the airport taking fire; therefore we are instructing U.S. citizens to shelter in place."
Taliban fighters have entered Kabul, but group is reportedly awaiting "peaceful transfer" of city
The Associated Press reports that Taliban fighters have entered three districts of the capital, according to Afghan officials. The militant group told Al Jazeera that has instructed its fighters to remain outside the city and to avoid violence while "awaiting a peaceful transfer of Kabul city" — which it apparently expects to be an unconditional surrender.
There have been no reports of fighting in the city, as of yet. After encircling the city, the Taliban released a statement claiming residents had nothing to fear from them.
U.S. Embassy evacuated
Within hours of the Taliban's capture of the nearby city of Jalalabad, numerous flights of Boeing CH-47 Chinook and UH-60 Black Hawk helicopters began shuttling people away from the U.S. Embassy in Kabul, in addition to departures of armored diplomatic SUVs. The Associated Press reports that smoke could be seen rising from the roof of the embassy building, as U.S. staff burned sensitive documents. Other nearby embassies were reportedly doing the same.
According to the New York Times, a core group of U.S. diplomats who had been planning on remaining in the country no matter what has been transferred to a facility at the city's international airport — though it's not clear how long they intend to remain there.
Negotiations between Afghan and Taliban officials under way
Afghan interior minister Abdul Sattar Mirzakwal announced in a recorded video on Sunday that there will be a "peaceful transfer of power" to a transition government, and Afghan officials are still reportedly attempting to negotiate the terms of that transition. Al Jazeera reports the Afghan president Ashraf Ghani has not fled the country, at least not yet, as had been rumored.
Bagram air base surrenders
The longtime epicenter of the U.S. war effort, until American forces abandoned the base early last month, is reportedly now in Taliban hands — and the group has released the 5,000 prisoners who were being housed there.
This post has and will be updated.