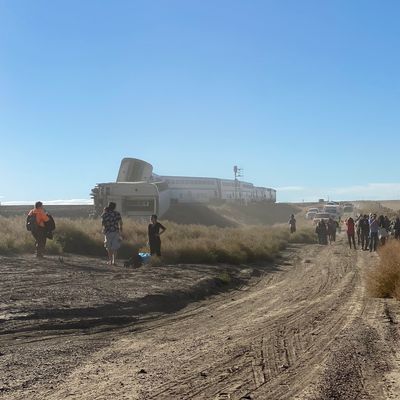 An Amtrak passenger train derailed in a remote part of northern Montana on Saturday afternoon, killing at least three people and injuring more than 50 others. The cause of the derailment, which happened around 4 p.m. near the town of Joplin, is not yet clear.
Three people were killed in the accident, the Liberty County Sheriff's office confirmed on Saturday. The survivors all either walked away or were rescued from the train. Most of the injured were treated and released at Montana hospitals, but seven people remained hospitalized on Sunday, including two who remained in the ICU, according to the Associated Press.
In a statement on Sunday, Amtrak said that 141 passengers and 16 crew members were aboard the derailed train, Empire Builder 7/27, which consisted of two locomotives and ten cars, and was traveling from Chicago to Seattle. Eight cars derailed, including at least four cars which fell over on their side after leaving the tracks. Amtrak CEO Bill Flynn offered his condolences to the victims and said the company was cooperating with federal investigators to determine the cause of the accident.
The National Transportation Safety Board has sent a team to investigate what happened. An NTSB spokesperson said Sunday that no other trains or equipment were involved in the derailment.
The last Amtrak train derailment was in Washington State in late 2017, when a Cascades train derailed after traveling a hazardous curve at excessive speed, killing three people and injuring 65.
This post has been updated.