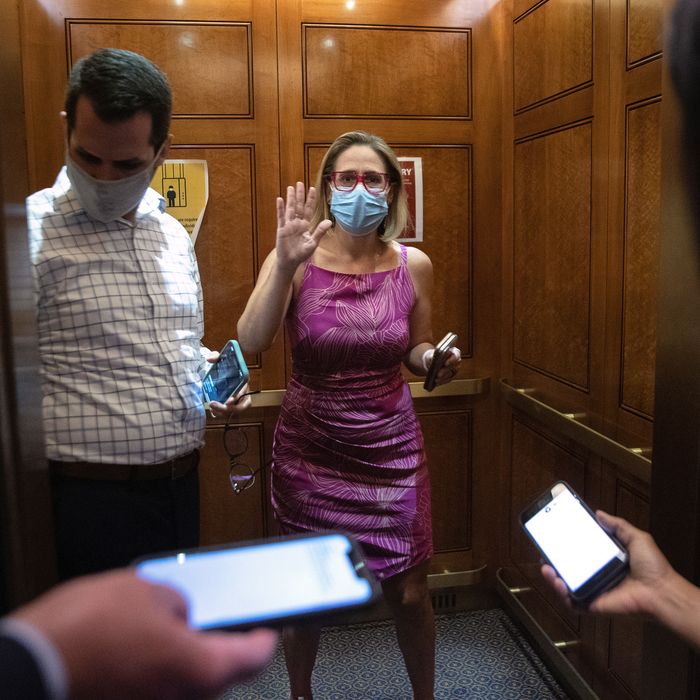 Senator Kyrsten Sinema.
Photo: Chip Somodevilla/Getty Images
This week may be the most consequential one on Capitol Hill in a generation, with Joe Biden's entire economic agenda, a government shutdown, and the creditworthiness of the U.S. at stake. Below are the recent developments.
Moderate duo doesn't give an inch
Joe Manchin and Kyrsten Sinema went to the White House on Tuesday and it went so well that Joe Biden canceled all of his plans the next day.
A Manchin spokesperson told Intelligencer his boss "had a productive conversation with President Biden. No commitments were made or top lines agreed to. They will continue engaging in good-faith conversations." Top lines equates to jargon for the cost of the reconciliation bill, which is currently pegged at $3.5 trillion. A Sinema spokesperson declined to comment.
Politico went so far as to report that Sinema made it clear to Biden that she is still "not there" on the proposed reconciliation bill and is reluctant to engage on it until the bipartisan infrastructure bill has passed the House. The conundrum of course is that progressives in the that chamber are refusing to support the bipartisan bill until Sinema and Manchin commit to support reconciliation.
Late Tuesday afternoon, the White House announced that Biden would cancel a scheduled trip Wednesday to Chicago to promote COVID vaccinations. In other words, nothing got agreed to or done and it's going to be a very long week in Washington.
Pramila Jayapal, the chair of the Congressional Progressive Caucus, made clear Tuesday evening that the bipartisan bill "can't move forward without them participating in the full negotiation [on reconciliation], it's not just the top-line number, the whole thing has to be finished," she told Intelligencer.
Progressives just upped the ante
After signaling some weakening in their position over the past day, the Congressional Progressive Caucus issued a statement Tuesday afternoon, making clear that they will not support the bipartisan infrastructure bill, as their party leaders desire, until the much larger reconciliation bill passes the Senate.
A reconciliation bill would certainly not pass by Thursday, the deadline to put the bipartisan bill on the floor per Pelosi's deal with moderates, and may not pass at all if either Joe Manchin or Kyrsten Sinema doesn't agree to back it.
The result leaves Biden's agenda adrift: His big reconciliation bill is still short in the Senate, while progressives may take down the smaller bipartisan infrastructure bill in the House.
There's also the debt ceiling to worry about
Mitch McConnell and congressional Democrats continue to play a game of chicken over the world economy. McConnell is trying to force Democrats to attach a debt-limit increase to the reconciliation bill. While this would mean any increase could pass with only 50 votes, it would cause weeks of parliamentary wrangling and create all sorts of new opportunities for Republicans to impede or perhaps even block the reconciliation bill altogether. McConnell has insisted that Democrats have to raise the debt ceiling entirely on their own and reconciliation provides the only vehicle that avoids a filibuster.
Congress is required to raise the debt limit periodically to authorize the federal government to continue to make payments despite running a deficit — and thus avoid defaulting on its obligations with cataclysmic consequences. That deadline is now weeks away.
Democrats initially tried to attach a debt-limit increase to a bill that would fund the government (since current funding to keep the lights on will expire at 11:59 p.m. on Thursday). Republicans blocked this. Under Senate rules, a 60-vote supermajority was needed and it failed on party lines. Earlier today, Senate Majority Leader Chuck Schumer announced that he would seek a unanimous-consent request to allow the debt limit to be increased with only a simple 50-vote majority. Ted Cruz has already announced he will block Schumer's request.
So what now? Democrats insist going through reconciliation is likely to take too long and be too complicated while Republicans insist it is the only option. Eventually someone will have to blink. Vermont Senator Bernie Sanders told reporters on Tuesday that he thinks it will eventually be the GOP that backs down. "I understand that the Republican Party has become extreme right wing and fairly crazy," said Sanders. "But I don't think they are that crazy that they would plunge the American economy and the entire world economy into a recession or a depression because we're not paying the debts that were incurred under the Trump administration."
The last time there was a debt-ceiling crisis like this in 2011, House Republicans relented in exchange for broad concessions on spending cuts from President Barack Obama only two days before the deadline. That caused Standard & Poor's to downgrade the credit rating of the U.S. for the first time in history. Even cutting it close would likely cause an increase in interest rates and a drop in the stock market, according to a study from Mark Zandi at Moody's.
Progressives want promises from Manchin and Sinema
More than ever, the Capitol revolves around Senators Joe Manchin and Krysten Sinema.
During a morning meeting on Tuesday, House Democrats tried again to plot a path forward on the two major bills under consideration to pass President Biden's agenda days before a self-imposed Thursday deadline to vote on the smaller bipartisan infrastructure bill.
Progressives have been loath to support the bill without assurances that the bigger reconciliation bill will pass the Senate, too. That requires all 50 Democratic senators, including Manchin and Sinema, to be onboard. However, the two have played coy not only on whether they support the current $3.5 trillion proposal but on whether they would support any reconciliation bill at all. The hope on the left had been to use the infrastructure bill, which both senators strongly support, as leverage.
Walking into the meeting, Representative Alexandria Ocasio-Cortez told reporters she was still holding firm on her opposition to the bipartisan bill "unless I get some new information."
Top Democrats thought the two senators needed to take some concrete steps to reassure progressives. Jim McGovern, the chair of the Rules Committee, told reporters, "My father told me there's a fine line between being a good guy and goddamn fool, and I think a lot of us want to make sure that we have an assurance that there's going to be a reconciliation bill."
Manchin and Sinema will be at the White House early this afternoon to meet with President Biden about next steps as his first-term agenda rests in their hands.
Pelosi: Get in, we're doing infrastructure first
On Monday evening in a windowless room in the Capitol basement, a handful of rays of light broke through for Joe Biden's legislative agenda.
Speaker Nancy Pelosi told House Democrats during a pivotal meeting on two pieces of legislation that she would put the first smaller bipartisan infrastructure bill on the floor this week, following through on a deal made with a handful of moderates in August. Pelosi's announcement potentially clears the way for the much larger reconciliation bill containing progressive priorities. The meeting, which was in hybrid form, with members both logging on online and braving a gamut of reporters lining a narrow corridor to attend in person, was described as having "big rah-rah energy" by someone familiar with Pelosi serving as the opening and closing speaker.
Pelosi's address left the fate of the reconciliation bill uncertain. She had committed to bringing that bill to the floor as well this week, but first Democrats must negotiate the contents of the bill in such a way as to appease the two rogue Senate moderates, Kyrsten Sinema of Arizona and Joe Manchin of West Virginia. Progressives had long hoped to link the two bills in order to maximize their leverage not just on Manchin and Sinema but moderates in their own caucus.
Pramila Jayapal, the leader of the Congressional Progressive Caucus, told reporters while entering the meeting that she had been talking to Sinema. She insisted her group still needed the Senate to send them a reconciliation bill before they could support the infrastructure bill, but she seemed to strike a less pessimistic note. "Those conversations are happening [with the Senate], but until that happens, there aren't the votes for the infrastructure bill, so we're all working very hard to get that reconciliation done." Her concern was focused almost entirely on the other chamber — not moderates in her own caucus.
Ditto for Mark Pocan of Wisconsin, another progressive, who told Intelligencer that the divides among House Democrats seemed to be mostly resolved. "I don't think the frustration is with our members; it's with a couple of people in the Senate." Pocan added of his fellow House Democrats, "We may have a difference on what we would want as an oar, but we're all rowing together."
Josh Gottheimer, the leader of the moderate group of Democrats that had forced Pelosi's hand in August, told reporters, "I am very committed to [whatever] comes here with 51 votes from the Senate. That's going to get passed."
There was also a sense of plain resignation from the progressives that it was simply time to just get at least one bill passed and at least get the ball rolling. "We don't need to sacrifice our transportation and infrastructure bill on something that the Senate may never come to agreement with," Steve Cohen of Tennessee told reporters.
Cohen, a member of the Progressive Caucus, said that voting for the infrastructure bill "would be the wise thing for progressives to do. I've been a legislator for 44 years, longer than many of them have been on the Earth — nobody's been more progressive than me — and I know politics, you got a Senate, you've got certain realities."
What does Joe know?
In a 50-50 Senate, any one Democrat can thwart Joe Biden's agenda, and no one has more license to interfere than Joe Manchin, who has managed to win reelection in West Virginia, where Donald Trump won by 40 points last year.
So what Manchin says determines what can pass in the Senate, and his every utterance is analyzed with Talmudic intensity. And he's gone back and forth about what he desires. Earlier this month in a Wall Street Journal op-ed, he indicated his support for a "strategic pause" on the reconciliation bill and insisted that he would not back legislation with a total cost of $3.5 trillion.
This morning, CNN's Manu Raju caught up with Senator Manchin, who offered yet another ambiguous statement about the prospects for a reconciliation bill's moving forward.
Whatever decision Manchin reaches will have a huge impact on this week's course of events: Vulnerable Democrats in the House want any reconciliation bill to be blessed by Manchin in advance so that it can pass the Senate.
In the meantime, as Manchin deliberates, he is likely to remain one of the most consequential houseboat residents since Noah's ark.
The schedule
Monday: The House Democratic caucus has a 5:30 p.m. meeting to discuss the treacherous path forward. Plots will be outlined, feelings will be explored, and maybe even something consequential will happen.
At the same time, the Senate will hold a vote to keep the government open as well to prevent it from defaulting on its debts. It is expected to fail because of Republican opposition.
Tuesday–Wednesday: Human sacrifice, dogs and cats living together … mass hysteria.
Thursday: The federal government will shut down at midnight unless Congress passes a continuing resolution to keep the government funded. It is also the day Pelosi has promised to hold a vote on the bipartisan infrastructure bill as part of a deal she reached with a group of moderates in August.