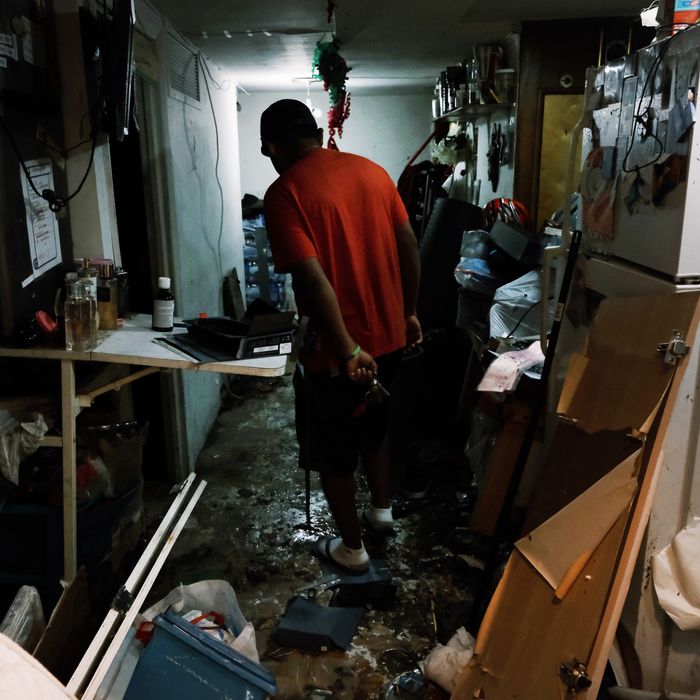 Eddie, an immigrant from Mexico, walks through his flooded basement level apartment on Friday in a Queens neighborhood that saw massive flooding and numerous deaths following the heavy wind and rain from the remnants of Hurricane Ida which struck overnight Wednesday.
Photo: Spencer Platt/Getty Images
The New York City metropolitan area was struck by sudden disaster on Wednesday night as the remnants of Hurricane Ida flooded subways, roads, and homes. At least 45 were killed in New York and New Jersey, and a total of at least 52 across the Northeast. Ida was the worst natural disaster to strike the area since 2012's Superstorm Sandy. President Biden has approved federal major disaster declarations for affected areas of New York and New Jersey. Below are updates from the aftermath of the storm.
Biden approved federal aid for New York and New Jersey; he'll visit both states on Tuesday
The president is scheduled to visit the north-central Jersey town of Manville as well as Queens in New York City on Tuesday to see the damage caused by the storm and speak with residents and officials. On Monday, he made federal aid available to the counties of Bronx, Queens, Kings, Richmond, and Westchester in New York, and the counties of Bergen, Gloucester, Hunterdon, Middlesex, Passaic, and Somerset in New Jersey.
Affected New Yorkers needing assistance should click here; those in New Jersey should click here.
Hochul: Ida caused at least $50 million in damage in New York
On Sunday, Governor Hochul signed a major disaster declaration for New York State lining up federal reimbursement, and estimated at the signing that the storm had caused more than $50 million in damage and impacted some 1,200 homes.
Death toll rises to 45 in New York area
As New York and surrounding areas continue to evaluate the destruction wrought by Hurricane Ida, the death toll in the region keeps rising. As of Monday, it stood at 45 in New York and New Jersey.
At least 18 were killed in New York, including 13 in New York City, most of whom lived in basement apartments in Queens and Brooklyn. The victims' ages ranged from 2 to 86. Another man, a rabbi, died near the Tappan Zee Bridge as he attempted to drive home to Mount Kisco, New York. He was one of at least 5 people killed in Westchester County, according to County Executive George Latimer.
At least 27 people in New Jersey have been confirmed dead after the storm, and another 4 people remain missing in the state, Governor Phil Murphy said Saturday. At least a third of the people who were killed in New Jersey drowned in vehicles that were caught up in the flash floods.
The New York Times has a harrowing account from one New York building where three members of a family did not survive:
In Flushing, Queens, Deborah Torres said she heard the desperate pleas from the basement of three members of a family, including a toddler.




As the water rushed into the building about 10 p.m. on Wednesday, Ms. Torres said she heard the family frantically call out to another neighbor, Choi Sledge. Ms. Sledge pleaded with the family to flee.

Within moments, however, the cascade of water was too powerful, and it also kept anyone from trying to get downstairs to help.
Ida's remnants didn't just batter the tristate area, though. It raked its way up the Eastern Seaboard, leaving devastating rainfall in its wake, and spawning tornadoes along the way. At least four were dead in Pennsylvania, where the storm deluged Philadelphia, bringing major flooding to the Schuylkill River.
As officials survey the thousands of buildings badly flooded in Ida's wake, it is likely that the death toll will rise further.
Officials stunned by the storm's ferocity
Governor Hochul held a press conference Thursday morning in a neighborhood of Queens strewn with debris following the flooding, where she and other high-ranking officials struggled to comprehend what had transpired. "The human loss, which is hard to imagine — that people simply in their cars, in their homes, in their basements succumbed to the ravages of a brutal storm," she said.
Hochul cited the "record-shattering" rainfall, which deposited 3.15 inches of rain in Central Park in a single hour, breaking a record that was set barely two weeks ago. "That says to me that there are no more cataclysmic, unforeseeable events," Hochul said. "We need to foresee these in advance and be prepared."
NYPD Commissioner Dermot Shea said eight of the nine fatalities in the city were people who died in basement dwellings in Queens.
Mayor Bill de Blasio called the storm "horrifying" and said that people in New York City "are going through hell right now" and need help.
"What we've got to recognize is the suddenness, the brutality of storms now — it is different. A record set two weeks ago, another record set now, rainfall like we haven't seen ever before," he said. "This is the biggest wake-up call we could possibly get. We're gonna have to do a lot of things differently and quickly."
Senator Chuck Schumer was also in attendance, saying they will "do everything we can" to get the federal aid that's needed. Schumer was blunt, directly tying the storm and its aftereffects to climate change. "Global warming is upon us. When you get two record rainfalls in a week, it's not just coincidence," he said, urging Congress to pass infrastructure and related spending legislation to build more resilient infrastructure and combat climate change.
"We are not out of the woods," said Queens Borough President Donovan Richards. "Queens needs to see much more infrastructure investment. We cannot wait until tomorrow. We need it today."
Death toll mounts as NYC creaks back to life
New York City woke up to sunshine on Thursday morning as it assessed the damage from the devastating remnants of Ida that swept through the region Wednesday evening. At least 14 people in the region had died — at least eight in Queens and Brooklyn, and at least six in New Jersey, a state that saw relatively rare and damaging tornadoes spawned by the storm. All of the New York City victims, which included a 2-year-old, were in basement apartments when the waters rushed in, per the Daily News.
The number of deaths in the region has already surpassed Ida's toll in the South, where it barreled into Louisiana as a Category Four hurricane
Part of the reason is the intensity of the rainfall over a short period of time. 3.15 inches of rain fell on Central Park in one hour, demolishing the hourly record set just days before during Tropical Storm Henri. And that wasn't the only record set in the region.
The city's transit system, knocked out completely by the storm, was struggling to get going again on Thursday: Every line on New York City's subway system was either completely or partly suspended or delayed. Many riders were evacuated from trains in the middle of their journeys on Wednesday night. Some riders stayed overnight at transit hubs Grand Central Station and Penn Station. As of Thursday morning, all Amtrak service between Philadelphia and Boston was canceled. Newark Airport flooded overnight, and many flights out of NYC-area airports were canceled overnight.
Several car thoroughfares were still inundated by water on Thursday morning and remained impassable.
Residential flooding was also widespread.
New York Govenor Hochul and Mayor Bill de Blasio, both of whom had declared states of emergencies, were expected to hold a press conference later Thursday morning to provide updates on the situation.
Subway passengers fled trains, stuck in system
Six trains were stuck in floodwaters and their passengers had to be evacuated, according to New York Post reporter David Meyer, citing the MTA. The Metro-North and Long Island Railroad are "totally offline."
On CNN, straphangers described being stuck far from home in the Times Square station with no other means home after the city ordered all non-emergency vehicles off the roads until 5 a.m.
Governor Hochul declares a state of emergency
Hochul, in only her eighth day in office, appeared on CNN shortly before midnight, saying that Ida's path through New York was devastating "far more than anyone expected." Shortly after the appearance, she declared a state of emergency, urging New Yorkers to "stay off the roads and avoid all unnecessary travel." A travel ban in New York City is also in effect until 5 a.m.
De Blasio declares state of emergency
All subway service was temporarily suspended
New York City breaks a rainfall record for the second time in less than two weeks
On August 22, Tropical Depression Henri dumped 1.94 inches on Central Park between 10 p.m. and 11 p.m., breaking the record for the most rain in an hour in New York City. Ida bested that record just 11 days later, dropping three inches of rain between 8:51 and 9:51 p.m. on Wednesday night. The intense downpour caused flooding throughout the city, as well as the first flash-flood emergency ever to be issued in New York City:
The Weather Service reports rainfall totals of up to 4.5 to 7 inches in some areas, and more rain is expected. Earlier in the night, the Weather Service issued a tornado warning in some neighborhoods in the Bronx after radar determined a tornado had formed.
The MTA says to avoid travel
With flooding interrupting bus routes and some subway stations inaccessible, Chief Customer Officer for the MTA Sarah Meyer advised New Yorkers not to take the train Wednesday night:
New Jersey declares a state of emergency
Just after 10 p.m., Governor Phil Murphy declared a state of emergency:
In Newark, parts of Liberty Airport flooded after 3.24 inches of rain was recorded between 8 and 9 p.m. Many areas of New Jersey have reported flooding, including Elizabeth, Jersey City, Passaic, North Plainfield, Short Hills. A bayou boat was deployed in Lambertville:
Philadelphia was also hit hard, with three deaths in the surrounding area
Severe flooding occurred in the city causing significant travel delays on the SEPTA rail and bus system. In Montgomery county north of Philadelphia, two are believed to have drowned, while another person was killed when a tree fell on their home. The National Weather Service also confirmed Thursday that seven tornadoes touched down in the region during the storm.
This post has been updated to clarify the context of a comment by Queens Borough President Donovan Richards.