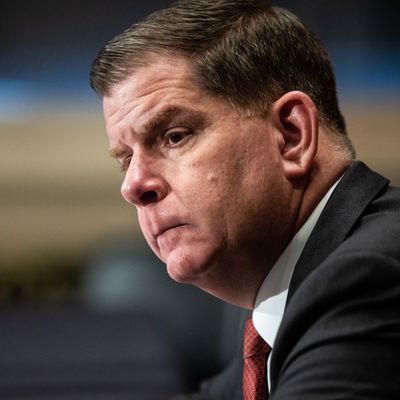 Photo: Graeme Jennings-Pool/Getty Images
Labor Day exists to celebrate the American worker. And this year, as the pandemic drags on, it's a day to mourn, too. Essential workers have sacrificed their well-being and, in some cases, their lives to keep the country running. But "essential work" is just a label; there are no policies or regulations that protect the people who perform this work. It's a pressing issue for Secretary of Labor Marty Walsh and his department.
Formerly the mayor of Boston, Walsh also headed the Greater Boston Building Trades coalition and is a second-generation member of the Laborers' union. He now faces a tough task: Under the leadership of Walsh's predecessor, Eugene Scalia, Donald Trump's Labor Department was routinely antagonistic to workers' rights. Walsh must rebuild the department and shore up workers' rights as far as his remit allows — a challenge he tells us he's prepared to take on.
Why is this Labor Day such an important milestone for workers?
The last year and a half has imposed unprecedented challenges for America's workers, and we continue to navigate rebuilding our economy. While we've gained over 4 million jobs since the start of the Biden-Harris administration and recovered 75 percent of our workforce, we still have a steep hill to climb. Workers of color and immigrant workers were disproportionately devastated by the pandemic and worked on the front lines to help keep us safe, fed, and moving forward. Not only are we deeply grateful but our entire country has a new understanding and appreciation of the work these people do every single day, no matter what.
What challenges did you inherit from the previous administration, and how did they make conditions more difficult for the American worker?
The previous administration severely weakened enforcement power in worker-protection agencies like the Occupational Health and Safety Administration and even scaled back efforts to provide overtime pay for more workers and protect retirees' funds. What's more, the previous administration's handling of the pandemic left millions of workers worse off. Over the last nine months, we have issued 18 final rules, both rescinding prior rules and implementing new ones, in order to improve the health, safety, and economic security of workers.
What, in your mind, characterizes a pro-worker presidential administration?
A pro-worker presidential administration empowers workers morning, noon, and night. This means ensuring access to quality, affordable child care, a seat at the table and safe working conditions on the job, and the ability to save for retirement, get medical care, and put food on the table. President Biden has been unequivocal in his goal of building a more equitable, resilient workforce and in his support for labor unions and collective bargaining. From supporting the Protecting the Right to Organize Act to a $15 minimum wage, this administration recognizes that it's not enough to simply say workers are important — we must respect the value our workers bring to our communities and put it into action.
What can the Labor Department do to facilitate new organizing among workers?
The department under President Biden has been clear: If workers want to join a union, that is their choice and their choice alone, and they should be able to organize without fear of retaliation. Early on, the president asked me to serve as vice-chair of his Task Force on Worker Organizing and Empowerment. Vice-President Kamala Harris is the chair. It's the first time in U.S. history that the president directed his Cabinet to encourage and promote union organizing. We are looking at ways every single agency of the government can take action to help workers who are trying to organize and bargain. In the Labor Department, we're looking at all the ways workers' efforts to organize get blocked or undermined and how we can ensure a more level playing field. And we're working with unions we partner with in the Registered Apprenticeship Program on how to bring more diverse workers into these opportunities.
Going forward, what are the department's priorities?
As secretary of Labor, my priorities are focused on bolstering worker power and ensuring all workers have a voice and the ability to support their families. This includes ensuring that all workers have fair pay, health care, and unemployment benefits, ensuring safe workplaces and a secure retirement, and investing in career education and job training. These are not just policies to me — these are real, tangible needs for millions of Americans, and I will continue fighting for them.
As COVID persists, what challenges remain for workers, and what can the department do to help?
Thanks to a bold, aggressive vaccination plan by the Biden-Harris administration, workers across the country have been able to return to work while keeping themselves and their communities safe. However, there are still many challenges facing our workforce. Chronic underinvestment in our child-care system has left many families without the care infrastructure needed to balance both work and family. In addition to the $39 billion for child-care centers included in the American Rescue Plan, it's critical that the care-economy investments in the Build Back Better Agenda are maintained. We cannot discuss infrastructure without discussing care for our children, seniors, and people with disabilities.
It is also critical that we invest in workforce training. The pandemic has forced many workers to reexamine the trajectory of their careers as well as the skills needed to be successful. The department funds nearly 2,400 American Jobs Centers all over the country providing free help for career needs like skills assessments and résumé building, and they can help people find education and training, certifications, and more. The president's proposed $100 billion in workforce development would be transformative for the American workforce, allowing us to create up to 2 million new apprenticeship and pre-apprenticeship slots. We are already working to diversify both the participants and the industries involved. It's a key pathway into the middle class.
Earlier this month, you told Bloomberg that you hadn't yet had a conversation with Wage and Hour Division nominee David Weil about the classification of gig workers. Have you since had this conversation with him? Do you agree with him that drivers for companies like Uber and Lyft should be considered employees? 
David and I agree that misclassification of employees is a pervasive issue that not only robs workers of the benefits they deserve but also costs our economy hundreds of millions of dollars a year. While legitimate independent contractors are an important part of our economy, the misclassification of employees as independent contractors denies workers access to critical benefits and protections the law provides. With the emergence of ride-sharing apps and other opportunities for employment, it is absolutely possible to provide worker protections in a new economy. The technology changes, but the fundamentals of fairness don't.
How would you say you plan to balance the need to regulate business with the project of helping the economy recover from the pandemic?
Supporting workers is good for businesses, too. When workers have access to good benefits, good wages, and safe workplaces, it yields positive results for their families and their employers. Over the last several months, I've traveled to almost half of the states across the country speaking with businesses and workers, and everyone wants the same thing: an equitable recovery that puts businesses and workers in a better position than they were in going into the pandemic.
The pandemic ignited a new interest in so-called essential work. But what can you and the department do to make sure essential work actually gets treated like essential work?
Let me be clear: Essential workers carried this entire nation through a pandemic and economic devastation. These workers, who are disproportionately workers of color, are now seeing wage increases that are long overdue. We know this upward pressure on wages could be short-lived, so we must continue implementing policies to increase worker power in the long term. Our appreciation for essential work cannot be limited to the pandemic — it's time to respect and reward workers for their contributions to our nation through better wages, better benefits, and safer workplaces.
What can the department do now to protect workers' rights from future administrations that are hostile to workers?
Now more than ever, workers need the federal government to provide protections to ensure their voices are heard. We have already begun the work of overturning regulations and implementing a pro-worker agenda, but there is a lot of work to do. For example, our Wage and Hour Division has recovered more than $148 million in back wages since the start of the administration, and we're continuing to prioritize protecting workers' rights and ensuring they get the wages they've earned. We've invested $2.8 billion in job training and employment services for America's workers since the beginning of the year, including $90 million to support training and employment opportunities for workers displaced by the pandemic.