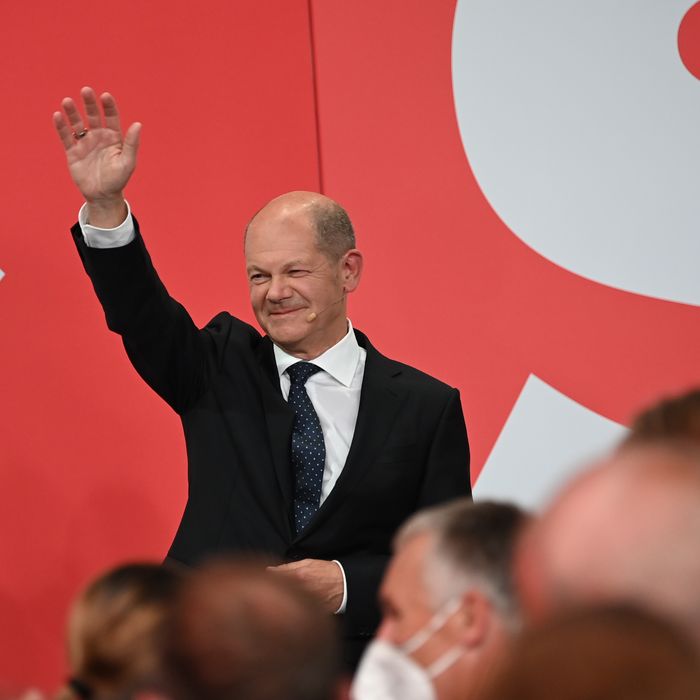 Social Democratic candidate for chancellor Olaf Scholz.
Photo: dpa/picture alliance via Getty I
With a majority of districts reporting in Germany, early results show that voters have gone in a new direction following 16 years of Chancellor Angela Merkel and her Christian Democratic Union government. As of early Monday morning in Berlin, the center-left Social Democratic Party, led by Olaf Scholz, has 25.8 percent of the vote, followed closely by the CDU, led by Armin Laschet, with 24.1 percent. This would be the worst result for Merkel's party, a dominant force in post–World War II Germany, since it was founded in 1945.
Scholz said on Monday morning that he had a "mandate to lead the government."
The ascendant, environment-focused Green Party is currently in third, with 14.8 percent. Polling this spring briefly showed the party and its young leader Annalena Baerbock in first, but it is still poised to play a decisive role in the complicated coalition-building that will soon begin. Because of Germans' split preferences, the top three parties will be involved in any governing arrangement, instead of the usual two. The Free Democrats, which came in fourth place with around 11 to 12 percent of the vote, are also likely to join the next government. The wrangling may take months to resolve, and it is not clear who will end up becoming the country's chancellor at the end of it.
If current results hold, the center-left Social Democrats would initiate talks to form the new government; it could be the first time since 2005, when Merkel first became chancellor, that the Christian Democrats did not lead the German Parliament, known as the Bundestag. After serving as chancellor through four U.S. presidencies, navigating the European Union through the European debt crisis, and acting as the de facto leader of the E.U. for many years, Merkel did not seek a fifth term as chancellor.
Final results of the election are not expected until later on Monday, and could be delayed more than usual due to expanded reliance on mail-in voting during the pandemic.
The Social Democrats' strong performance came as something of a surprise, with some polls last month suggesting the party could come in third place behind the Greens. The far-right Alternative for Germany, meanwhile, saw its vote share drop by more than two points from 2017, down to 10.5 percent. But it will retain dozens of seats in Parliament, and remains a force in many parts of the former East Germany.