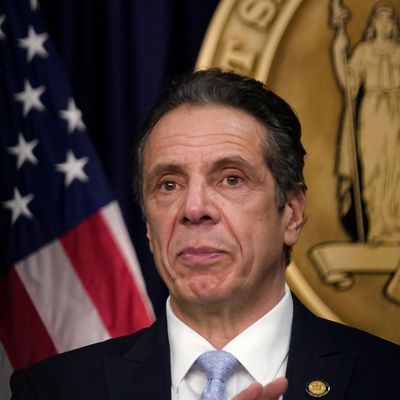 Andrew Cuomo has been criminally charged for allegedly groping an executive assistant in his office when he was the governor of New York, according to court papers filed Thursday. Cuomo, 63, faces one count of forcible touching, a misdemeanor.
An investigator with the Albany County sheriff's office filed the complaint, as well as a summons for Cuomo to appear in court on November 17. The filing was a bombshell that first ignited confusion among authorities and the press about whether or not Cuomo had been charged. A law-enforcement official told the Albany Times-Union that the sheriff's office didn't expect the papers to be filed Thursday or made public. The district attorney's office said it hadn't heard about the move before the filings were made. The accuser's attorney was also blindsided. Cuomo's team used the chaos to accuse the sheriff of playing politics.
The complaint does not name Cuomo's accuser, but Brittany Commisso said in August she filed a criminal complaint with the sheriff's office alleging that Cuomo attacked her in the governor's mansion in late 2020. She pressed charges following the publication of a report commissioned by Attorney General Letitia James's office into sexual-misconduct allegations against Cuomo, which included hers. In the report, which named her "Executive Assistant #1," Commisso said was summoned to his private office one afternoon where he pulled her in for a close hug. "You're going to get us in trouble," she recounted telling him. Cuomo supposedly responded, "I don't care," slammed the door shut, and slid his hand under her shirt and grabbed her left breast. Commisso said she pulled away and told him, "You're crazy."
"What he did to me was a crime; he broke the law," she told CBS News after pressing charges over the summer. Commisso said she hadn't spoken up about the alleged attack at the time, fearing she would face retaliation including the loss of her job. That changed last March after Cuomo denied a torrent of sexual-misconduct allegations in a speech that caused Commisso to break down in front of co-workers and relay to them what she said he did. The allegations eventually made their way to investigators tasked by James, whose report forced Cuomo to resign from office in August.
Cuomo had previously denied Commisso's allegations, saying in a taped message following the report, "Let me be clear: That never happened" and another time, "I would have to lose my mind to do such a thing."
Rita Glavin, an attorney for Cuomo, issued a blistering statement Thursday evening, saying the sheriff's office had improper motives by pronouncing her client "guilty before doing an investigation" and accused the sheriff of shoddy work by not telling the district attorney. "This is not professional law enforcement; this is politics," Glavin said.
Cuomo's spokesperson Rich Azzopardi went so far as to intimate the events were part of some conspiracy by James, who is expected to announce a bid for Cuomo's old job imminently. "'Accidentally' filing a criminal charge without notification and consent of the prosecuting body doesn't pass the laugh test and this process reeks of Albany politics and perhaps worse," Azzopardi wrote. "The fact that the AG — as predicted — is about to announce a run for governor is lost on no one. The truth about what happened with this cowboy sheriff will come out."