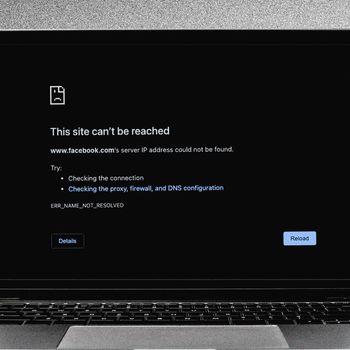 Photo-Illustration: Intelligencer; Photos: Getty Images
Facebook, Instagram, and WhatsApp experienced massive outages on Monday after a technical problem made the sites inaccessible. The mysterious outage, which began around 11:40 a.m. Eastern Time, knocked all the social-media behemoth's apps and services offline, sending countless users in search of engagement dopamine rushes wherever else they could find them. Just before 6 p.m. the sites appeared to be coming back online.
Below are updates on this ongoing story.
So what went wrong?
Cybersecurity journalist Brian Krebs tries to explain:
Doug Madory is director of internet analysis at Kentik, a San Francisco-based network monitoring company. Madory said at approximately 11:39 a.m. ET today (15:39 UTC), someone at Facebook caused an update to be made to the company's Border Gateway Protocol (BGP) records. BGP is a mechanism by which Internet service providers of the world share information about which providers are responsible for routing Internet traffic to which specific groups of Internet addresses.




In simpler terms, sometime this morning Facebook took away the map telling the world's computers how to find its various online properties. As a result, when one types Facebook.com into a web browser, the browser has no idea where to find Facebook.com, and so returns an error page. …




[T]he changes had to have come from inside the company, as Facebook manages those records internally. Whether the changes were made maliciously or by accident is anyone's guess at this point.
Krebs later added:
WhatsApp is a vital communication tool, worldwide
The various Facebook-owned sites an services going down isn't just an inconvenience, as many have pointed out during the outage:
The sites finally appear to be stumbling back online
It's not clear how long it will take for it to start functioning normally again:
Zuck's wealth and Facebook's revenue are taking a hit
Bloomberg reports:
Mark Zuckerberg's personal wealth has fallen by more than $6 billion in a few hours, knocking him down a notch on the list of the world's richest people, after a whistleblower came forward and outages took Facebook Inc.'s flagship products offline.




A selloff sent the social-media giant's stock plummeting 4.9% on Monday, adding to a drop of about 15% since mid-September. The stock slide on Monday sent Zuckerberg's worth down to $121.6 billion, dropping him below Bill Gates to No. 5 on the Bloomberg Billionaires Index. He's down from almost $140 billion in a matter of weeks, according to the index. 
For more on the whistleblower's allegations during Sunday night's 60 Minutes broadcast, head here.
Hitting the reset button?
Just like a home internet router:
How is Twitter handling the overflow?
The alternative platform got a little glitchy on Monday afternoon:
The outage has also crippled Facebook's workforce
The outage — the company's largest since a 24-hour period of shaky service in 2019 — has apparently seriously hamstrung its employees:
Technical difficulties, not an attack
According to our savvy colleagues at the Verge, the technical issue is apparently the result of DNS problems — not some kind of nefarious attack, though Facebook has not, as of Monday afternoon, officially confirmed the cause.
According to the New York Times, "Two Facebook security team members, who spoke on condition of anonymity because they were not authorized to speak publicly, said it was unlikely that a cyberattack caused the issues … because the technology behind the apps was still different enough that one hack was not likely to affect all of them at once."
The downtime has been a boon for Twitter jokes
Twitter itself, meanwhile, is having some fun during its moment in the sun as one of the few social media platforms left standing:
This post has been updated.