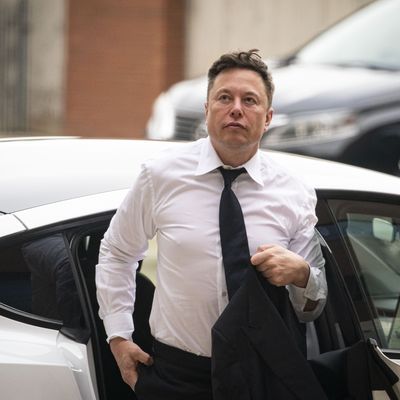 Photo: Bloomberg via Getty Images
The world's richest man sure loves being a prurient troll.
In an exchange with Oregon Senator Ron Wyden on Sunday, Elon Musk responded to the lawmaker's mild criticism of him with a proudly juvenile retort:
Good one, Elon.
On Saturday, the Tesla CEO had polled his 63 million followers on Twitter, asking if he should sell 10 percent of his stock in Tesla as a way to voluntarily increase his tax burden.
Wyden, a Democrat who has pushed for a billionaires' income tax, responded by noting that Twitter polls should not determine the tax burden of magnates, earning Musk's juvenile comeback.
The poll Musk conducted would supposedly decide whether the entrepreneur — who does not take a taxable salary and paid nothing in federal income taxes in 2018 — would be required to pay taxes on about $21 billion of his stake in the electric-car company, because he is required to do so on options he exercises.
When the poll closed on Sunday afternoon, almost 58 percent of the 3.5 million people who voted decided that he should get rid of the stock. "I was prepared to accept either outcome," he tweeted after the results came in, suggesting he is ready to eat as much as $5 billion on the sale.
In response to all this, Tesla's value fell by almost 3 percent as of late Monday morning. (Also on Monday, Musk changed his Twitter display name to "Lorde Edge," which is probably a cryptocurrency thing, and designated his location as "Tröllheim," which seems about right.)
Musk's casual approach to posting has erased millions for shareholders in the past, like the time last year when he tweeted "Tesla stock price too high imo," causing a 9 percent dip. And it has gotten him into hot water, like when he accused the British caver Vernon Unsworth of being a "pedo guy" in a spat about Musk's proposed solutions to rescuing Thai children trapped in a cave in 2018. Unsworth filed a defamation lawsuit against Musk, which Musk eventually won.
Though Musk claims he is considering spending $6 billion to help end world hunger if the United Nations World Food Program can explain "exactly" how his money will be spent, his proposal may not be guided entirely by altruism. CNBC reports that Musk is facing $15 billion in taxes on his Tesla shares in the coming months, whether or not his Twitter followers hit him with the bill.