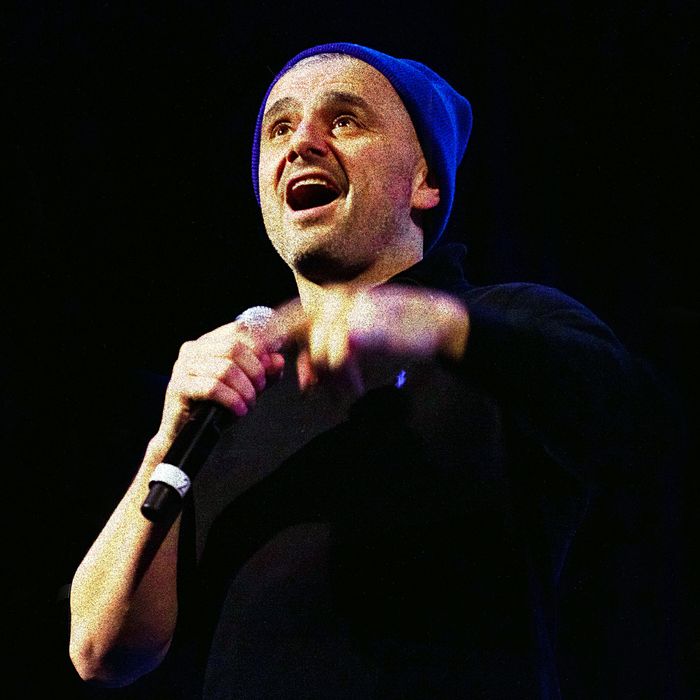 Photo-Illustration: Intelligencer. Photo: Michael Nagle/Bloomberg via Getty Images
This collective room is wasting an ungodly amount of time trying to convince people," Gary Vaynerchuk, a compact 46-year-old in jeans, a white hoodie, and a backward ball cap, was telling his audience at a VIP curtain-raiser for the conference NFT.NYC. "Convincing is just your insecurities showing up."
The crowd of 150 nonfungible-token aficionados — men in Bored Ape Yacht Club hoodies, an artist in a red sport coat and anonymizing face shield, and Ja Rule among them — was gathered in an event space in Tribeca to listen as the one-man brand his fans call "Gary Vee" spoke about making it in business with the signature full-throated conviction that has turned a lot of young men into fanboys. Vaynerchuk, who has 9.3 million followers on Instagram, preaches the NFT gospel, but anyone hoping for alpha on the next NFT drop to mint was in for a disappointment. "I believe there is a 100 percent chance of a massive dip" in NFTs, Vaynerchuk told the crowd. "I think there's an enormous amount of carnage coming, and the amount of money that's going to be lost is going to be staggering. Don't let your short-lived financial arbitrage be the foundation of your point of view. It's clouding the shit out of people."
He continued in full Cassandra mode, dismissing the culture of hype around the recent torrent of tossed-off and copycat NFT projects. "People are like, 'No, Gary, you don't get it. It has tokenomics.' 'Gary, you don't get it. We have the IP control.' 'Gary, you don't get it. It's going to be in the metaverse.' 'Gary, you don't get it, it's going to be a TV show.' No, you don't get it. 99 percent of those things are a commodity. They have to execute. This is people's money. And a lot of people have the majority of their net worth tied up in tokens. That scares the piss out of me."
Vaynerchuk is a true creature of social media. Until the age of 30, he was a New Jersey wine merchant running his father's liquor business, which he'd turned into a regional powerhouse called Wine Library. Then he discovered YouTube and launched WineLibraryTV, blind-tasting wines in the shop's storeroom and rendering his judgments with near-manic intensity. The videos went viral, and over the next several years, Gary Vee became an angel investor (Twitter, Uber, Venmo), a branding expert (VaynerMedia has 1,200 employees and offices in Mexico City, London, and Singapore), an author of best-selling books with chin-out titles like Crush It! and Jab, Jab, Jab, Right Hook, and a hustle coach for the Instagram generation, dispensing an older-brotherly mix of encouragement and tough love. At the Tribeca event, he shared Gary Vee–isms like "Humility combined with curiosity can get you everywhere" and "Don't be scared to say, 'I don't know'; so many of you have lost by faking the funk."
For the past several years, Vaynerchuk had been vocally obsessed with — and made a lot of money from — trading sports cards and collectibles, so last year, when venture capitalist Fred Wilson told him about NBA Top Shot, an NFT collection of memorable basketball video clips, Vaynerchuk immediately saw their potential. But he was too busy navigating his company through COVID to seize the opportunity, and he watched from the sidelines as they exploded in value. As he was lamenting this missed chance to an old angel-investing buddy, Digg founder Kevin Rose, in January, Rose asked, "Do you have a Punk?" Vaynerchuk spent "the next 400 hours" researching and buying CryptoPunks (the most valuable profile-pic NFT collection). Soon he was obsessed, and he had a revelation: NFTs weren't just something he could collect; they were, he told me, the culmination of all the themes in his career — "Collectibility, supply and demand, storytelling, IP, marketing, community-building."
"The second I had my full, full, full eureka moment," he told the Tribeca crowd, snapping his fingers to punctuate each full, "I literally stood up and said out loud in the middle of my apartment, 'Thank you, God.' I swear to God I said that."
That's when he decided to issue his own NFTs, pioneering the use of NFTs as a kind of lifetime pass to a celebrity's community. A longtime doodler, in May he launched VeeFriends, a 10,255-NFT collection featuring 268 alliterative hand-drawn characters embodying aspirational traits, like Patient Panda and Empathetic Elephant (as well as, lest it sound too cloying, Fuck You Monday Mole and Swaggy Sea Lion). The focus on EQ qualities seems to signal an evolution for Vaynerchuk. His latest business self-help book, Twelve and a Half, focuses on how character virtues can help you, if not crush it, then at least live your best life. And Vaynerchuk is adept at cross-promoting the things he sells. After he offered his followers a free NFT with the purchase of 12 of the books, he racked up more than 1.2 million copies in presales, more than all of his previous best sellers' sales combined. Different tiers of VeeFriends grant different levels of access to their namesake, and owning any VeeFriend affords you admission to VeeCon, the annual conference Vaynerchuk plans to debut in 2022.
The crowd in Tribeca was packed with people who have bought wholesale into the Vaynerverse. A 22-year-old I spoke to had picked up 42 VeeFriends and made more than $1 million selling most of them (he still had seven); the cheapest VeeFriend, these days, trades for 8.12 ether or nearly $38,000. During a Q&A, a woman with short hair prefaced her question by thanking Vaynerchuk: "VeeFriends has changed my life, I'm a better parent, I'm a better supervisor …" (She didn't elaborate on precisely how VeeFriends had wrought such a powerful effect.) Afterward, Vaynerchuk was thronged, as he tends to be, by a group of mostly young men seeking selfies with their hero and his thoughts on life, the metaverse, and everything in between.
The Belarus-born Vaynerchuk, who in his own description has "an immigrant's chip on my shoulder," was unwavering when people on Twitter mocked his NFT artwork, and now he's having the last laugh: VeeFriends netted Vaynerchuk more than $30 million (and now has a market cap of more than $500 million); in October, Christie's auctioned off five of Vaynerchuk's original doodles for $1.2 million. He has enjoyed seeing many of the people close to him, who either bought sports cards when he told them to and profited handsomely or more often didn't buy them to their regret, buy NFTs when he recommended them. He relishes the fact that many of the people who bought VeeFriends are part of his loyal community, people who have seen him doubted and then vindicated over the years. CryptoPunk owners include his trainer, his publicist, and various family members. "My sister wouldn't know how to find her CryptoPunk right now if you paid her a million dollars. But because of the FOMO of everybody in my circle missing out on the sports-card thing, they kind of blindly went into something that was much more far-fetched."
The Tribeca event had ended, and we were in an SUV with Vaynerchuk's entourage. Vaynerchuk is such an energetic communicator, and so basks in the attention of crowds, that it's hard to imagine a pre-internet-famous Gary Vee, and I wondered aloud what he would be doing if YouTube and Instagram had never come along to amplify his enthusiasms. "I probably would have multiple wine stores, 'cause I love retail," he said, then had another thought. "You know what, actually, I'd probably own a winery. In the liquor business in America retail is the worst part of the chain. You keep the least part of the economics and take on a lot of risk. I would have wanted to own a brand."
We were going to Hudson Yards, where Vaynerchuk would host a "fireside chat" (actually a fireless outdoor chat) with Beeple, a.k.a. the artist Mike Winkelmann, who sold a single NFT for a record $69 million at Christie's in March. Afterward, Vaynerchuk would screen a documentary his company had produced about Beeple, including footage of Winkelmann and his family's live reactions as the bidding for his piece went stratospheric.
When we got to Hudson Yards, Beeple was inside the riverside restaurant Jibs, posing with admirers for selfies featuring his trademark RAND Corporation–egghead-meets-toddler look (brow-line glasses, stuck-out tongue). Vaynerchuk and his younger brother A.J. sat in Adirondack chairs on a patch of AstroTurf in a secluded outdoor area beside the restaurant.
"This really feels so 2010, doesn't it A.J.?," Vaynerchuk said. "When was the last time you felt like this: hanging out, this energy?"
"South by," A.J. said. "2010, early 2009."
"'08, '09, '10, '11," Vaynerchuk said.
"100 percent," A.J. said.
"It's everything," Vaynerchuk said. "That four-, five-year window" — the late aughts, when he was a fixture at the annual South by Southwest conference — "shaped so much for me, and I know I'm in it again, but this time I'm really in it. It's around the thing I've been subtly talking about my whole life — holding IP — for fucking ever. I have so much to gain."
What are his ambitions for VeeFriends? "Here's how my brain goes: To build Pokémon, Transformers, Care Bears, Rainbow Brite, Star Wars. And there's a big delta between Star Wars and Rainbow Brite. I know I'm going to be somewhere in the mix. I know it, I know it, I know it. Cartoons, movies, sneakers, trading cards, toys, iPhone case, metaverse."