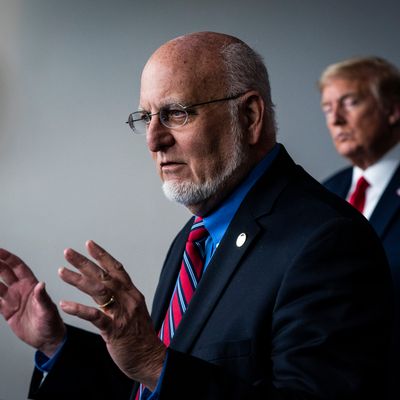 President Trump listens as Dr. Robert Redfield, director of the Centers for Disease Control and Prevention, speaks with members of the coronavirus task force during a briefing on April 22, 2020.
Photo: Jabin Botsford/The Washington Post via Getty Images
On Friday, the House Select Subcommittee on the Coronavirus Crisis released emails and interview transcripts that detail numerous instances in which top officials in the Trump administration worked to influence, disrupt, or block efforts by career officials at the Centers for Disease Control and Prevention to curb the worsening COVID-19 pandemic in 2020.
While many of the Trump administration's attempts to interfere in such efforts and downplay the severity of the COVID crisis have been previously reported, the newly released documents confirm and expand on how, as Politico reports, "Trump and his allies in the White House blocked media briefings and interviews with CDC officials, attempted to alter public safety guidance normally cleared by the agency and instructed agency officials to destroy evidence that might be construed as political interference." Below is a look at some of the biggest takeaways from the documents.
Muzzling the CDC as the pandemic took hold
The emails and transcripts of congressional investigators' interviews with former CDC officials show that after the CDC became aware in early 2020 that the highly infectious virus that causes COVID-19 was spreading rapidly, agency officials requested to hold briefings about mask guidance and other issues. Their requests were continuously denied; the agency held no briefings from early March until June, during the critical and often confusing initial months of the pandemic.
According to the documents, the muzzling of CDC scientists and de facto White House takeover of public-health communications began after National Center for Immunization and Respiratory Diseases director Dr. Nancy Messonnier delivered a stark public warning on February 25, 2020 in which she said that it was inevitable that COVID-19 would spread and become disruptive in the U.S. Her prescient warning infuriated President Trump, and Messonnier told congressional investigators that she was privately reprimanded afterwards by then-Health and Human Services Secretary Alex Azar. Former CDC deputy director Anne Schuchat told investigators that Trump officials then rushed to schedule a follow-up press briefing the next day for no other apparent reason than to refute Messonnier's claim.
Attempts to mess with the MMWR reports
Trump appointees also tried to alter or influence what the agency said in its Morbidity and Mortality Weekly Reports. An editor of the report, Dr. Christine Casey, told congressional investigators that she received an email from Trump-appointed former Health and Human Services adviser Paul Alexander which she understood as an attempt to block one report from coming out. She said she was later instructed to delete the email at the apparent direction of CDC director Dr. Robert Redfield.
The White House-directed change in COVID-testing guidance
In addition to interfering with the work of CDC officials, the documents show that Trump officials abruptly changed the CDC's testing guidance to recommend that most asymptomatic people should not be tested, even if they were exposed to someone with the virus. Dr. Deborah Birx, the former coordinator for the White House coronavirus task force, said she believed the administration was seeking to limit testing for the virus to give the impression that there were fewer cases. "This document resulted in less testing and less — less aggressive testing of those without symptoms that I believed were the primary reason for the early community spread," Birx told the committee. "I did not agree with the guidance as it was written."
Less than a month later, the CDC released revised testing guidance to make it clear that anyone who comes into close contact with someone with COVID-19 should get tested. Birx said it was released over "objections from senior White House personnel."
Interference in CDC guidance for faith groups and meatpacking plants
White House officials also attempted to influence CDC guidance on COVID precautions for meatpacking plants and faith groups, according to emails released by the committee. CDC director Robert Redfield ultimately softened an April 2020 guidance for the country's meatpacking plants, where multiple crippling COVID outbreaks had already occurred, at the urging of senior White House officials. Two White House domestic-policy officials also tried to shape a CDC guidance for faith groups at a time when there appeared to be outbreaks of the coronavirus linked to large indoor religious gatherings. One of the officials was offended the scientists didn't make any changes based on her notes. Another suggested in a reply that the final draft of the guidance didn't need to be approved by the CDC.
CDC officials opposed invoking Title 42 to expel migrants, which scientific evidence didn't support
Former CDC deputy director Anne Schuchat told congressional investigators that CDC officials didn't support the White House invoking its Title 42 public-health authority to allow U.S. border authorities to remove migrants for pandemic-related reasons. She said that the director of the agency's Division of Global Migration and Quarantine, Dr. Martin Cetron, refused to sign the order, but CDC director Redfield went ahead with it anyway. "The bulk of the evidence at that time did not support this policy proposal," Schuchat said. The Biden administration has left the controversial policy in place.