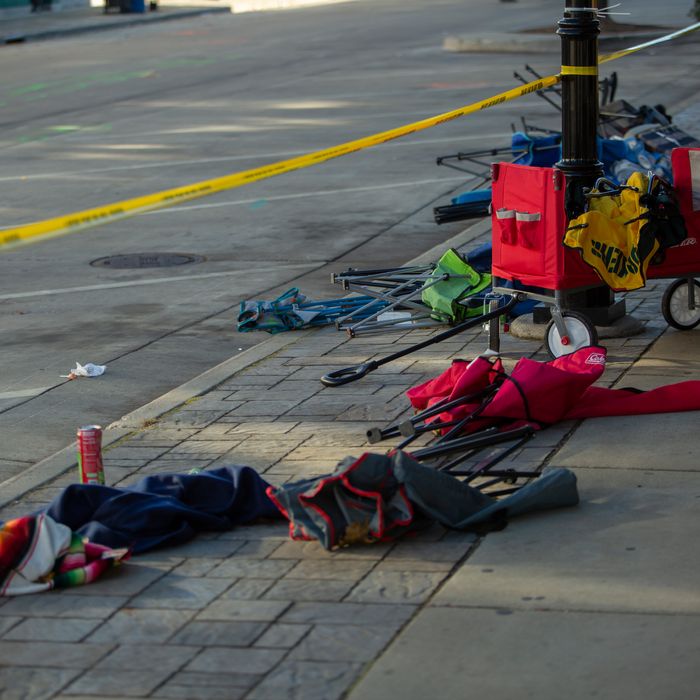 Chairs littered the parade route on Monday morning.
Photo: Getty Images
Late Sunday afternoon, an SUV plowed through marchers in a Christmas parade in downtown Waukesha, Wisconsin, killing at least six people and injuring another 62, according to local officials. Below is everything we know so far.
What happened
Waukesha was holding its 58th annual Christmas parade, complete with floats, marchers, and bands, when a man driving a red Ford Escape smashed through traffic barricades around 4:40 p.m. The SUV traveled along the parade route at a high rate of speed, hitting more than 40 people and leaving a scene of carnage in its wake. According to the police, an officer fired his weapon at the vehicle in a failed attempt to stop it. Several videos of the crime were later shared on social media, including one in which the SUV could be seen speeding past a small child just feet away:
Eyewitnesses described the aftermath of the crime as nothing short of horrific.
Angelito Tenorio, an alderman and candidate for state treasurer, was marching in the parade when he heard a loud bang. "Then I heard deafening cries and screams. It was very gut-wrenching," he told the New York Times. "People were running away, leaving their belongings behind, sobbing. When the crowd cleared out, it looked like there were people on the ground who might have been struck by the vehicle."
"There were pom-poms and shoes and spilled hot chocolate everywhere," one person told the Milwaukee Journal-Sentinal. "I had to go from one crumpled body to the other to find my daughter. My wife and two daughters were almost hit. Please pray for everybody. Please pray. My family is safe but many are not. I held one little girl's head in my hand; she was seizing and she was bleeding out of her ears. I held her mother as she collapsed. Please pray."
The suspect
Police soon recovered the vehicle and took into custody the driver, Darrell E. Brooks. Officials said Brooks, 39, had apparently been involved in a domestic incident just before driving the SUV down the parade route. "There was no pursuit that led to this incident," Waukesha police chief Daniel Thompson added during a press conference Monday, saying officers hadn't yet responded to the scene of the earlier incident. In a court appearance on Tuesday, prosecutors charged Brooks with five counts of first-degree intentional homicide. His bail has been set at $5 million, and he is expected to face a sixth count for the death of 8-year-old Jackson Sparks, who passed on Tuesday.
On Monday, the Associated Press reported that Brooks has a lengthy criminal record and has been charged with crimes 16 times since 1999:
Online court records showed a person named Darrell Brooks, with a birthdate making him 39, has two open criminal cases in Milwaukee County. In one case, filed Nov. 5, he is charged with resisting or obstructing an officer, reckless homicide, disorderly conduct, bail jumping and battery. Records show $1,000 bond was posted on Friday.

In the other case, filed in July 2020, Brooks is charged with reckless endangering and illegal possession of a firearm. In the other case, filed in July 2020, Brooks is charged with reckless endangering and illegal possession of a firearm.
The Victims
Authorities identified the dead as Virginia Sorenson, 79; LeAnna Owen, 71; Tamara Durand, 52; Jane Kulich, 52; and Wilhelm Hospel, 81. On Tuesday, 8-year-old Jackson Sparks also died from his injuries.
Several of the dead were members of the Milwaukee Dancing Grannies, who were marching in the parade, the group said Monday on its Facebook page. "Our group was doing what they loved, performing in front of crowds in a parade putting smiles on faces of all ages, filling them with joy and happiness," the post said.
Members of a girls' dance team were among the injured. Children's Wisconsin Hospital in Wauwatosa announced Monday that it was treating 18 pediatric patients hurt during the incident. Eight of those patients have undergone surgery for their injuries. Ten remained in the ICU on Monday, including six in critical condition.
The Archdiocese of Milwaukee released a statement on Sunday announcing that the injured included "one of our Catholic priests, as well as multiple parishioners and Waukesha Catholic schoolchildren."
This post has been updated.