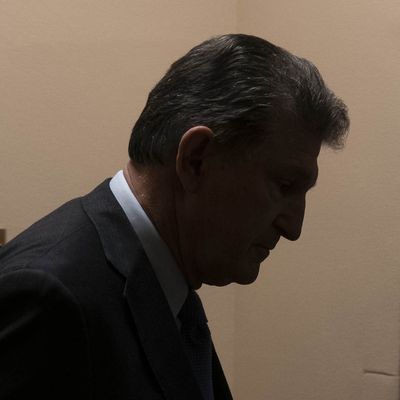 Senator Joe Manchin.
Photo: Sarah Silbiger/Bloomberg via Getty Images
West Virginia Senator Joe Manchin said Sunday that he "cannot vote to continue with" President Biden's Build Back Better Act, apparently signaling that he is pulling the plug on the massive spending bill. The announcement seems to have come as a surprise to Democratic lawmakers as well as the White House, which released a scathing statement that said Manchin's comments "represent a sudden and inexplicable reversal in his position, and a breach of his commitments to the President and the Senator's colleagues in the House and Senate."
During an appearance on Fox News Sunday, Manchin said his concerns surrounding both the size and basic shape of the $1.75 trillion economic and climate package remained unresolved. "I cannot vote to continue with this piece of legislation," the moderate Democratic Senator told host Bret Baier. "I've tried everything humanly possible. I can't get there." When asked by Baier if he was "done? This is a no?" — Manchin replied: "This is a no on this legislation."
As Intelligencer's Jonathan Chait noted in response to Manchin's comments, it is not fully clear if the senator is really killing the bill entirely, or just resetting expectations about what kind of bill he would be willing to support moving forward. The most significant disagreement, going into Sunday, had been over how long the new programs in the Build Back Better Act would be funded — which Manchin favoring permanently funded programs over ones for which funding would need to be renewed.
Manchin's also released a statement on Sunday detailing his new position in which he lambasted the bill's climate provisions — some of which had already been reworked to address his objections:
Multiple Democrats and the White House quickly decried Manchin's announcement on Sunday, with the White House suggesting his comments were a "breach of his commitments." On Thursday, President Biden had acknowledged that negotiations over the bill will carry into 2022 despite Democrats' effort to push it through before the holidays. On Sunday, the White House rebuked Manchin and accused him of negotiating in bad faith:
Progressive Democrats in Congress have also been making their displeasure known. Senator Bernie Sanders said on CNN's State of the Union that, "We've been dealing with Mr. Manchin for month after month. But if he doesn't have the courage to do the right thing for the working families of West Virginia and America, let him vote no in front of the whole world."
Representative Pramila Jayapal went even further and said Manchin had "betrayed" President Biden. "He routinely touts that he is a man of his word, but he can no longer say that," the Progressive Caucus chair said Sunday, "West Virginians, and the country, see clearly who he is."
As Axios notes, several other progressive members of the House have also spoken out attacking Manchin, and even moderate House Democrat Abigail Spanberger said it was "unacceptable" that Manchin had "summarily walked away from productive negotiations," and that "we cannot act like this moment is the end."
Manchin said on Fox News Sunday that Democrats "should be upfront and pick our priorities. That's the difference. So it hasn't shrunk in the desire, the intent is always there. And what we need to do is get our financial house in order… be able to pay for what we do and do what we pay for."
Republicans, meanwhile, have supported Manchin's rebuff of the bill: "I very much appreciate Senator Manchin's decision not to support Build Back Better, which stems from his understanding of the Congressional Budget Office's analysis of the bill," Senator Lindsey Graham of South Carolina tweeted.
Another one of Manchin's main sticking points was the inclusion of a one-year extension of the expanded child tax credit in the bill. That child tax credit expansion is particularly relevant to Manchin's home state: Nearly 70 percent of West Virginians support the Build Back Better bill. One study found that 346,000 children in West Virginia would be affected if the child tax credit expired, and 50,000 would be at risk of slipping below the poverty line.
This post has been updated.