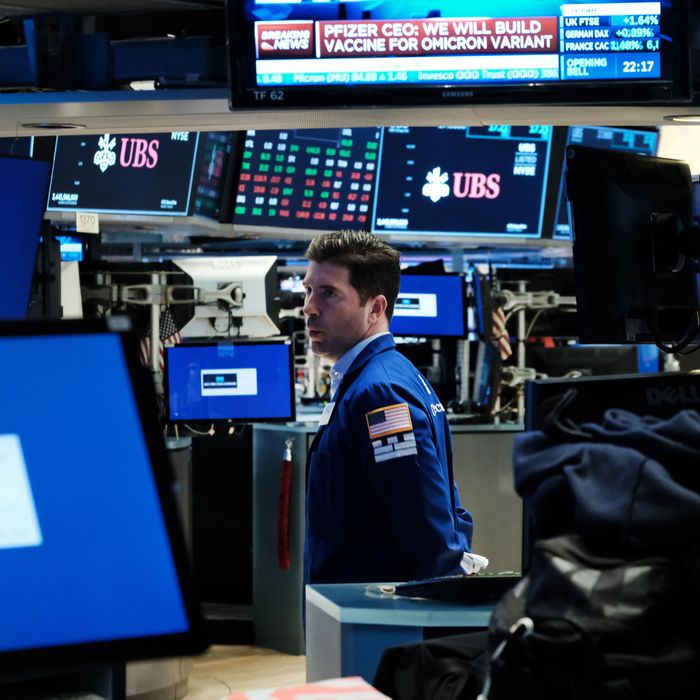 He's feeling bullish.
Photo: Spencer Platt/Getty Images
Let's just bottom-line this. Whatever concerns there may be from health professionals about the risks of Omicron, about how it's still too early to know its true severity, Wall Street has placed its bets — and they are remarkably optimistic. The fear that was palpable in March 2020, when stocks cratered and the economy was shuttered, is nowhere to be seen. We may be living in a world with a new COVID variant, but that same world has vaccines, video conferencing, and people who are ready and willing to go outside and spend some money. Put all that together, and the markets are rallying hard on the bet that Omicron won't be serious — and might even help create a way out of the pandemic.
For those who don't pay attention to the stock market, this might be a bit of a shock. Didn't the stock market just have its worst Black Friday in 90 years? Wasn't there a whole lot of panic? Upset men on the stock-exchange floor? Yes, but that was six days ago — a lifetime. JPMorgan Chase, the world's biggest bank — run by the gray-haired and cranky-yet-sanguine Über-banker Jamie Dimon — says Omicron may "ultimately prove to be a positive for risk markets, in the sense that it could accelerate the end of the pandemic," according to a research report. Essentially, the bank is betting that Omicron won't kill a lot of people and that it's going to mark a turning point in how we go about our daily lives and interact with each other — with all the obvious implications for the broader economy. "While it is likely that Omicron is more transmissible, early reports suggest it may also be less deadly — which would fit into the pattern of virus evolution observed historically," the bank noted.
The bank isn't alone, either. Ryan Detrick, the chief market strategist for LPL Financial, says that even if Omicron is a concern, the country is prepared to handle it. "Admittedly, we don't know how effective current vaccines are against Omicron, or how transmissible it is, but we do know that the appetite for another nationwide shutdown is quite low and that these questions should be answered over the coming weeks," he wrote in a research note. "We remain optimistic that the medical community will quickly create booster shots against the new variant if needed, paving the way for this economic recovery to move forward early next year." In the past five days, the Dow Jones Industrial Average has rocketed up more than 1,000 points and is now approaching an all-time high.
The thing about the stock market is that it's a bet on the future. It's a window into what people with money think the world will look like at some point down the road. Take Peloton, the techie-stationary-bike company. The company's market capitalization reached its all-time high on January 13, right before vaccines started to get widely distributed among the general population. Since then, the share price has plummeted — now down 75 percent from its peak. These days, Wall Street bulls are far more excited about gyms, sweating with strangers, aspirating in humid rooms with low ceilings. Planet Fitness is up 18 percent this year and 4 percent over the past week. Equinox's parent company is raking in SPAC money. Even the analysts who like it are counseling investor "patience" before the company can start pleasing investors again.
Peloton is not an outlier: Most companies that do better when you stay home and stare at a screen are doing poorly. Zoom, the video-conferencing app we all know and love, is down 66 percent from its high last October, for instance. By contrast, shares of Bumble were up more than 12 percent today after it introduced a new feature allowing people to meet new platonic friends — in person, of course.
The pandemic isn't over. More than 1,000 people a day, on average, die of COVID in the U.S. As my colleague David Wallace-Wells points out, we're not exactly a country that has this under control. But defeating a pandemic and having a declining amount of risk for the companies that trade on the stock market are two very different things. The optimism is about big and small things in the overall economy: the rising odds that, over the next few months, you'll spend $20 on a movie ticket rather than watch Netflix, buy new clothes for the office job you'll go to, splurge on a new restaurant rather than cook at home, go on vacation, maybe even make a down payment on a new home or a car. People by and large have more money, they're getting raises, they're spending that money on goods and services, and corporations are raking in record profits. It's entirely possible the big banks and hedge funds have it all backward and a new, terrifying mutation is on the way. But until that day comes, Wall Street is betting that the big post-COVID boom is here to stay.