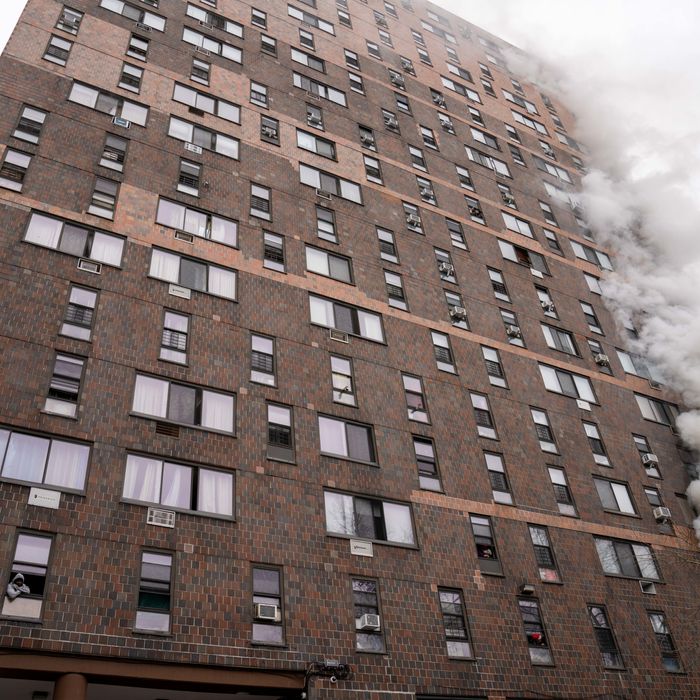 Building residents can be seen in open windows after firefighters arrived at the scene of the blaze on Sunday morning.
Photo: Theodore Parisienne/New York Daily News via Getty Images
A five-alarm fire at a 120-unit apartment building in the Bronx on Sunday morning left at least 17 people dead, including eight children. More than 60 people were hurt, half of whom suffered life-threatening injuries. "This is going to be one of the worst fires we have witnessed during modern times in the city of New York," Mayor Eric Adams said, calling it "a horrific, horrific, painful moment for the city." Below is what we know so far.
What happened
Just before 11 a.m. on Sunday morning, firefighters were called to respond to a fire at a duplex apartment in the 120-unit Twin Parks North West apartment building at 333 East 181st Street near Tiebout Avenue in the Bronx. FDNY units arrived at the 19-story building within three minutes of the first call; around 200 FDNY members ultimately responded.
How the Fire Started
The fire was caused by a "malfunctioning electric space heater" located in the bedroom of a duplex apartment that occupied the second and third floors of the building, FDNY commissioner Daniel Nigro said Sunday. The apartment's residents were able to escape before the blaze consumed the apartment, but the door to their apartment didn't self-close as it was supposed to. As a result, according to the New York Times, thick smoke from the fire was then pulled up through the entire building because of an open stairwell door on the 15th floor. "If you have that door on the upper floors open, that's really going to give you a flue effect, like a chimney, and that's what occurred," an FDNY spokesman said.
On Sunday, Nigro blamed the volume of smoke for why residents could not escape through the building's interior stairwells. Firefighters worked to pull trapped people from the building, even working after air tanks had run out. They found victims on every floor of the building, and many were already in cardiac or respiratory arrest from severe smoke inhalation. First responders "tried diligently to revive" those who died of smoke inhalation but could not save them all.
The Victims
Officials initially said on Sunday that 19 people were killed in the fire. On Monday, Mayor Adams updated that number down to 17 people, including eight children. Victims were transported to five hospitals throughout the Bronx. Most of the injuries were caused by smoke inhalation. As of Monday, 15 victims remained in critical condition.
What We Know About the Self-Closing-Door Problem and the Building's Management
Mamadou Wague, the 47-year-old father who lived in the apartment where the fire is believed to have originated, told the New York Post that he was asleep when he heard his children scream that there was a fire in their room. He rushed to help them escape downstairs but realized that one of his daughters was still in the apartment. He ran back upstairs to get her, but as they left, the apartment's front door apparently didn't close as it was supposed to:
"When you push the door all the way to the edge, it didn't close by itself," said Wague, who was in the apartment with his wife and eight kids when the fire started. "It's very sad. I don't even remember the door staying open because all I could think about was getting everybody out," the dad said.



A spokesperson for the group that owns the building told the Associated Press that the self-closing door in the apartment in question was checked in July by maintenance staff during a visit to fix the lock on the apartment's front door and that there were no other reported problems after that. A city law was passed in 2018 that required residential buildings to install self-closing doors in order to improve fire safety. Failing to do so is considered a Class C violation that must be rectified within 21 days and can result in financial penalties. The City reported on Monday that:
A Twin Parks tenant reported as recently as last month that their self-closing entry door did not shut: Tenants in unit 6K submitted a complaint to the city Department of Housing Preservation and Development about their door on Dec. 6. And another tenant told THE CITY that her apartment had door trouble for years …




Kelly Magee, the spokesperson on behalf of the joint venture that owns the building, said the problem reported Dec. 6 was fixed within 24 hours. The city housing code website reports that inspectors contacted the tenant, who told them the problem was fixed.
The building is co-owned by an investment firm called Camber Property Group, which was co-founded by a real-estate investor named Rick Gropper, who was named to the mayor's transition team to advise on housing.
On Sunday, Representative Ritchie Torres pointed out to the Associated Press that apartment buildings in the Bronx are often more vulnerable to fire. "There's no guarantee that there's a working fire alarm in every apartment, or in every common area," he said. "Most of these buildings have no sprinkler system. And so the housing stock of the Bronx is much more susceptible to devastating fires than most of the housing stock in the city."
'Black everywhere': Residents describe death trap
FDNY commissioner Daniel Nigro said that "smoke extended the entire height of the building," which he called "completely unusual." Firefighters had "found victims on every floor in stairwells." Residents told the Daily News the smoke was overwhelming:
"I walked to my door and opened it. A huge cloud of black smoke came in so I closed the door," [12th-floor resident Anthony] Romero said. "We put a wet towel under the door. I went to the back window and I checked and that's when I saw the smoke coming out the third floor apartment."




Romero, who's asthmatic, remained in his apartment until firefighters banged on the door, signaling it was safe for the family to evacuate.




"I had no choice, there was too much smoke in the hallways, there was no way I was gonna leave my apartment and make it from the twelfth floor to the first floor and live. So just the smoke hitting me alone … I'm spitting out black, but I'm good." …




"It was black everywhere," he said of the overwhelming smoke. "Black everywhere."
Another 12th-floor resident, 34-year-old accountant Ken Otisi, shared a similar experience with Gothamist:
Otisi … said he looked out his window at one point and could see smoke billowing from below. "Once I opened my front door, it was nothing but pitch black smoke," he said. "There was no way I was going to make it." He instead stayed in his apartment and wet as many towels as he could to prevent the smoke from filling his home.
Speaking with the Associated Press, resident Sandra Clayton described a harrowing journey down one of the building's staircases:
Clayton said she ran for her life when she saw the hallway filling with black smoke and heard people screaming, "Get out! Get out!"

Clayton, 61, said she groped her way down a darkened stairway, clutching her dog in her arms. The smoke was so thick and black that she couldn't see, but she could tell there were other tenants nearby because she heard their panicked wails and crying. Her dog, Mocha, slipped from her arms in the commotion at was later found dead in the stairwell.




"I just ran down the steps as much as I could but people was falling all over me, screaming," Clayton recounted from a hospital where she was treated for smoke inhalation.
"We couldn't get out," 15th-floor resident Tysena Jacobs told the News:
"I called 911 three times they tell us to put towels at the door but I couldn't get to the door. It was too black. It was black, you couldn't see nothing. So I had to put down a lot of towels at my bedroom door." Jacobs' brother pushed an air conditioner out of a bedroom window in an attempt to get oxygen flowing through the apartment before firefighters searching for trapped residents found the siblings.
Several others recounted their narrow escapes from the disaster to the New York Post:
Stefan Eutsnu, who lives on the 4th floor with his wife and children, said chance kept his children alive. Eutsnu took his children to his sister's house Sunday morning."When I got back, I was in the apartment with my wife and we smell the smoke," he said. The couple ran down the stairs, overwhelmed by smoke. He said he couldn't see a thing until he got outside, and that's when he saw "all the hurt children."
It was the city's deadliest fire in decades, striking at the Gambian community
The fire was the deadliest New York City blaze in decades aside from September 11 and the deadliest accidental fire in even longer.
The four deadliest fires in New York City since 1990 have now all been in the Bronx. In 2017, 13 people were killed when a fast-moving fire tore through a five-story apartment building in Belmont. That fire was also linked to an unclosed door and prompted the passage of a city ordinance mandating self-closing doors on apartments by July of last year. In 2007, 10 people were killed, including nine children, when a fire — which was also started by a space heater — broke out in a four-story apartment building in Highbridge. And in 1990, 87 people were killed when a fire started by an arsonist consumed the Happy Land social club in the Bronx. (That fire was the deadliest in the city since the galvanizing Triangle Shirtwaist Fire, which killed 146 garment workers in lower Manhattan in 1911.)
Adams said the Fordham Heights tower was home to a large community of Gambians, many of whom are Muslim, and that the medical-examiner's office would do its best to honor Islamic burial traditions. Governor Kathy Hochul said she would establish a victim's-compensation fund to cover housing and funeral costs for victims.
Hochul said she witnessed first hand the human cost when she visited a reunification center nearby. "It is impossible to go into that room where scores of families, who are in such grief, such pain, to see it in a mother's eyes as I held her, who lost her entire family. It's hard to fathom what they're going through."
Relief efforts are underway
A GoFundMe has also been set up for donations to help victims of the fire and their families, and state senator Alessandra Biaggi has been compiling information about where New Yorkers can drop off donated items for those who were affected. The Mayor's Fund to Advance New York City, the city's nonprofit organization, is accepting donations that will provide relief supplies and support for families affected by the fire.
This post has been updated throughout.