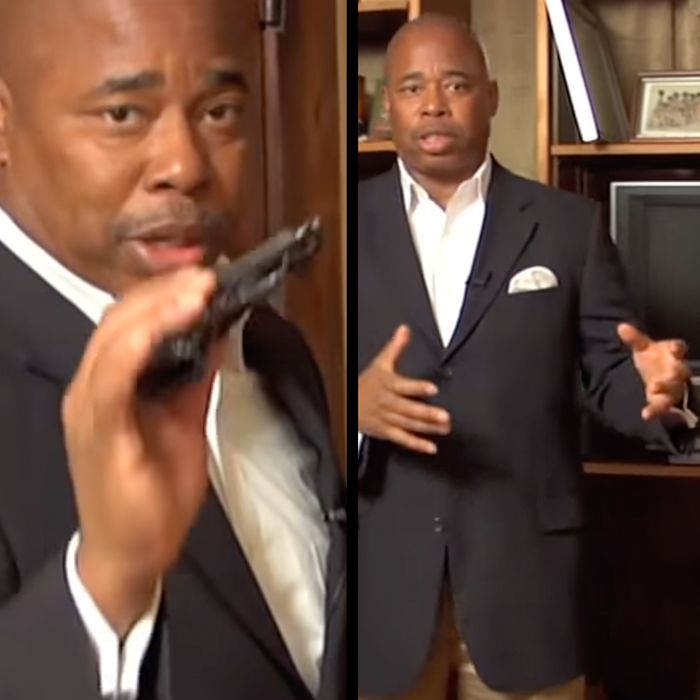 Photo: New York Daily News/Youtube
"Today in Eric Adams" — the T.E.A. — brings you the best of the day in Eric Adams.
Eric Adams isn't cameoing in the new Batman flick, but it definitely seems like he's coming for a starting roster spot in the caped crusader's rogues' gallery. Yesterday, sources within the NYPD reported to NBC New York that the mayor's team pitched the commanding officer of its gun-licensing division on what could only be described as a strategy to build up a goon small squad: "City officials say the proposal was to hire civilians, through the Department of Citywide Administrative Services, and designate them as special patrol officers with gun licenses and arrest powers." These deputized henchmen would, in theory, protect "high-profile posts," NYPD communications director Maxwell Young said in the report, "like the front gates and hallways of City Hall and Gracie Manor."
Though the scheme was "dropped," it's hard to say whether the idea of a private police force dissipated completely. Of course, he hand-me-downed an influential position in the department to his brother, noted parking-lot aficionado Bernard Adams (perhaps as a last resort after his initial plan fell through). This isn't even the first time he tried to convert civilians into cops though. His true origin story probably begins in this surreal video from 2011, back in his State Senate days, where, in advocating against illegal guns, now-Mayor Adams basically teaches parents how to sweep their homes like crime scenes. Because, ya know, maybe your teen's are hiding Glocks in your family jewelry box; sneaking away bullets behind picture frames ("Where there's smoke, there's fire. Where there's bullets, there may be a gun."); or hiding drugs in a doll's clothing. But check his statements today about "socializing with all NYers" (in the middle of a pandemic? Nasty behavior!) and bringing a dip bar and weights to City Hall, inviting any and everyone to come work out with him. Can't call it, but seems like a little boot camp developing for a crew of devoted followers deep in the heart of City Hall. The ploy to convert civilians into minions is clear. Who knew GSD also meant "gather soldiers deceptively"?