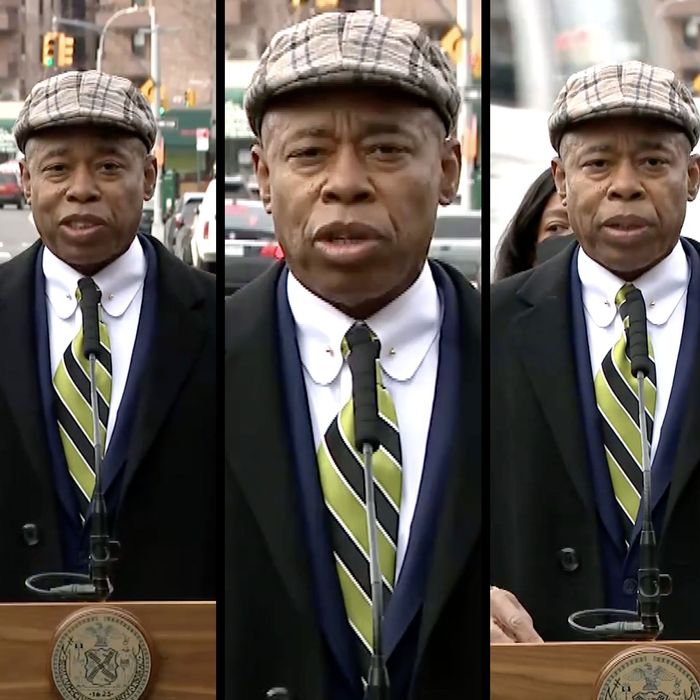 A bold vision for ears.
Photo-Illustration: Intelligencer. Photo: NYC Mayor's Office
"Today in Eric Adams" — the T.E.A. — brings you the best of the day in Eric Adams.
It's almost worrying. Why the sudden switch? Did some small, strange miracle take place upon the midnight hour? Did a magical bed bug on the City Hall floor crawl onto his unframed mattress, creep into his brain hole, and hit him with sage advice like Bruh, you really gotta start getting stuff done?
Who knows. Let's not question it any further, because this morning, standing at the intersection of Caton and Coney Island Avenues flanked by very serious-looking people, New York City mayor Eric Adams announced a highly anticipated campaign to make commuting through the city more of a breeze than a Hunger Games–esque traffic nightmare. Citing the recent deaths of five people at the Coney Island intersection, Adams laid out a plan to (cue the buzzword sax) "reimagine 1,000 intersections all over the city." The message of the new crusade — "Stop, Let Them Walk" — will also include "traffic-calming measures and recapturing space for pedestrians," specifically attempting to "improve traffic signals, raise crosswalks and more."
Now, that sounds all wonderful. Pedestrian deaths in New York City increased during the de Blasio administration, and seeing as the victims, especially recently in Coney Island, have either been children or older folks who "just want to cross the street," the call for a change was a long time coming.
But the second part of this plan provokes a familiar unease: "You will see better coordination and enforcement with the New York Police Department," Adams said. "We're going to double down on enforcement and efforts on failure-to-yield violations." There's also this bit about a whole new driving-and-biking rule: "Drivers and cyclists must fully stop at intersections even if there are no four-way stop signs whenever there is a pedestrian crossing or at the street corner about to cross." Has there been a single presser where Mayor Adams doesn't mention explicitly advancing the powers and principalities of the NYPD? If this means more traffic stops in general for drivers in that area — a community Adams is sure to note is mostly Black and brown — how can we be sure that the secondary part of the plan won't end up meaning more traffic police, more violations, more potential for implicit biases to once again manifest in racist policing practices?
We can only hope that's not the case; this plan does seem to have legs. Adams likes to set New York apart in very overblown and romantic ways — the whole "This is not Chicago" of it all. But unlike the last mayor-and-governor pairing, Adams and Governor Kathy Hochul do see eye-to-eye when it comes to infrastructure. At the very least, they aren't bending over backward to throw shade at each other, the kind of combativeness that contributed that played part in the stalling out of the de Blasio administration's Vision Zero road map for eliminating death by cars.
Still, questions. Is law enforcement even necessary to curb tragedies on the streets? With gentrification and other attempts at "urban renewal, the 1,000 particular intersections in question are of real importance. And which contractors will be tapped to complete the jobs?
But because the standard for correspondence from the mayor's office is a mix of vlogging and foot-to-mouth moments, it's actually refreshing to hear Adams address an important, explicitly street-level issue. Bike-riding Adams has been on the transit-safety thing since early in his campaign; a lot is riding on whether the commutes and comforts are materially improved. And if nothing improves, or if new rules create more human and neighborhood destruction, it could be a catastrophic failure of the Adams method, one sure to meet with citywide antagonism. Dunking on his predecessor might be all the rationale Adams needs to push something like this forward, but rivalry and cute slogans alone won't make this work. The plan has wheels, but can they roll it on over the finish line with minimal harm done?