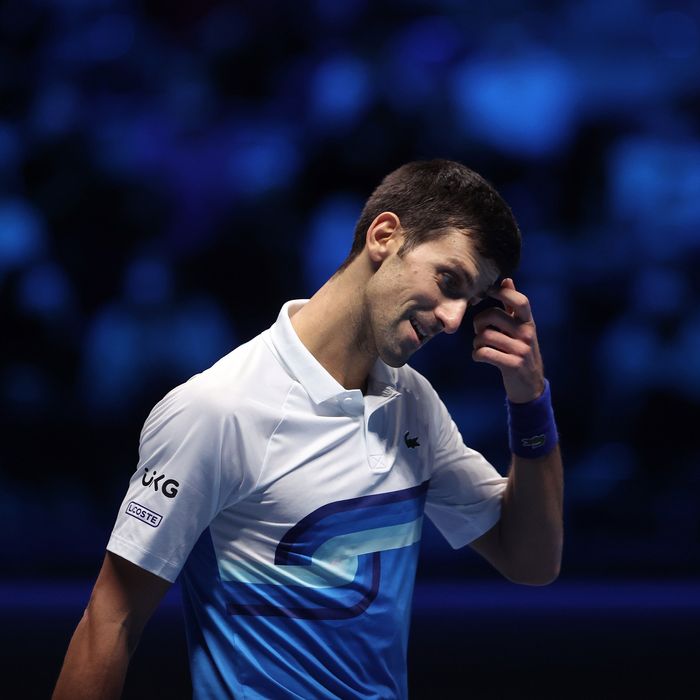 Throwing away his shot?
Photo: Julian Finney/Getty Images
As vaccine skeptic and 20-time Grand Slam champion Novak Djokovic awaits his Australian Open fate at a Melbourne-area hotel turned immigration facility, his family and the Serbian government are casting him as a political prisoner detained by small-minded bureaucrats. Meanwhile, the mystery of how the world No. 1 was granted an exemption to play Down Under in the first place is still about as clear as Djokovic's thinking on modern medicine. Djokovic's lawyers said in a court filing on Saturday that the athlete had written clearance from Australia's immigration department before traveling to the country with a medical exemption from its vaccination rules, as he had contracted the disease on December 16.
Melbourne newspaper The Age reports that federal officials had repeatedly told Tennis Australia, which runs the Australian Open, that a recent COVID infection, reportedly Djokovic's justification for his exemption, was not sufficient grounds to enter Australia without quarantining for 14 days. The organization gave Djokovic permission to play anyway, claiming that his exemption was approved by two independent panels — one commissioned by Tennis Australia and the other by the health department of the state of Victoria — that did not know the identity of the applicant they were evaluating.
Neither Djokovic nor Victorian officials seemed to understand that his entry into the country might be a problem when he landed in Melbourne late on Wednesday. But after questioning Djokovic for 12 hours and then canceling his visa, the country's Border Force said in a statement that the reigning Australian Open champion had "failed to provide appropriate evidence to meet the entry requirements to Australia."
The extent to which that decision was a result of political backlash remains unclear. Tennis Australia's decision to grant a now-infamous vaccine skeptic a pass provoked widespread outrage from both fans and an Australian public that has withstood some of the harshest pandemic restrictions in the world over the past two years. By the time Djokovic arrived, it was highly advantageous — from a reputation-management perspective, at least — for the federal government to take a stand against him. So does this thing go all the way to the prime minister?
The prime minister, Scott Morrison, says no. He claims the decision was merely about following the letter of the law.
But Victorian health minister Martin Foley hinted that there was more to the story, telling The Age, "Someone issued Novak Djokovic a visa and it wasn't the Victorian government."
Bolstering the Djokovic-was-specifically-targeted case is the fact that at least one other player — and reportedly an official too — had previously been let in the country on the same exemption as him with no problems. (Though there were reports that their paperwork was more thorough.)
Perhaps in an effort to avoid the appearances of a double standard, Australian authorities detained that player, Renata Voráčová, on Friday. Voráčová, a Czech doubles player who had already participated in a warm-up tournament this week, is being held at the same facility as Djokovic and is expected to be deported.
Even before his visa was officially canceled, Djokovic's situation had become a full-fledged international incident. Serbia's president, Aleksander Vucic, called Djokovic's treatment at the hands of Australian authorities "harassment," and the player's impetuous father threatened to start some sort of street fight over his son's plight and later compared him to Jesus, as one does.
The Djokovic family lambasted Australian authorities at a press conference on Friday and urged Serbs to protest outside the Parliament in Belgrade, where hundreds of people showed up.
The star's mother, Dijana, described his temporary home in Melbourne, which has been used to house asylum seekers, as "some hotel for immigrants, full of fleas with horrible food." (Won't someone think of the elite athletes?)
Outside the hotel, in the Carlton section of Melbourne, a relatively small gathering of Novak superfans provided some succor for their hero.
They weren't the only contingent there. Some showed up to protest Australia's vaccination policies and others to draw attention to the plight of the immigrants inside, who are now the subject of unusual media attention thanks to their famous building mate.
On Friday, Djokovic made his first comments since being detained. "Thank you to people around the world for your continuous support," he said in an Instagram Story. "I can feel it and it is greatly appreciated."
On Thursday, lawyers for Djokovic won an interim injunction in court that allowed him to stay in Australia until at least Monday, when a judge will hear his case in full.
Djokovic has previously aired his doubts about COVID vaccines and possesses a well-known fondness for quackery in general; for instance, he believes positive thinking can transform the molecular structure of water. He had already gotten COVID once before, after he had the bright idea to organize exhibition matches sans social distancing in the middle of the pre-vaccine pandemic.
This kind of behavior has not endeared him to fans already iffy on him, nor his fellow players (other than a select few). Rafael Nadal, Djokovic's arch-rival, summed up the presiding sentiments nicely:
Djokovic had been gunning for his tenth Australian Open title and 21st Grand Slam, which would place him first all time in the men's game. (He is currently tied with Roger Federer and Rafael Nadal at 20.) If he does end up playing in Australia after this rigamarole, he will face an overwhelmingly hostile crowd. An Instagram post announcing his exemption drew thousands of negative comments, which undoubtedly constitute a preview of what he can expect from fans the next time he takes the court in a country that isn't Serbia.
Where and when that will be is now up in the air. So far, none of the three other Grand Slams — the French Open, Wimbledon, and the U.S. Open — require players to be vaccinated. However, the U.S. requires vaccination to enter the country, as does France (with some countries currently excepted, Serbia not among them), and England mandates testing and a ten-day quarantine.
It's possible that pandemic conditions will improve enough by May that such rules will be a thing of the past, and Djokovic's steadfast refusal to make things easy on himself will no longer matter. But if COVID keeps rumbling along — and so far it hasn't been a good bet to predict otherwise — he could be in for a very strange and abbreviated season. Maybe a higher tennis power wants Federer, Nadal, and Djokovic to remain eternally locked at 20 majors apiece for symmetry's sake, if nothing else.
This post has been updated.