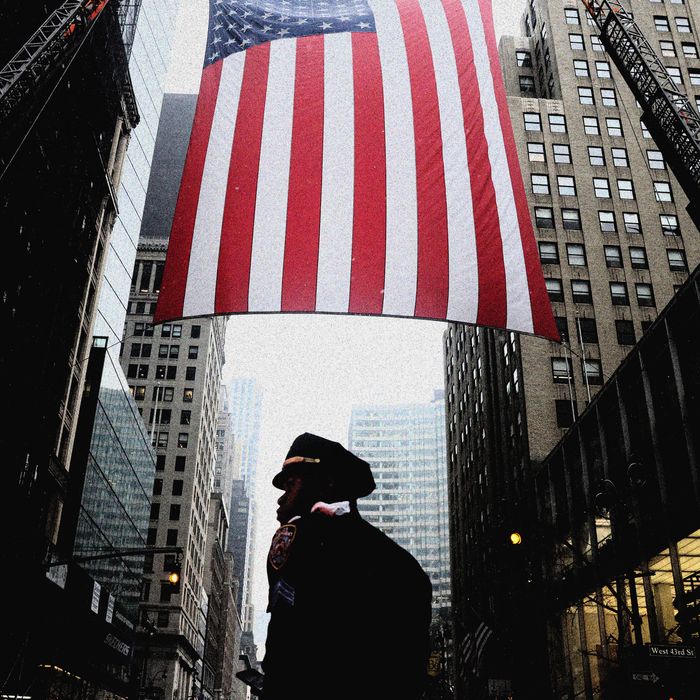 Photo: Jeenah Moon/Reuters
The astounding outpouring of public grief and gratitude at the funeral of NYPD officer Jason Rivera — the blue sea of officers who packed St. Patrick's Cathedral and lined up for miles along Fifth Avenue — was more than just a stirring tribute to a fine young man and a shattered family. Last week's murder of Rivera and his partner, Wilbert Mora, is a shock to the system — a reminder of the high stakes of our current debate about public safety.
The killing of Rivera and Mora on what began as a routine call for service is a nightmare come true for those of us who had the good fortune to grow up in NYPD households. My father, Ed Louis, spent the happiest and most rewarding of his 30 years on the job at Harlem's 32nd Precinct, where Rivera and Mora served. A son of Harlem, he joined the NYPD at age 21.
Dad was a lieutenant at the 32nd for many years in the 1970s. Even after we moved out of Harlem, he used to bring my sisters and me to see the place and often talked about how close it was to where he grew up playing basketball, boxing, and hanging out with friends.
To us kids, he was a superhero who could never be harmed. Only years later, after he retired, did my father remind me that New York's bad old days included a surprising number of cops — about 60 in the 1970s — who were killed in the line of duty, including friends of his. Twin trees planted in front of the 32nd, for instance, are there to honor Waverly Jones and Thomas Piangentini, two officers ambushed and murdered at the Colonial Park Houses in 1971 by members of the Black Liberation Army. The same extremist organization also assassinated officers Gregory Foster and Rocco Laurie in the East Village in 1972.
And the fight against violent criminals continues: NYPD commissioner Keechant Sewell used part of her eulogy at Rivera's funeral to directly address such predators. "Those who seek to dim the beacons of hope across these five boroughs: Look outside, hear our voices, see the presence in this cathedral," she said pointedly. "The NYPD will never give up this city. We will always prevail."
Mayor Eric Adams, who spent 22 years on the job as a cop, offered encouragement to the assembled police. "I thank you for what you do every day," he said. "You stand in the gap of safety. And these two fine men watered the tree of safety that allows us to sit under the shade from the hot sun of violence."
All true.
But the city's anguish over the murder of officers Rivera and Mora is also a moment to reflect on why we are sending some of our finest young people to walk down dangerous hallways and confront whatever horrors might lie on the other side of the door. Many of us see police officers as guardians and protectors, skilled in the art and science of keeping people safe. But we also need to see Rivera and Mora as what all their friends, family, and colleagues say they were: two earnest, honest, eager young men from tough neighborhoods who stepped forward to begin a life of service.
What kind of city sends its children into what Adams calls "a sea of violence?" Why do we close our wallets and minds and then expect cops to handle the tough, longstanding social problems that we can't — or won't — invest enough money and manpower in to cure?
America is slowly, gradually recovering from a decades-long failed experiment with mass incarceration and militarized police. There's a large and growing body of knowledge about how sensible, targeted efforts can replace punishment with prevention and bring down rates of crime and incarceration at the same time.
We need to probe, pursue, and activate that knowledge with curiosity, skepticism, and humility and carefully implement laws, policies, and practices that will drain the sea of violence. The loud voices urging New York to take shortcuts should be shunned: In general, anybody who starts their analysis with throwaway clichés like "this is simple" or "let's just use common sense" is probably fooling themselves.
Most of all, we need to evolve beyond the knee-jerk policy of letting the cops handle whatever educational, medical, economic, or social failures the rest of us couldn't figure out.
"There were days when I thought the public didn't understand and appreciate the job we were doing. I want to tell each of you officers, they do," Adams said at the funeral. "Don't ever give up on the people of this city because they will never give up on you."