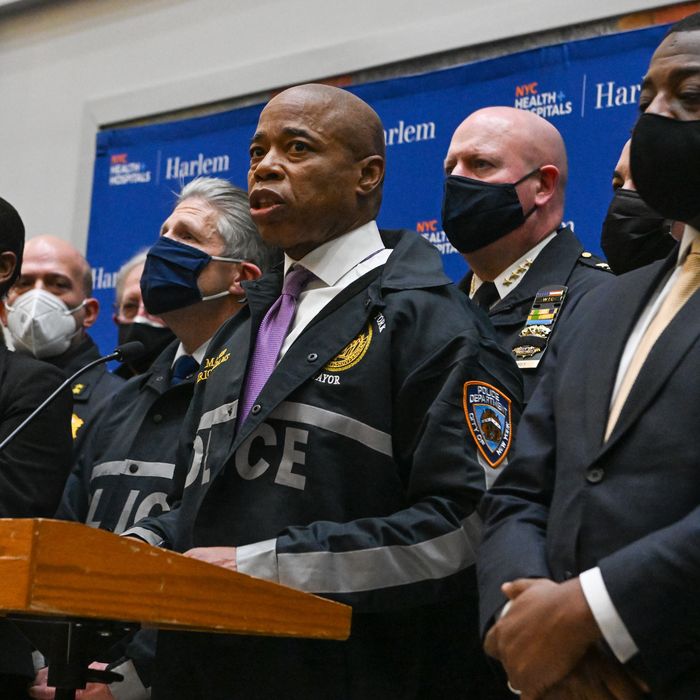 New York City mayor Eric Adams speaks to members of the media at Harlem Hospital on January 21, 2022.
Photo: Getty Images
Mayor Eric Adams issued a declaration of war on gun violence on Friday night following the shooting of two NYPD officers in Harlem. One of the officers, Jason Rivera, was killed, and the other, Wilbert Mora, is clinging to life. They were the third and fourth NYPD officers to be shot in the line of duty in less than 72 hours. Below is what we know about what happened and the aftermath.
The Shooting
Around 6:15 p.m. on Friday, three uniformed NYPD officers, including a rookie riding along to observe, responded to a 911 call about a domestic disturbance at an apartment on 135th Street near Lenox Avenue in Harlem. The woman who made the call had calmly explained that she had been verbally threatened by her adult son, who was living with her, and indicated she was not in immediate harm, a police official told the New York Times.
After the officers arrived at the residence, they spoke with the woman and another one of her sons in the front of the apartment. Officers Jason Rivera, 22, and Wilbert Mora, 27, then walked down a long narrow hallway toward a rear bedroom to speak with the other son, 47-year-old Lashawn McNeil. That's when, officials said Friday, McNeil swung open the bedroom door and opened fire on the two officers with a stolen Glock handgun equipped with an extended magazine that could hold 40 additional rounds of ammunition.
McNeil then attempted to flee the apartment, but the third officer, a rookie who had remained with the other two family members, shot and critically wounded him. The third officer sustained no major injuries.
Officers Rivera and Mora and the suspect, McNeil, were all rushed to nearby Harlem Hospital, where Rivera died and Mora underwent surgery to save his life. Mora was still fighting for his life on Saturday, according to Mayor Adams. McNeil, who was shot in the head and arm, remained in critical condition on Saturday.
The Suspect
Lashawn McNeil, 47, had a criminal record consisting of a 2003 felony drug conviction in New York City, for which he was probation, and several older out-of-state arrests. The New York Times reported Saturday that it still wasn't clear why he opened fire on the officers:
The gunman, at least in the public record, seemed to be a reformed, middle-aged ex-convict who had put the crimes of his youth behind him. His mother, in her call to the police, made no mention of violence or weapons in the apartment, and his mind-set and motivations behind the shooting remain unknown.
NBC New York reported Saturday that, according to unnamed police officials, McNeil had moved up from Baltimore into his mother's apartment in Harlem in November at her request. The report also includes some unconfirmed details about McNeil's past:
McNeil has a history of paranoia and was involved in anti-government groups in Maryland, officials familiar with the investigation said. That embrace of conspiracy theories only deepened once he moved to Harlem, the officials said, and he tried to convert others in his family to his point of view.




Three responding officers spoke with the mother who called regarding a fight she had with her son, according to police. According to the official, the fight was strictly verbal and not physical in nature, and would not likely have led to anything more than a written report. … According to the senior NYPD official, McNeil's mother told him last year not to bring guns to her home, and has claimed to authorities she did not know he had the murder weapon in her apartment.
The NYPD Officers
The two Latino officers gunned down in the shooting were identified by police officials overnight Friday.
Officer Jason Rivera, 22, grew up and still lived in Inwood in Manhattan. He joined the NYPD in 2020, telling his commanding officer at the police academy that one of the reasons he wanted to be a cop was to help "better the relationship between the community and the police" — which he knew from his own experiences growing up "was not great." Rivera was eventually assigned to the 32nd Precinct in Harlem. He is the first NYPD officer to be fatally shot in the line of duty since 2019.
Officer Wilbert Mora, 27, is a four-year NYPD veteran who joined the department in 2018. The wounded officer reportedly underwent a second surgery on Saturday, but his prognosis remains unclear. "He's fighting, he's fighting hard, and he's holding on," Mayor Adams said during a press conference on Saturday.
The Aftermath: Mayor Adams vows war on gun violence
"It is our city against the killers," Adams said during an emotionally charged press conference at Harlem Hospital late Friday. Adams called the shooting an "attack on the city of New York" and "the children and families of this city." The new mayor denounced gun manufacturers and traffickers "carving highways of death, destroying our communities" and blamed federal authorities for not stanching the flow of illegal firearms into the city. On Saturday, Governor Kathy Hochul also called for federal action, decrying the "scourge of illegal guns on our streets" like the one used in Friday's shooting.
Police Commissioner Keechant Sewell, who joined the NYPD at the start of the month, was visibly shaken as she addressed the press outside of the hospital on Friday. Flanked by dozens of cops, Sewell described Rivera as a "son, husband, and friend" who "was killed because he did what we asked him to do." Speaking for the nation's largest police department, she said "we are mourning and we are angry."
President Biden responded to the shooting on Saturday:
Friday night's shooting was the third incident in less than 72 hours in which NYPD officers were shot in the line of duty. An officer was shot in the leg late Tuesday night in the Bronx while scuffling with an armed suspect; another officer was shot in the leg through a door early Thursday morning while serving a search warrant in Staten Island. On January 1, an off-duty cop was shot in the head while sleeping in his car between shifts in the parking lot of the 25th Precinct station house in Harlem — though it remains unclear if the bullet was fired at the officer or was stray which accidentally struck him.
Adams, who retired from the NYPD as a captain, ran for mayor with a campaign focused on battling back a rise in violence. Just three weeks into the Adams administration, there have already been several high-profile violent crimes in the city. Earlier on Friday, Adams attended a vigil in the Bronx for an 11-month-old girl who was struck in the face by a stray bullet on Wednesday night. Last week in East Harlem, a 19-year-old Burger King employee, Kristal Bayron-Nieves, was shot and killed during an attempted armed robbery. A day later, a 40-year-old woman, Michelle Go, was killed in a Times Square subway station after a man pushed her onto the subway track in front of an oncoming train. So far, as the New York Times noted Friday, Adams has not released a comprehensive plan as mayor to combat gun crime.
This post has been updated throughout.