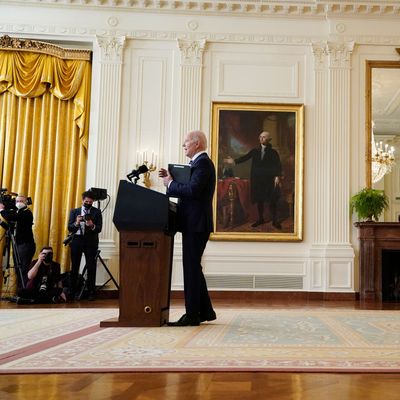 President Joe Biden speaks about the Russian invasion of Ukraine in the East Room of the White House.
Photo: Alex Brandon/AP/Shutterstock
For weeks, members of Joe Biden's administration — on the National Security Council, in the State Department, in the Pentagon, and at the United Nations — have pulled all-nighters preparing for Russia to invade Ukraine. They were working to update the U.S. playbook to counter Vladimir Putin with more aggressive action than he has faced before, such as blistering sanctions leveled against Russia. Biden has had to make clear that his response would go much further than anything Washington and its allies did in 2008 or in 2014, when Russia last invaded its neighbors, but would not involve the use of force. "That's a world war, when Americans and Russia start shooting at one another," he told Lester Holt this month.
So this time, first came the movement of American troops within allied nations near Ukraine, alongside a rollout of initial economic-pressure measures on Putin's government, including the halt of a valuable natural-gas pipeline between Russia and Germany and sanctions on oligarchs, in hopes that the Russian leader might pull back. "There is still time to avert the worst-case scenario that will bring untold suffering to millions of people if they move in, as suggested," Biden said a day before Russia's full-scale invasion. None of it — not even the display of a more unified NATO than Putin had anticipated — slowed the Russian leader. And second, by that Thursday afternoon, once that worst-case scenario looked far more likely, Biden announced his plans to essentially cut off a group of large Russian banks from the international financial system and to impose export controls as well as to expand his targeting of individual oligarchs.
It was an escalation choreographed with allies that seems certain to intensify in the coming days and weeks, perhaps to eventually target Russia's energy industry and Putin himself in an effort to dramatically weaken his standing. It was welcome to some of Biden's allies who had wanted to see more economic aggression. "Are we going to allow a ruthless dictator like Putin to win as he takes on a democracy and to deprive the people there of the right to live independently and the right to self-determination?" said Rhode Island representative Jim Langevin, a Democratic member of the House Armed Services Committee who had just returned from the annual security conference in Munich and was reflecting on the worry he'd heard from allies. "I want Putin and his oligarchs to be shocked at how far we are willing to go."
Biden has long thought of foreign relations as an extension of personal relationships, and in the past, he has privately mused that D.C.'s chatterers sometimes forget or are too young to know how much he's seen and done. Yet his instinct toward diplomacy only goes so far with Putin, with whom he scarcely has a functional relationship. It was clear from the start of the administration's preparations for this moment last fall that any diplomacy would have to rely heavily on allies but that it would realistically go nowhere.
That has left Biden promising a uniquely intense pressure campaign. Compared to the very fact of Biden's marathon press conference to mark his first year in office itself, little attention was paid to his promise that Putin has "never seen sanctions like the ones I promised will be imposed if he moves."
"We're on a conveyor belt of sanctions," said Edward Fishman, a former adviser to John Kerry in the State Department who worked on sanctions. Previous rounds of sanctions on Russia were nowhere near as severe as ones on Iran, for example, and approaching that level of restrictions — say, progressively ramping up to cutting off major state-owned enterprises from global financial systems — could newly unsettle Putin if it were matched with amplified economic support to Ukraine and reinforced troop levels in nearby NATO countries.
"We're playing a dangerous game," Anne-Marie Slaughter, the State Department's director of policy planning during much of Obama's first term, told me. "But it's hard to see or say how we should be playing it better."
Biden betrayed frustration that his initial moves weren't taken as aggressive enough by the Washington press when he announced his second round of measures. "America stands up to bullies, this is who we are," he insisted from the White House's East Room, promising "severe" repercussions after meeting with leaders of the G7 nations following the full-scale invasion. The president has essentially ignored the mostly GOP critics who urged him to at least immediately impose the harshest sanctions possible and, at most, rattle sabers by seriously publicly considering military options. (They have their own problem with how to handle Putin, whom Donald Trump has been praising.) An early February New York Times op-ed by former Bush State Department official Kori Schake declaring that "President Biden is sending the message that the United States is afraid of confronting Russia militarily" was met with particular annoyance by the people sympathetic to the president, who see no upside in threatening to attack a nuclear-armed Russia.
As far as those around the West Wing are concerned, the possible domestic political consequences of not appearing to do more — even as he addresses the nation almost daily with updates of the increasingly harsh measures he's taking — aren't obvious, which some people surrounding him think may even provide an opportunity to win over skeptics who have been urging an intense approach.
With the second wave of sanctions after the invasion, Biden has demonstrated how eager the White House is to show that it has, in fact, been doing plenty, with far more on the way short of military engagement.  But the president's primary domestic concern has been trying to safeguard the American economy from blowback like increased inflation and higher gas prices — already exhausting and frustrating political liabilities for him — that might come from shocks to energy markets.
This is only so much of a consolation. Speaking about the administration's approach, one senior Democratic aide working on response efforts in the Senate chalked up much of it to a realistic assessment. "They recognize — and everyone recognizes — that if Putin really wants to escalate this thing, he can," the aide said. As we spoke, the Associated Press published the results of a new poll showing that only one in four Americans thinks the country should be playing a "major" role in the conflict.
"This is something Washington is very bad at" usually, the Democrat continued, "understanding the limitations of our power." Putin announced Russia's invasion about nine hours later.
Want more stories like this one? Subscribe now to support our journalism and get unlimited access to our coverage. If you prefer to read in print, you can also find this article in the February 28, 2022, issue of New York Magazine.