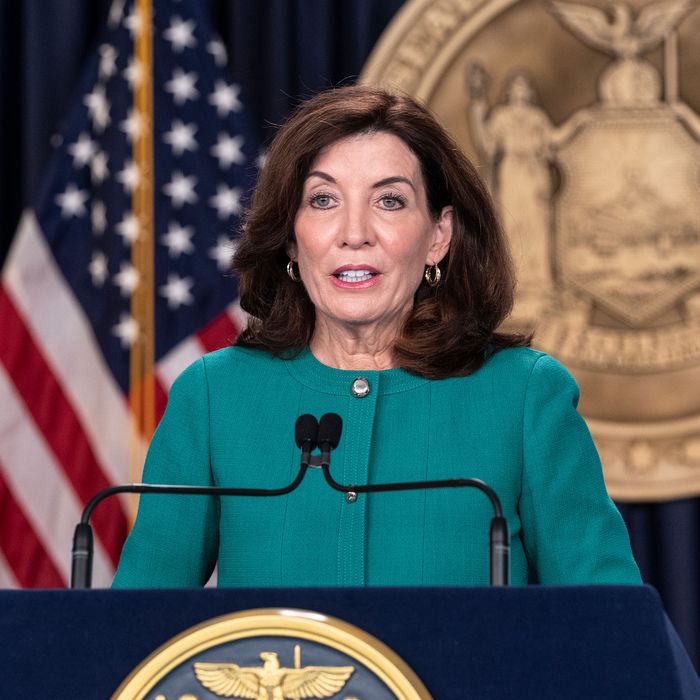 Photo: Lev Radin/Pacific Press/LightRocket via Getty Images
Governor Kathy Hochul announced Wednesday morning that her administration's mask mandate for most indoor spaces will end, effective tomorrow.
She cited the decrease in overall COVID-19 cases and hospitalizations, as well as the rising number of New Yorkers receiving their vaccinations and boosters, as the reasons behind the decision.
"Why is all this happening? Because New Yorkers and businesses stepped up and did the right thing. And I will always be grateful to them for being the reason these numbers have been declining," Hochul said.
The decision to require masks will now be left up to counties, cities, and local businesses. Masks will still be required in some indoor settings including health care facilities and transit hubs.
As for schools, students and staff will still be required to wear masks throughout the month of February. A further decision will be made in early March based on health metrics such as positivity and case rates. Testing kits will be sent home with students before and after the mid-winter break and kids will be expected to be test once when they return and then three days after.
Hochul is the latest in a wave of Democratic governors across the nation who have started to ease masking requirements in their states. New Jersey governor Phil Murphy announced Monday that his administration's school mask mandate will end March 7.
John Carney, the governor of Delaware, declared that the state's universal indoor mask mandate will end Friday, but he extended the requirement for both public and private schools until March 31. In Connecticut, Governor Ned Lamont announced plans to stop mandating mask-wearing in schools February 28.
On the West Coast, California governor Gavin Newsom said vaccinated people will no longer be required to wear masks in most indoor settings. The unvaccinated and students in schools will still have to don a mask while indoors. The Oregon Health Authority said it will be rolling back the state's requirement for schools and indoor spaces no later than March 31.
As cases of the Omicron variant have begun to wane in parts of the country, there has been more pressure on local and state governments to do away with mask requirements, particularly in schools. Growing COVID-vaccine eligibility in recent months has made the pressure more acute; 5- to 11-year-olds have had access to the vaccine since November, and a vaccine for children under 5 is seemingly on the horizon.
The issue of masking continues to be politicized. On his first day in office, Virginia governor Glenn Youngkin, a Republican, signed an executive order allowing parents to opt out of mask mandates in schools. Democratic politicians who have been supportive of masks, like Newsom and Georgia gubernatorial candidate Stacey Abrams, have been criticized after being photographed maskless in public. Both said they only removed their masks for the photo.
The White House continues to echo the guidance set by the CDC, which still recommends universal masking for schools regardless of vaccination status.
"Our advice to every school district is to abide by public-health guidelines. It continues to be at this point that the CDC is advising that masks can delay, reduce transmission. There are also a number of other mitigation measures that we put in place, but that continues to be CDC guidance," said White House press secretary Jen Psaki.