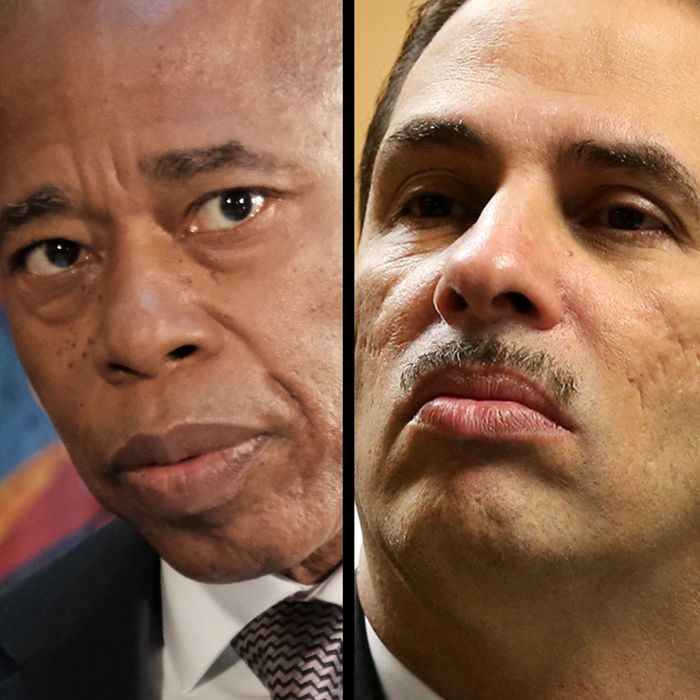 Photo: Spencer Platt/Getty Images/Ozier ​Muhammad/The New York Times/REDUX
"Today in Eric Adams" — the T.E.A. — brings you the best of the day in Eric Adams.
It's another day in Gotham City. Frank Carone, the mayor's chief of staff, was an investor in companies that are accused of submitting "thousands" of fraudulent claims to Geico. He's not accused of wrongdoing, but he and his former law partners have been subpoenaed for the relevant documents. Formerly the mayor's personal lawyer, Carone severed ties to his practice and gave up other gigs for ethics and/or PR purposes. Carone's pot isn't at a boil, but further questions of morality or conduct could turn City Hall into a sauna.
Will that heat serve to distract us from the Philip Banks drama — the new deputy mayor, whom we last saw when he resigned from the NYPD after being named, but not indicted, as a conspirator in a corruption case? (To complete the nepotism circle, his brother, David Banks, is now the schools chancellor, which basically makes him the boss of Fort Lee, New Jersey, resident Tracey Collins, who is Eric Adams's girlfriend.)
Former Bronx city councilman Fernando Cabrera also appears in this rogues' gallery. According to the New York Post, the mayor wants him to work in the Office of Community Mental Health. You may remember that organization from when it was called ThriveNYC, and the only problem with this latest remix of Bill de Blasio's often-troubled, big-budget, failed nepotism project is that Cabrera isn't so great on actual community mental health; he notoriously supported the nation of Uganda in 2014 during its "Kill the Gays" campaign, which resulted in policies that instituted long prison sentences for same-sex conduct. In a video made after traveling to Uganda, he said that "godly people are in the government" there, and peddled a lie that the U.S. threatened sanctions against Uganda if it didn't allow same-sex marriages. Five years later, Cabrera, a pastor in New Life Outreach International, told the Post that while his feelings on abortion and queer love remain unchanged, he "respects the law of the land." Oh, how holy.
Maybe it's the city or maybe it's politics, but it's uncanny how skilled the mayor is at choosing people with dark-side energy to be in his cohort, especially for a guy who believes he is the human connection between being tough on crime and being a beacon for racial hope. If there's one thing about policing in America, it's that it puts you face-to-face with the skeeviest people, mostly in places like office buildings or law firms, and dares you to do the impossible: Not get mired in the muck. While Carone, Banks, and Cabrera are positioned as the mayor's attempt at a fresh start for the city, their hands leave imprints on the mayor's shoulders. Who on Adams's crew can brush the dirt off?