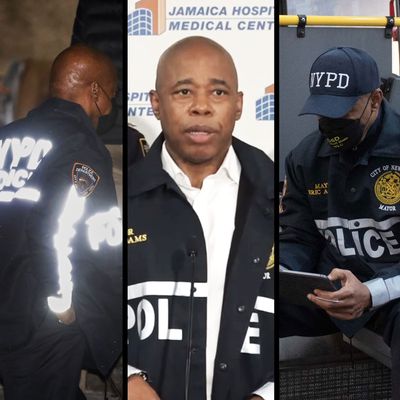 Mayor Hi Vis.
Photo: John Lamparski/NurPhoto/Shutterstock; Michael Appleton/Mayoral Photography Office
"Today in Eric Adams" — the T.E.A. — brings you the best of the day in Eric Adams.
Type of sighting: Tweets
Location: Online
Time: All night long and all day every day
The Incident
It's surreal how much the greater mayoral social-media presence resembles a police livestream these days. If there's one campaign promise the Mayor in Blue has kept, it's his continued propping up of public-safety officials, so it tracks. His brotherhood with the NYPD is expressed pretty much every day. He even takes trips to the precinct for morning roll call.
Late last night, the news of a Queens police officer being shot turned the mayor's Twitter feed into a crime procedural with an all-night play-by-play. First, an announcement of an investigation. Then the mayor was off to Jamaica Hospital, where the officer was being treated. After featuring a few customary tweets announcing that Adams would hold a press conference around 1 a.m., his account retweeted crime-scene photos of a recovered firearm.
This isn't totally nuts. Adams is clear that addressing illegal gun sales and gun violence are key to this administration — and in the first month of his administration came the awful killing of two police officers.
But what does broadcasting a live news feed do for Mayor Adams that honoring police at every other turn doesn't? Coupled with the fact that ol' boy is stepping outside decked out in extreme personalized police garb …
… You have to ask if his bias allows him the wherewithal to address gun violence with the appropriate deftness. His experience as a cop informs the approach; that's in part why it feels like a diet of copaganda. The police had their say on violent crimes involving guns, and they clearly haven't had sufficient solutions. Ignoring violence isn't the solution, but reviving defunct and corrupt police forces doesn't seem to be the way, either.
So the disturbingly optimistic mayor is also creating the bleakest social-media timeline. The City of New York Twitter account, the NYC Mayor's Office account, the Police Commissioner's account, the NYPD News account, and the NYCMayor account together form a wall of police information that can feel like it's edging out any other concern.
This feed shows us the alliance of the administration. No one roots harder for the mayor than his own. And speaking of rooting for your own …
Additional Information
Last night, Eric Adams spotted dining with former governor Andrew Cuomo.