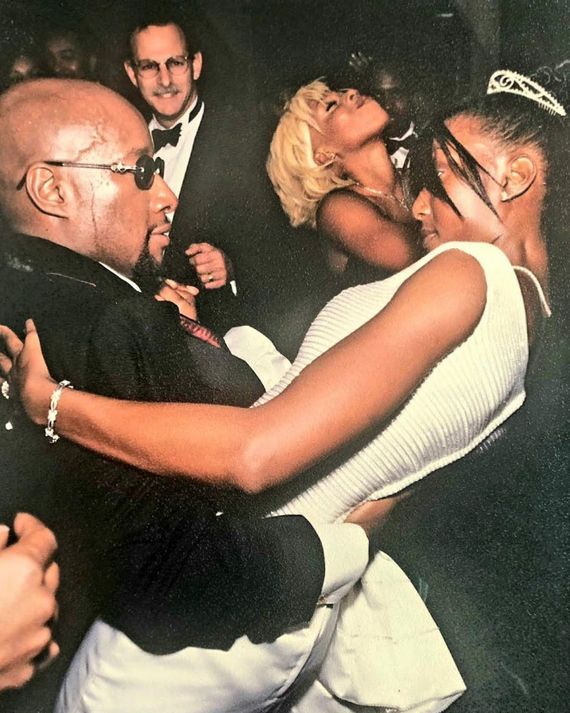 Kevin Ingram at his wedding to Deann.
Photo: Courtesy Kevin Ingram
One sweltering late-spring morning in Fort Lauderdale, not far from where he kept his 44-foot yacht, Kevin Ingram went to a breakfast meeting at a hotel. In the lobby, a 12-story atrium with glassed-in elevators and an enormous grottolike fountain surrounded by tropical plants and café tables, he met his contact, who went by the name Ray Spears. A Learjet was waiting to fly Ingram to Europe once their business was done.
"Do you want a cup of coffee?" Spears asked.
"Yeah, that's good," Ingram replied. "How are you doing?"
"We're ready," Spears said. "It was a long, long night."
The date was June 12, 2001. Spears was about to hand Ingram $2.2 million in cash, proceeds from a recent deal. Ingram had agreed to carry it overseas in return for a 25 percent cut.
For most of the previous decade, Ingram had worked at Goldman Sachs and Deutsche Bank, where he specialized in trading mortgage-backed securities. He had a mind for mathematics, degrees from MIT and Stanford, and a talent for reckoning the complexities of risk. His success as a bond trader had made him one of most prominent Black men on Wall Street, where his colleagues knew him to be charming, cocksure, and game for adventure. He liked to go cliff diving. He raced around on motorcycles. By night in New York, he lived fabulously, blasting Biggie Smalls from the rolled-down windows of his green Bentley and mixing it up in the clubs with hip-hop moguls.
At the Fort Lauderdale hotel, Ingram introduced Spears to an associate, the guy who had arranged for the private jet, his golfing buddy Walter Kapij. The three men sat down at a table in the atrium.
"We are all set," Ingram told Spears. "We are going to do it like I said." Spears handed Ingram and Kapij an envelope containing a piece of paper on which he had written the address of the Royal Lancaster Hotel in London, along with a photo of a man they were to meet.
"This gentleman," Kapij said. "Have you known him for quite a long time?"
"Oh, yeah," Spears replied. "This is our guy. I mean — you know what I do."
"No, actually, I don't know a lot about what you do at all," Kapij said. "I have no idea."
"Kevin," Spears said, gingerly. "I want to, you know …"
"Right," Ingram said.
"You need to know, okay. I mean, this, this, this, this money is, is, you know …"
"Important," Ingram said.
"It's important," Spears said, before clarifying: "It's coming in from arms shipments."
"Um-hum," Ingram replied.
"And I need you to protect that," Spears said.
"Okay," Ingram said.
Spears made a call to someone in a waiting car. "I'm not going to be driving around with $2.2 million without a guy," he said, by way of explanation.
The guy entered the lobby carrying two suitcases and handed them to Ingram.
"Take care," Spears said and walked away. Then he muttered an order into his microphone. "Let's go, baby," he said. "Both, do both."
Federal law-enforcement officers surrounded Ingram and Kapij, flashed their badges, and took them into custody. The man Ingram knew as Ray Spears — actually an undercover agent — would later recall, "I don't think Ingram was surprised." After all, he understood risk.
BIZ BIG BUSTED IN ARMS SALE RING, screamed the headline in the New York Post, then the nation's most influential purveyor of gossip and scandal. Two other suspects, an Egyptian and a Pakistani, had been arrested separately on the same day, after being lured into a warehouse in West Palm Beach that was filled with crates of machine guns and surface-to-air missiles. "A Wall Street hotshot and three other men have been busted in a spy-novel tale of arms smuggling and money laundering," the tabloid reported, "aimed at putting high-tech Stinger missiles in terrorists' hands." In reality, the arms were props and the deal was staged by the federal Bureau of Alcohol, Tobacco and Firearms — the culmination of an elaborate undercover operation.
Court filings were oblique about where the black-market arms were supposed to be headed, referring only to "people abroad" in a "foreign country." But the Post was happy to guess at the most obvious customer: the "terror master Osama bin Laden." In the summer of 2001, bin Laden was already a figure of morbid fascination, a cinematic villain whose call for global jihad was drawing thousands of zealous young men to training camps in Afghanistan. The notion that a conspiracy might stretch all the way from him to Ingram — a finance star who was married to a model and counted the Reverend Jesse Jackson as a friend — made an irresistible tale. Talk, the buzzy magazine edited by Tina Brown and financed by Harvey Weinstein's movie studio, published a juicy profile headlined "Wall Street's Soldier of Fortune."
Ingram would end up striking a deal: He pleaded guilty to a single charge of money laundering, without admitting knowledge of any arms deal, in August 2001. It turned out to be fortunate timing. Just two weeks later, a team of 19 operatives dispatched by bin Laden blew America's prosperous complacency to smithereens; it's not hard to imagine that if Ingram's proceedings continued into the era of vengeance and misjudgment that followed, he could have drawn a far harsher sentence. But the lack of a trial also meant there would be no public examination of some of the case's murkier questions. In subsequent years, the case was swallowed by War on Terror secrecy. Ingram himself was largely forgotten, except by the handful of people who knew him in his Wall Street days — and they remember him vividly. "To us, he was the Black version of Gordon Gekko," says Philmore Anderson, a Black entertainment executive who was friendly with him.
In 2018, I got in touch with Ingram, and after much back-and-forth, he agreed to meet me in Manhattan. He was casually dressed, still fit and handsome at 60, and had come  in from Philadelphia to have dinner with a yoga instructor. "My life is great right now," he told me. Since his release from prison in 2004, he said, he had gotten back into finance and made investments in the legalized cannabis industry.
Ingram pressed me to explain the "risk-reward" of telling his story. I told him I was writing a book about 2000 — the year that I thought America went awry, culturally and politically. The televised drama of little Elián González, the birth of the reality-show craze, Donald Trump's absurd first campaign for president, the early stages of the September 11 plot, the 36-day legal battle over the impossibly close presidential election, finally decided by the Supreme Court in Bush v. Gore — it was all happening at the same time and, to an eerie degree, converging in the same place: Florida. I was intrigued by Ingram, a man whose life intersected with many of the other characters in my book — including Trump, whom he had inadvertently helped to rescue from financial oblivion — and who had taken his own wrong turn in the Sunshine State. I told Ingram I was getting some documents about his case from the government, but that I would much rather hear his version of events directly.
Ingram told me he would think about it. He ended up spending many hours with me, unspooling a long story that was hard to believe and, more often than not, verifiably true. Ingram swore to me from the beginning that it was all a "made-up" crime. He wasn't innocent, but it turned out he wasn't entirely wrong, either.
"I was a bit flamboyant," Ingram told me over lunch a few months after our first meeting. At a time when minority representation in high finance was minuscule, many of his few Black peers kept their voices down as they assimilated into the white-dominated industry, but Ingram always lived loud. "I was from my neighborhood," he said. "And all the Black guys warned me, 'You can't act like this.' I was like, 'Yes, I can.'"
Ingram came from North Philadelphia. Over the course of his childhood in the 1960s and '70s, his rowhouse neighborhood was hollowed out by drugs, crime, and neglect. But Kevin's family was upwardly mobile. His father, Nathan, was wounded in France during the Second World War; afterward, he became a real-estate appraiser and eventually went into property investing. He died when Kevin was just 5 years old. In later years, Ingram would hint to friends that there was mystery surrounding the circumstances, suggesting that his dad might have been murdered by mobsters. In fact, the cause had been determined to be suicide.
Kevin was a math prodigy. He went to Central High, a magnet school for top achievers, and even there he hardly had to study. He also played the saxophone and would stay out late performing at jazz cabarets. At MIT, he majored in chemical engineering and won a prestigious scholarship for graduate study at Stanford. But after a while he tired of laboratory work, switched to business school, and took his M.B.A. to Wall Street in 1984.
He arrived at a Promethean moment. Banks were experimenting with mortgage securitization, bundling and redividing individual loans into complex debt instruments. Eventually, the market would become so incomprehensibly large that a housing downturn would send waves of destruction across the global economy. But that was still 20 profitable years away. Ingram went to Goldman Sachs, where he was one of just a handful of Black bond traders. Within a few years, he was promoted to head the bank's mortgage-trading desk. "People tend to think of this as a mystical area, but it's really a practice," he told Black Enterprise in 1992, when the magazine included him in a special issue ranking the "25 Hottest Blacks on Wall Street."
"Kevin Ingram — he was like the Black guy who was still a Black guy, operating at the top of a firm," says Jerry McMillan, a Goldman colleague at the time, who is also Black.
Ingram quit Goldman in the mid-1990s, angry that a better-connected colleague — Steven Mnuchin, whose father had been on the bank's managing committee — made partner in a year that he was passed over. ("I resented it," Ingram told me, of the man who would go on to become Trump's Treasury secretary. "I was more talented than Steve Mnuchin in every respect.") Ingram was recruited by an upstart competitor, Deutsche Bank, to run its department handling mortgage bonds and other asset-backed securities. His staff there moved into an unexplored niche: securitizing commercial real-estate loans. One of Ingram's hires would make a major loan that revitalized the career of a spectacularly uncreditworthy developer: Donald Trump.
In 1997, Ingram's desk had a profitable year, and he received a multimillion-dollar bonus. By this time, he was engaged to a glamorous model. Her name was Deann, but everyone called her Sparkle. "We were jet-setters," she said in 2019. "It was fabulous. It was like we were living the life. He was a dream boyfriend." Sparkle had worked for a time at Def Jam, the record label founded by Russell Simmons, and she offered Ingram entrée to the hip-hop elite. The two went to Sean Combs's parties, where talent from his label, Bad Boy Entertainment, mixed with gangsters, celebrities, and white CEOs seeking to associate themselves with street culture. Ingram made a silent investment with a nightclub owner who was renovating an old printing shop in Soho. The club, NV (pronounced "envy"), became a hot spot.
Ingram hung out with Simmons and Andre Harrell, another label boss. "Russell and especially Andre — they were intrigued," Ingram said. "Because I was from such a different world and so successful." Sometimes Ingram played in pickup basketball games where the hip-hop guys faced off against the Black finance guys. Ingram was small but tough — he would run into a hard foul and pop right back up. "We would always kick their ass, and that you can quote me on," recalls one of Ingram's banker teammates. "One minute you could be playing basketball with Puffy or Russell or Andre, and the next minute you could be talking to the CEO of an insurance company about his portfolio of risk and selling him a couple hundred million worth of securities."
Among his friends, Ingram was renowned for functioning at a high level on little or no sleep. He could go to work at 6 a.m., get off at 6 p.m., and stay out until last call. "Sometimes you're too smart," says McMillan. "You feel invincible. You start to test yourself. You start to come into the office a little late, still hung-over. And you come into the meeting, and these guys slept eight hours last night, had their coffee, had their sparkling water, and you're still the smartest guy in the room. Kevin was the smartest guy in the room. Anyone who doesn't tell you that is a liar."
The problem was that, at some point, Ingram was no longer making it into the room. During his later years at Goldman Sachs, Ingram's co-workers had noted that he would go absent from work for curious periods of time. At Deutsche Bank, the pattern reemerged. Ingram contends he was working constantly but that he also required periods of quiet. "Some people like to call it depression," he says. "I just like to turn all the lights out, and I don't think about anything for a day or two." A psychiatrist would later give him a diagnosis of bipolar disorder.
In September 1998, Ingram and Sparkle married in an over-the-top Brooklyn ceremony. At the same time, instability in Russia and Asia caused Ingram's department to lose "a boatload of money," a bank source later told a trade publication. "It was — bang, you're dead," said another. Deutsche Bank asked for Ingram's resignation. He refused, noting that other executives — who were, of course, white —had lost more money yet kept their jobs. Ingram threatened a discrimination lawsuit and called in Jesse Jackson to make his case.
The fight went on for months, and during this stressful limbo period his erratic patterns turned more self-destructive. "Bad decisions," Sparkle says. "Bad financial decisions, bad friend decisions." Ingram was going through one of his "hyper" phases, devising and discarding numerous business ideas. He wanted to reopen the old Harlem jazz club Minton's. He invested in reviving a beloved chicken-and-waffles joint. He formed a company called Mastermind Entertainment, hoping to break into the hip-hop industry. He flitted into real estate, striking a tentative deal to develop a property near NV.
Ultimately, Ingram pressured Deutsche Bank into giving him a substantial severance package. His contentious departure corresponded with the frenzied height of the dot-com boom. Ingram and a former Deutsche colleague started to collaborate on a technology start-up, developing an online platform for bond trading. Ingram thought it was a billion-dollar idea. But it needed angel investors. He was looking for cash. And he met a man who said he had a lot of it: Randy Glass.
The federal criminal investigation known as Operation Sphinx was the creation of a lifelong grifter. Born Randy Goldberg in Baltimore, Randy Glass danced in and out of crime, ran carwashes, managed a 1970s singer-songwriter, and smuggled hashish from Morocco before finding his way to Florida and the international diamond trade. He was incarcerated for a year for cocaine possession and had a record of arrests for small-time scams, like the one where he convinced some marks to trade their house for supposedly "rare" postage stamps. Glass was shameless. He later described his philosophy to Dateline NBC: "If I couldn't talk you out of it," he said, "you got to keep it."
In 1998, Glass got pinched on federal fraud and money-laundering charges. An indictment alleged he had bilked wholesale dealers out of consigned jewelry worth $6 million. Glass told one victim that his diamonds had been taken by "Mafia connected" people and another that he had been robbed by "two Black males in camouflage clothes." He tried to pass off fake diamonds to a third. Glass was also charged with plotting with a narcotics trafficker to funnel $1 million in drug proceeds into diamond purchases. Facing serious prison time, he did what came naturally. He started scheming — this time, in cooperation with law enforcement.
Glass began to work with the ATF. Although the agency designated him a "confidential informant," he did much more than merely pass on information. Glass told the ATF he could bring in international arms dealers, then he went out and created a network to penetrate. He called up Diaa Mohsen, an Egyptian immigrant to the U.S., whom he had met in Atlantic City at a high-stakes table in the Trump Taj Mahal casino. Mohsen liked to tell people he was in the import-export business and that he was related to Egypt's deposed royal family, but in reality he lived in a modest brick rowhouse in Jersey City and he was always hustling. One of his gigs was teaching tennis lessons at the local public courts, where he had become friendly with Ingram, who'd recently taken up the sport, in order to compete with his colleagues on Wall Street.
Glass told his handlers that Mohsen had black-market connections. He called up Mohsen and spun a tale of stolen weapons. "Listen, between me and you," Glass said, "they have a warehouse full of shit." Mohsen fell for the ruse immediately. Boasting that he could sell anything, he brought up Osama bin Laden as a potential buyer. "You don't know these fucking people," he told Glass. "They are terrorists. They are organized. They're going to war with this country." The ATF agents handling Glass were initially skeptical. "We thought it was bullshit, too," says one. But then Mohsen started to bring in potential customers: middlemen purporting to represent Serbian paramilitaries, Chechen rebels, the Congolese army.
Glass threw himself into the sting, spending hours on the phone, coaxing and wheedling. "Randy was a wild man," says Dick Stoltz, the now-retired ATF agent who posed as his partner, "Ray Spears." "He was a con man and an excellent con man." Stoltz surmised that Glass had a two-part strategy: "One was to get out from under the criminal charges. Two was to make himself some kind of a media star." Glass would later tell his version of his career as an undercover informant to newspapers, TV shows, and the 9/11 commission. He saw himself as the hero of the caper. "I was a rogue, a scoundrel," Glass told the Palm Beach Post in 2002. "When I realized the magnitude of what I got involved in, I realized I had to stand up, do the right thing, and be a patriot."
As a cooperating felon, Glass was supposed to operate under tight supervision, but his handlers could not control him. He was a "force of nature," another ATF agent later wrote, "and he was constantly coming up with side deals through the Egyptian." Glass asked Mohsen if he knew anyone who might be capable of handling the huge sums of money they expected to fetch from their arms sales.
Mohsen immediately thought of his tennis pal, Kevin. Back when Ingram was still working at Deutsche Bank, he had moved from his New York apartment to a sprawling art-filled triplex in Jersey City with stunning views of the Manhattan skyline. He started playing tennis in a nearby park. At first, Ingram and Mohsen would just hit around. But they became fast friends, much to the chagrin of Sparkle, who didn't understand their bond. ("I never liked him," she says of Mohsen. "He's such a bullshit artist.") One thing had led to another, and after Ingram's abrupt departure from Deutsche Bank, they started doing business together.
Kevin and Mohsen's joint ventures ranged from mundane to mind-boggling. They formed a construction company. Mohsen would sometimes come across cheap merchandise, stuff that had fallen off a truck, and Ingram says he would offer occasional financial backing for what Mohsen called "closeout deals." (Ingram says he did this as a favor and didn't bother to ask too many questions.) Mohsen took Ingram to Egypt in what he later described as an effort to invest money for the Libyan state oil company.
To Glass, Mohsen boasted about Ingram's influence, saying that he had once been Time magazine's Businessman of the Year. (There is no such accolade.) He also said Ingram was funding his travel to Switzerland to work on a deal involving a Saudi prince and $500 million in frozen Libyan assets.
Glass asked Mohsen how to spell Ingram's name so he could do a search on AOL. He was unsure about involving a top Wall Street banker. Wouldn't Ingram be scared off by the nature of their plans? Mohsen reassured Glass that his plan was to lie to Ingram. He could always say that the arms-dealing money came from the other project with the Saudi prince. He would tell Ingram that Glass served as a conduit for international money.
In 2021, Mohsen told me that he innocently believed the arms deals were sanctioned by the U.S. government, "like Nicaragua and Oliver North," and that Glass told him they were working as secret agents. "I didn't know he was a crook," Mohsen says of Glass. "Motherfucker."
When we spoke for my book, Ingram claimed he was motivated by compassion. He said Mohsen was scuffling through life and had a disabled son. "He was a very nice guy that I started caring about, simple as that," he said. "He's a guy who wanted so much more for his family than he could give them." (Mohsen rejects this characterization of the relationship. "I am the main man," he says. "I am the real fucking character … When I open my mouth, there comes out a lot of bullshit. I didn't go to Harvard, I didn't go to Princeton. But I am more intelligent than anybody you can think of.")
Mohsen took Glass to meet Ingram aboard Ingram's yacht, the Ingee, which was docked not far from the diamond dealer's home in Boca Raton. Glass said he was seeking investment advice. He told Ingram he had partners who had "a certain amount of cash coming in every month" and needed help "cleaning it up." While he was vague about his business, it wasn't hard to size up the situation.
Glass and Mohsen went to see Ingram for a follow-up meeting at his office in the World Trade Center. The details of what was said there are in dispute. But Glass handed over $100,000 in cash and Ingram wrote Glass a check from a corporate account at Chase Manhattan bank for $91,000, taking a fee of $9,000. In a series of taped phone calls, Ingram talked about establishing an offshore investment fund with "a minimum investment" of $15 million. They started making arrangements for Ingram to present a plan to Glass and his partners at his house in Boca Raton.
"In order for that to happen," Glass said, "you'll come down, just do a bank wire in front of their face while they're sitting there. And they'll start with whatever nominal amount of money just for that wire transfer." Ingram said that was a "trivial" condition.
In another call, Glass told Ingram that he and his partners were about to close a lucrative sale. "It's going to be a very large transaction," he said. "Let me tell you, I am not a poor little boy."
"I know that," Ingram said. "I've heard."
"We're partners," Glass said. "We're on the same team now."
Within two months of their first meeting, Ingram was back in South Florida, zipping up I-95 in his yellow Ferrari Spider, heading to Boca to make a pitch to Glass and his mysterious investors. Ingram called from the road to tell Glass he was stopping at an office-supply store. "I'm a long-term, big-business guy, so anything I got to do, I'm not going to write it down on paper," he said. "You know those Magic Marker boards where you wipe it clean? I'm getting one of those."
Ingram promised Glass that his partners would be impressed with his investment pitch. "I'm a professional," he said. "I'm not going to do this for, like, a quick hit. I'm a lifelong manager."
"Kevin, listen, this isn't a onetime deal," Glass said. "Believe me when I tell you: This is for the long run. And this isn't some corporate executive board. You understand what I mean."
"There's not going to be any mysteries when I'm done," Ingram replied.
Mohsen was in the Ferrari's passenger seat. A little before lunchtime, the sports car pulled up in front of Glass's home, a Mediterranean-style stucco villa in a recently constructed gated community. There was a tennis club across the street. Inside, Glass introduced Ingram to Ray Spears, the supposed managing partner of his phony syndicate. Spears dressed well and talked like he had been in the military. He said he had flown in from the West Coast for the meeting.
"I'm a financial engineer," Ingram told the group. He diagrammed on the whiteboard the structure of the entity he had devised, drawing arrows that showed how their cash, once committed to the fund, would move to accounts in the Cayman Islands controlled by Ingram, who would then direct the money into investments, paying out periodic dividends at his discretion. He never used the phrase "money laundering." This was money management.
Glass presented a modest sum, $250,000 in cash, so Ingram could show how he performed his financial acrobatics. Mohsen counted the money, taped it up in a plastic bag, and packed it into a piece of carry-on luggage. One of Spears's associates gave Ingram a bank-account number in London. Ingram got on the phone and gave instructions to wire $227,500 from his account, again subtracting his 9 percent fee. Then they all went out to play tennis. Glass won.
Meanwhile, Glass and Mohsen were negotiating a purported arms deal with a group of Pakistanis who claimed to represent that nation's intelligence service, the ISI. Glass urged Mohsen to make sure he kept his mouth shut about that business around Ingram, who was just meant to handle the money. "Listen," Glass cautioned Mohsen. "Don't mix the two things." Glass claimed to have mentioned arms dealing in an initial meeting with Ingram, but in conversations with undercover agents, they had avoided any such discussion of the source of the funds. "Of all the targets, he was the most circumspect," says Stoltz, the undercover ATF agent, of Ingram. "He was intelligent. I had the feeling this was a guy who did well for himself but still maintained his street smarts."
More than a year passed between the meeting in Boca Raton and Ingram's arrest at the hotel in Fort Lauderdale. For much of this time, he had no involvement with the Florida business. Glass claimed that Ingram had lost interest when it became apparent that his promises of an imminent investment of many millions was, in Ingram's words, "way off." Ingram counters that Glass was "creepy" and lied about everything. "When I kind of figured out what was really going on — because they did ask me to launder some money — I stopped talking to them," Ingram says.
Ingram lived his life in chapters, abandoning one thing, finished or not, once he moved on to his next obsession. While his dealings with Glass never resulted in a huge payoff, he had already found another source of capital. In 2000, a prominent Silicon Valley venture-capital firm put more than $6 million into the technology firm that Ingram was trying to get off the ground. He called the start-up TruMarkets. It aimed to digitize bond trading, cutting the big banks — his former employers — out of the equation. "This was a flaming spear aimed at the heart of Wall Street," the start-up's primary investor says today. Ingram attracted a formidable roster of early backers, including one of his old bosses, Jon Corzine, a former chief executive of Goldman Sachs who was then running for a U.S. Senate seat in New Jersey.
But when the dot-com bubble burst, TruMarkets burned through all of its capital. It was shortly after the start-up filed for bankruptcy that Ingram received a message from Stoltz, in the guise of Ray Spears, saying he wanted to do another deal. By this point, Ingram was desperate. He claims he was thinking, irrationally, about ways to rescue TruMarkets. He remembered that Mohsen had once told him that Spears had a connection to a well-known Florida billionaire, Wayne Huizenga. "I was reaching for straws," Ingram says. "One of those straws ended up being in Florida."
Based on their earlier interactions, Stoltz knew that Ingram would be wary. But the ATF wanted to rope him into another deal. While it already had grounds to arrest Ingram, the money-laundering case was far from solid. The only person who claimed to have spoken directly to him about arms dealing was Glass, and prosecutors were not thrilled about putting a convicted con artist on the stand as their star witness. In the end, for all of Glass's efforts over the two years of the sting — "a cavalcade of negotiations," according to an ATF history of the case, "with a litany of representatives from the world's hotspots" — he never managed to complete a single sale. There were no illegal proceeds. Every dollar in cash presented to Ingram belonged to the government.
"None of it was real," Ingram said in 2020, when we met for a final interview at a hotel on the Bowery. "It was con men conning con men, and one of them conned me." He says there is little question in his mind about why he was targeted out of all the money-hungry men on Wall Street. "Why would they focus on me?" Ingram wondered aloud. "What could it have been? Why spend two years looking at me? I had hot girls and a Ferrari and a boat. And I was Black."
Sparkle was pregnant when her husband was arrested in June 2001. She rushed down to West Palm Beach to see him in jail. "On my way to Florida is when I saw his face and Mohsen's face on CNN," she says, recalling her thoughts: "This is real, right now. What have you gotten yourself into?"
On Wall Street, many of Ingram's old colleagues expressed astonishment and dismay. "I literally spat my coffee across the table," one banker told the New York Observer. Ingram's mentors — mostly white men who had been conveyed through life on a cushion of privilege — wondered how he could have squandered the opportunities he was offered. "The tragedy is that this guy is a role model for what could be," Corzine told Talk. Some of Ingram's Black peers were furious with him, believing that his arrest reinforced racist stereotypes. "We'll all have to crawl out of the rubble," one anonymously told the magazine.
Other friends of Ingram's were far less surprised. "For an African American to be doing what he was doing at that time," says an acquaintance from the hip-hop world, "he was already a target."
Federal prosecutors would never produce any evidence that Ingram directly participated in any of the purported arms dealing. There is little in the public record (or the recollections of the retired agents involved in the investigation) to suggest he was aware of, let alone collaborated in, his partners' negotiations with the Pakistanis or any other potential foreign customers. But the money-laundering case the government amassed against him was overwhelming. Ingram pleaded guilty, as did the other three defendants. He was given the lightest sentence: 18 months and a $185,000 fine. (The most severe penalty, 33 months, went to his golfing buddy Walter Kapij, the man with the plane, who only stumbled into the sting at the last moment.)
The shadowy would-be customers from Pakistan — who expressed interest in obtaining, among other things, nuclear-weapons materials — returned home without buying anything. The portion of the investigation that implicated Pakistan's intelligence service was kept quiet at the direction of "Main DOJ," according to an internal ATF memo, in deference to the Bush administration's national security priorities. Indictments of two Pakistani nationals were filed under seal. It remains unclear whether the men were for real, and if so, whom they represented. They remain at large.
It would turn out that Osama bin Laden did have an operation afoot in Florida that summer — just not one that anyone could imagine. On the morning of June 12, as Ingram was having coffee in the Fort Lauderdale hotel lobby with Ray Spears, a group of Arab men were staying at a fleabag motel called the Deluxe Inn, just five miles up the road. They checked out on June 14, after their group's leader, Mohamed Atta, had an argument with the front-desk attendant. The conspicuously rude guests piled into a rented Oldsmobile and drove away. There was no need to hide, because no one was looking. The government's eyes were on Kevin Ingram.
Excerpted from The Year That Broke America, by Andrew Rice, with permission of Harper, an imprint of HarperCollins Publishers. Copyright © 2022 Andrew Rice.