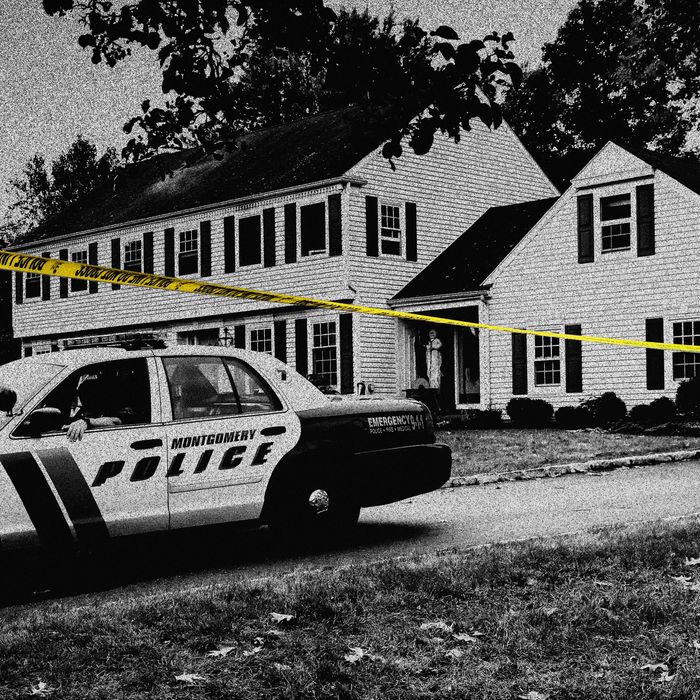 The home of John and Joyce Sheridan.
Photo: Intelligencer; Photo: Mel Evans/AP/Shutterstock
Like practically everyone with a connection to New Jersey politics, Mark Sheridan was transfixed last week by news of a murder conspiracy that had been uncovered after nearly a decade.
In early 2014, a Democratic consultant named Sean Caddle arranged for two men, one from Connecticut, the other from Pennsylvania, to kill one of Caddle's longtime associates. The pair stabbed their victim to death inside his Jersey City apartment, and one of them then set fire to the premises. Afterward, Caddle said, he met one of the men, George Bratsenis, in a diner parking lot and handed over thousands of dollars in cash.
Sheridan, a lawyer who has represented New Jersey Republicans, initially read reports about Caddle's crime from a mix of curiosity and professional obligation. Politics in New Jersey has long been tainted by sensationalism and skullduggery, and it makes sense to keep track of who may be dispensing favors, who's calling them in, and who's out of favors to ask. But Sheridan's interest quickened when he read about the stabbing and the fire. That same year, in what became one of the state's most prominent and debated crimes, Sheridan's mother and father died after being stabbed inside their New Jersey home. Like the apartment in Jersey City, their bedroom was set on fire. And like the crime Caddle had just confessed to, the killing of Sheridan's parents included its share of mystery.
For years, Sheridan and his three brothers puzzled over their parents' deaths, raising questions about an investigation they believe was mishandled and hoping to spur the authorities to reexamine the case. "We want to know what happened," he says. "Straight and simple, we want to know what happened to our parents and who killed them."
To the Sheridan brothers, the crime scene at their parents' two-story house in the small community of Skillman, about six miles north of Princeton, was filled with more questions than answers. Their father, John Sheridan Jr., a health-care executive and former state Transportation commissioner, was discovered lying at the foot of his bed with part of an armoire resting on his body. Joyce Sheridan, their mother, was lying to the left of the bed. A poker from the ground-floor fireplace was found in an upstairs bathroom. Two knives from the kitchen were in the bedroom. One, described by the authorities as a "large carving-type knife," was determined to have caused multiple wounds to Joyce. But doctors present at an autopsy said neither knife had caused any of the wounds sustained by John.
All those facts were noted in a statement from the office of Somerset County prosecutor Geoffrey D. Soriano, who in 2015 announced the end of a "very lengthy and comprehensive investigation." Still, to the surviving members of the Sheridan family, the inquiry's most crucial finding was unthinkable: "The evidence in this case supports the conclusion that John Sheridan fatally stabbed Joyce Sheridan, set the fire, and committed suicide."
The Sheridan children never accepted that finding. Although the prosecutor's statement noted that an unidentified piece of metal — which had apparently melted and resolidified — was found in the bedroom, it was clear to Mark Sheridan that the knife that killed his father had not been recovered. How, he asks, could a murder-suicide be missing the murder weapon? "My parents were married for 47 years," he says. "They were together all the time, so close, not a hint of a problem, not a hint of anything that would suggest something like this."
His brothers also rejected the conclusions the prosecutor's office presented. Along with Mark, they embarked upon a near-constant semi-public effort to reverse the investigators' conclusions and, they say, find whoever is responsible for their parents' deaths. They have consulted with former law-enforcement officials. They have preserved parts of their parents' home as evidence. And they have scoured news stories for the sort of seemingly mundane clue that could lead to a chain of evidence that would reveal, finally, an answer to the killings that makes sense to them.
As Mark Sheridan read about the Caddle case early last week, he wondered if it could hold one of those clues. Initial reports on the case were short on details. Federal prosecutors didn't name Caddle's victim, though several newspapers matched up information and reported that he appeared to be a political operative named Michael Galdieri. Prosecutors didn't immediately name the men Caddle had hired, either. But during a video appearance in federal district court in Newark, while pleading guilty to conspiring to commit murder for hire, Caddle named Bratsenis. The next day, a man named Bomani Africa pleaded guilty to conspiring with Caddle and taking part in the murder. As Sheridan discovered, Bratsenis and Africa had a history of committing crimes together; both had been charged with robbing a bank in Trumbull, Connecticut, in 2014. Then he read an old story in the Trumbull Times that included a fact he says struck him "like a punch to the gut": The day after Sheridan's parents were killed in New Jersey, Bratsenis was arrested in Connecticut for the Trumbull bank robbery. Among the objects found in his car, according to the story, was a "long-bladed kitchen knife."
"You immediately think, Holy crap, this is it. You sit there, and you're looking at it, and you say, Wow, this could actually be the answer," Sheridan says. "At some point in time, you give up, you almost say, I don't expect this ever to be done, and then you have a moment where you see something like that in writing."
Late last week, after consulting with his brothers, Sheridan sent a letter to the Somerset County prosecutor's office and the New Jersey attorney general's office. It reviewed some of the "eerily similar" parallels between Galdieri's killing and the deaths of his parents, stated that prosecutors never found the knife that had killed his father, and added that he and his brothers had inquired "multiple times" about one that was missing from a knife block in the kitchen. The letter also asked the New Jersey authorities to contact prosecutors in Connecticut, where Bratsenis is scheduled to be sentenced next month for the 2014 bank robbery, ask for photographs of the knife recovered during his arrest, and compare those to the set of knives from his parents' kitchen.
"Perhaps if you are so inclined, you might even ask for a DNA sample from the knife to see if there is a match for either of my parents' DNA," Sheridan wrote. "Or the unexplained male DNA referenced in the state police report related to my parents' death."
The Somerset County prosecutor's office did not respond to an email and a phone call asking about Sheridan's letter. The New Jersey attorney general's office acknowledged receiving the letter but declined to say anything further. And a lawyer representing Bratsenis in Connecticut declined to comment in response to questions about whether his client had taken part in the murder of Galdieri, knew John or Joyce Sheridan, or was involved in the couple's deaths.
When talking about the deaths of his parents and the possibility that Bratsenis might be connected, Mark Sheridan chooses his words carefully. He knows of nothing that establishes a clear connection between Bratsenis and either of his parents, he explains. But like a lawyer making an argument before a judge, he says he believes it is "reasonable, frankly" to ask for a comparison of the knives. Then he adds a remark with an edge: "Go get the knife, at least find out, at least do a little investigating that you didn't do the first time around."
Blunter language emerges from behind Sheridan's lawyerly phrasing when he talks about the work the local authorities did in 2014. "It was pathetic," he says of their examination of the case. "There was not an investigation. They arrived at the scene at 6 a.m., and by 10 a.m. they were out of the house, done, left, concluded what they concluded, and that was it."
Investigators said Joyce Sheridan had suffered eight wounds to her head and was killed by a stab wound to her chest that perforated her aorta. John Sheridan's body bore five wounds characterized as superficial and consistent with self-infliction. One of them, according to the prosecutor's statement, caused a small perforation to the right jugular vein and would have been fatal without medical treatment.
While Joyce had three hand wounds that were said to be defensive, the statement reported, no defensive wounds were discovered on John's body. He had suffered five broken ribs, which the statement concluded were "consistent with an armoire falling on him." The elevated level of carbon monoxide in John's blood and the presence of soot in his larynx, trachea, and bronchial tree, the report said, "indicated that John Sheridan was alive after the fire was started."
Mark Sheridan sees gaps between the facts. He points to a conclusion made by Dr. Michael Baden, a renowned forensic pathologist the brothers hired, that their parents were likely murdered by an intruder. He finds unpersuasive the idea that a falling armoire broke his father's ribs: The line of the break is exactly the sort that could have been caused by a blow from the fireplace poker that ended up in the nearby bathroom. Days before the deaths, his father bought new dress shirts and suits — not the actions of a man planning his own death, Sheridan says.
In those days leading up to the deaths, the prosecutors' report claims, John was "very upset" and "withdrawn" and had "an attitude of resignation." Mark has an explanation for that, too, saying it was most likely due to the bruising political culture in New Jersey. "We pointed out all kinds of real-estate dealings that my father was standing in the way of," he says. "The Somerset County prosecutor's office and the attorney general's office laughed at us. They told us we were crazy, we had seen one too many movies, and stuff like that doesn't actually happen."
In addition to his job as the president and chief executive of Cooper Health System in Camden, John Sheridan was the board chairman of Cooper's Ferry Partnership, a nonprofit in Camden that was planning to buy and develop a large piece of property after an agreement with the state. As detailed in an investigation by ProPublica and WNYC, those plans fell apart in 2014 when a private developer expressed an interest in the same property. Emails and notes cited in that story showed that Sheridan appeared to be trying to strike a delicate balance, appeasing power brokers while Cooper's Ferry struggled to maintain control of the project. In the end, the nonprofit did not develop the property. "It was basically taken from them by politicos," Mark Sheridan says. "And it meant hundreds of millions of dollars to people."
Since the authorities finished their investigation into the Sheridans' deaths, Mark and his brothers have believed they need to take the lead in any effort to unearth new information. In 2015, Mark filed a lawsuit on behalf of his brothers, seeking to change the determination that their father had killed himself; two years later, the state medical examiner amended John's death certificate, changing the manner of death from "suicide" to "undetermined." That came as a relief, but it complicated efforts to look at the information gathered by investigators. "They won't give us the investigation file because they say it's an open case, yet they're not doing anything," Mark says. "We're kind of stuck in limbo."
Before selling their parents' former home, Mark and his brothers arranged for pieces of blood-spattered drywall to be cut out and removed. Today, that material sits in storage in a lab that does private crime-scene investigations; it will remain there, preserved for the day when it might be needed as evidence.
The former FBI agents and others whom Mark Sheridan says he turned to for insight into crime solving have taught him to be prepared for that, even if it takes a decade or longer. The break in the case, if it is to come, won't take the form of a sudden, dramatic confession, they told him. Instead, it will come incrementally, perhaps starting with a seemingly innocuous detail or event of the sort that only a family member would notice. Or perhaps it will start with the arrest of someone who is charged with a serious crime, contemplates a long term in prison, and decides to start talking about old events — one criminal ready to roll over on another to save his own skin.
"That's the way you're going to learn about what happened to your parents," Sheridan says his law-enforcement friends told him. "And that's the only way you're going to learn."