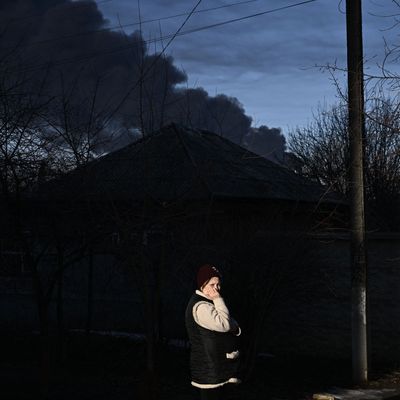 A woman stands in a street as black smoke rises from a military airport in Chuguyev near Kharkiv on February 24, 2022.
Photo: Aris Messinis/AFP via Getty Images
After Vladimir Putin announced a long-dreaded "special military action" on Thursday, Russian forces began attacking cities — the first salvos of a full-scale invasion. Hours later, dozens of Ukrainians had already been reported dead. Videos of the destruction, its aftermath, and its consequences poured in from around Ukraine and beyond. Below is some of the most striking verified footage.
Russian troops appear to take Antonov Airport, outside Kyiv:
An aerial assault on the airport:
A firefight there:
The aftermath of an attack in Kharkiv, Ukraine's second largest city:
Russian tanks roll toward Ukraine:
Civilians hide underground from Russian attack:
Russian helicopters fire at an airport (embedded in story):
Kyiv's residents rush to leave the city:
Russian troops ready to combat protests in Moscow:
A sizable Moscow protest amid notable pushback from Russians over the war:
A protest in St. Petersburg:
Keeping things light in Odessa:
Playing piano through the madness: