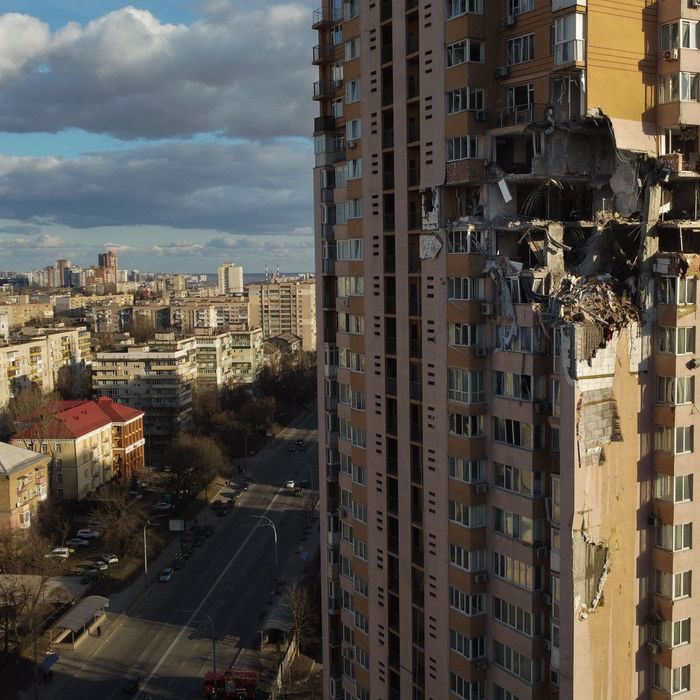 Damage to the upper floors of a building in Kyiv on Saturday after it was reportedly struck by a Russian rocket. On Saturday, Russia ordered its troops to advance in Ukraine "from all directions" as the Ukrainian capital Kyiv imposed a blanket curfew and officials reported 198 civilian deaths. Kyiv residents took shelter to the sound of explosions as Ukraine's army said it had held back an assault on the capital but was fighting Russian "sabotage groups" which had infiltrated the city.
Photo: Daniel Leal/AFP via Getty Images
Startling footage continues to emerge from Ukraine, where Ukrainian forces are attempting to repel Russia's ongoing invasion. As of Saturday night, Russian forces are still reportedly facing stiff resistance, but the battle for Kyiv is intensifying. As the Washington Post reported Saturday, it is thus far difficult to determine the scale of the bloodshed. Ukraine's health minister said Saturday that nearly 200 Ukrainians had been killed in the fighting, and 1,000 injured. It is meanwhile impossible to confirm how many casualties there have been among Ukrainian and Russian forces. Below are more scenes from inside as the country as the war rages on (some of this footage is disturbing).
Ukraine's burning energy infrastructure
An oil depot in the city of Vasylkiv was reportedly targeted by Russian missile strikes on Saturday night, resulting in an enormous fire which could be seen on the horizon from Kyiv, nearly 20 km away to the north.
A gas pipeline in Kharkiv, in northeast Ukraine, was also reportedly struck on Saturday night:
Intense fighting in and around Kyiv on Saturday night
Scenes from the western border, where countless civilians have fled
Since Russia's invasion began, more than 150,000 people have attempted to flee across Ukraine's western border to Poland, Hungary, Moldova, Slovakia, and Romania.
Reuters filed a report on that family's heartbreaking story.
Missile strikes an apartment tower in Kyiv
New York Times visual investigator Evan Kill passed along this compilation of verified footage of the Saturday-morning strike itself, as well as the aftermath:
Video of a purported Stinger missile striking a Russian helicopter in southern Ukraine
Ukrainian civilians confronting and heckling Russian troops
In this dramatic video recorded Saturday, civilians can be seen trying to stand in the way of a column of Russian tanks driving through the city of Bakhmach in northern Ukraine:
It's not clear when or where this video was recorded, but it purportedly captures a light moment when a Ukrainian driver comes across Russian troops near a military vehicle which has run out of fuel — and asks them if he can tow them back to Russia:
In this video, a man chides Russian soldiers for telling him he can't videotape them, explaining that Ukrainian law allows it:
Another widely shared video, recorded Thursday, shows a Ukrainian woman cursing out a Russian soldier in the Russian occupied town of Henichesk — and asking him to carry flower seeds in his pocket so he'll leave behind flowers after he is killed:
A driver narrowly avoids being struck with rocket fire in Kharkiv
This harrowing video was recorded on Friday afternoon in northern Ukraine:
Ukrainian civilians taking up arms
On Instagram, a CNN journalist shared this photo of a young couple in Kyiv, who had gotten married the previous day, armed with AK-47s:
Odessa rabbi offers an emotional goodbye before evacuating synagogue
The Atlantic's Yair Rosenberg captions: "Odessa was once had the third largest Jewish population in the world. Then came pogroms, Stalin's purges, and the Nazi Holocaust. The city, once half Jewish, had fallen to 6 percent Jewish by the time the Soviet Union collapsed. And now this."
A scary scene on a Kyiv highway
Some of the most widely shared videos Friday captured a caterpillar-tracked military vehicle running over a civilian car in Kyiv's northern Obolon district. It is not yet confirmed who was driving the possibly Ukrainian vehicle or why they seemingly targeted the car. Videos taken immediately afterward showed residents attempting to free the driver, who survived:
Doomed Ukrainian border guards telling off a Russian warship
Another remarkable recording captured the defiant last stand of Ukrainian border guards on Snake Island, a tiny outpost in the Black Sea, when they were confronted by a Russian warship on Thursday. In the audio recording, the Russian warship can be heard asking the guards "to lay down your arms and surrender to avoid bloodshed and unnecessary deaths" — to which the Ukranians respond: "Russian warship. Go fuck yourself."
Reports initially suggested the warship then fired on the outpost, killing the guards, but they were in fact captured.
A panicked scene at a train station in Kyiv
There was also this scary scene as residents of Kyiv tried to flee by train:
A firefight on a bridge in Kyiv
This footage shows Ukrainian servicemembers engaged in a firefight on a bridge in Kyiv on Friday:
Residents of Kyiv try to escape over a blown bridge
A bridge north of Kyiv which locals said that Ukrainian forces destroyed to slow the Russian advance:
Ukraine's president continues to speak out from Kyiv
And after night fell in Kyiv, Ukrainian president Volodymyr Zelensky released a video showing he had not left the city:
In the dark, the sounds and flashes of war in Kyiv
Elsewhere on Friday night in the city, which is home to nearly three million people, gunfire and explosions could be heard:
A big explosion in Mykolaiv
Videos have emerged showing at least one overnight Friday near Mykolaiv in southern Ukraine:
The aftermath of a battle in Kherson
And elsewhere in the country, this CNN reporter gave a tour of the aftermath of fight Thursday for a bridge in Kherson, which is in southern Ukraine near Russia-held Crimea:
This post has been updated throughout.