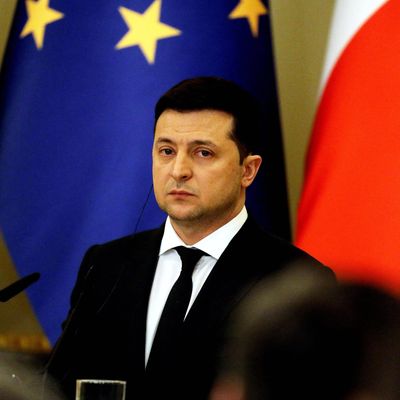 Haha?
Photo: D Jacovides-Pool/SIPA/Shutterstock
In a relatable moment for anyone who has struggled with tone, Ukrainian president Volodymyr Zelensky, a former professional comedian, had to clarify that he was kidding when he claimed a Russian invasion was coming on February 16.
Zelensky's comments, made in a video posted to Facebook, briefly sent markets tumbling — after which his team scrambled to clean them up.
As the U.S. and European allies continue to issue increasingly dire warnings about Russia's intentions, Zelensky has notably downplayed the threat, even chiding the Biden administration for hyping up the possibility of an invasion. His joking remarks seemed to be making light of all the doomsaying; a spokesperson told NBC News that "the president referred to a date that was spread by the media." According to the outlet, "observers said Zelensky appeared to have been sarcastic to those who watched his video." So he can blame the media for getting this one wrong, too.
Part of the problem is that many indications actually do point to imminent violence. Though Russia's foreign minister endorsed the idea of more diplomatic talks on Monday, the country's military continues to mass troops and sophisticated weaponry around Ukraine's borders. On Monday afternoon, the U.S. announced it would temporarily close its Kyiv Embassy and move diplomats to the western city of L'viv — a move Zelensky had said would be a mistake. U.S. officials have identified Wednesday the 16th as a possible day Putin could strike, making Zelensky's faux warning about that date even less clear.
Maybe he should stick to the classics, like "Take Crimea, please."