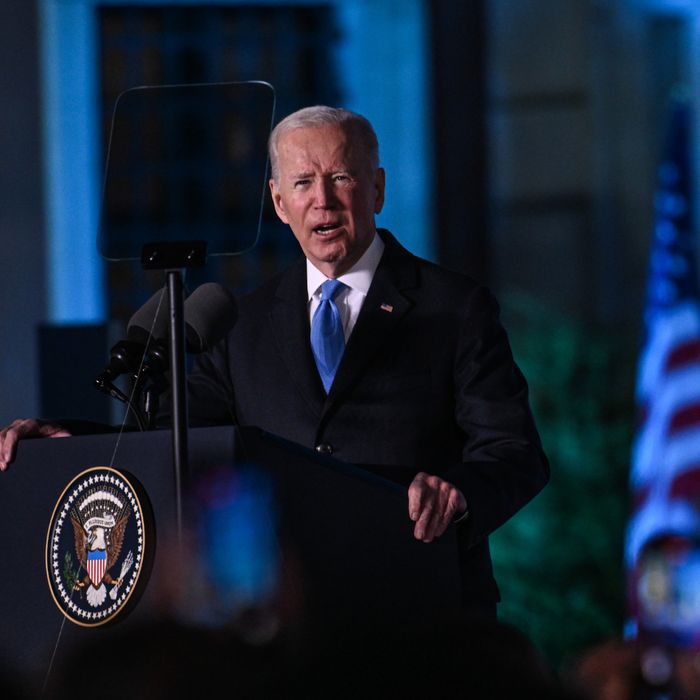 Biden during his speech on Saturday night at Warsaw's Royal Castle.
Photo: Omar Marques/Getty Images
During a major speech in Warsaw, Poland, on Saturday, President Joe Biden said that Vladimir Putin "cannot remain in power," appearing to endorse regime change in Russia, though the White House quickly tried to walk back the apparent ad lib.
In a nearly 30-minute address, Biden rebuked Russia's unprovoked invasion of Ukraine, repeatedly attacked the Russian president, and ridiculed the Kremlin's stated rationale for the war. He said the U.S. stood with Ukraine, reaffirmed the need to defend democratic values around the world, and called the international response to Russia's aggression and "the forces of autocracy" the "test of all time."
"The battle for democracy did not conclude with the end of the Cold War," Biden said, emphasizing that it "will not be won in days or months, either." That was just one of the ways the president tried to frame the current crisis as a continuation of Soviet-style oppression. He began and ended his remarks by quoting from Pope John Paul II's first speech ("Be not afraid"); warned Putin not to test NATO's will to defend itself ("Don't even think about moving on one single inch of NATO territory"); and attempted to reason with ordinary Russians ("Let me say this, if you're able to listen: You, the Russian people, are not our enemy").
Then in the finale of the speech, Biden called for Putin to be removed from power — as highlighted below in bold:
A dictator bent on rebuilding an empire will never erase a people's love for liberty. Brutality will never grind down their will to be free. Ukraine will never be a victory for Russia, for free people refuse to live in a world of hopelessness and darkness. We will have a different future, a brighter future, rooted in democracy and principle, hope and light. Of decency and dignity and freedom and possibilities. For God's sake, this man cannot remain in power. God bless you all. And may God defend our freedom, and may God protect our troops.
Though it seemed pretty clear what Biden meant by the remark — which instantly became a major international news story — the White House quickly attempted to dilute it. "The president's point was that Putin cannot be allowed to exercise power over his neighbors or the region. He was not discussing Putin's power in Russia, or regime change," a White House official claimed in a statement.
According to the Washington Post, the comment was likely made by mistake, particularly since the Biden administration has, up to this point, deliberately avoided even implying it hoped there would be regime change in Russia:
Biden's line was not planned and came as a surprise to U.S. officials, according to a person familiar with the speech who spoke on the condition of anonymity to discuss a sensitive situation … White House officials were adamant the remark was not a sign of a policy change, but they did concede it was just the latest example of Biden's penchant for stumbling off message.
On the other hand, as the Post notes, Biden has been never been shy about personally condemning Putin, and that has only escalated in recent weeks — including calling the Russian president a "murderous dictator":
It also is in line with Biden at times articulating policy before his aides are ready. Last week, he called Putin a "war criminal," which White House aides quickly said was simply him "speaking from the heart." But within a few days, U.S. policy changed as Blinken also called Putin a war criminal and released a formal assessment on war crimes committed by Russia.
At The Atlantic, Tom Nichols called Biden's comment a potentially consequential unforced error:
What Biden was doing, of course, was being Joe Biden. He was speaking for all of us, from the heart. One of the more endearing things about the president — at least for those of us who admire him — is that he has almost no inner monologue and regularly engages in the kind of gaffe where a politician says something that is impolitic but true.




This was not the time for such a moment, and even those who think Biden has exhibited sterling leadership during this crisis should admit that the president's remarks were an unforced error … Biden's comment was poorly timed, too, because Russia's high command seems to be preparing for a face-saving retrenchment in Ukraine.
It's not clear what impact the remark will have in Russia. On Saturday, a Kremlin spokesperson simply rejected the comment: "That's not for Biden to decide. The president of Russia is elected by Russians." Near the time of Biden's speech in Warsaw, Russia conducted missile strikes in the Ukrainian city of Lviv, close to the country's western border with Poland. It's unlikely the attack's timing was a coincidence.
During a press conference in Israel on Sunday, Secretary of State Antony Blinken tried once again to clarify the official U.S. stance. "I think the president, the White House made the point last night that, quite simply, President Putin cannot be empowered to wage war or engage in aggression against Ukraine or anyone else," he said. "As you've heard us say repeatedly, we do not have a strategy of regime change in Russia or anywhere else, for that matter. In this case, as in any case, it's up to the people of the country in question. It's up to the Russian people."
Before his big speech on Saturday, Biden visited with some of the millions of Ukrainian refugees who have fled to Poland. He told reporters that he was impressed with the "depth and strength of the human spirit" expressed by the refugees he met.
Biden also called Putin a "butcher."
This post has been updated to include additional reporting and commentary.