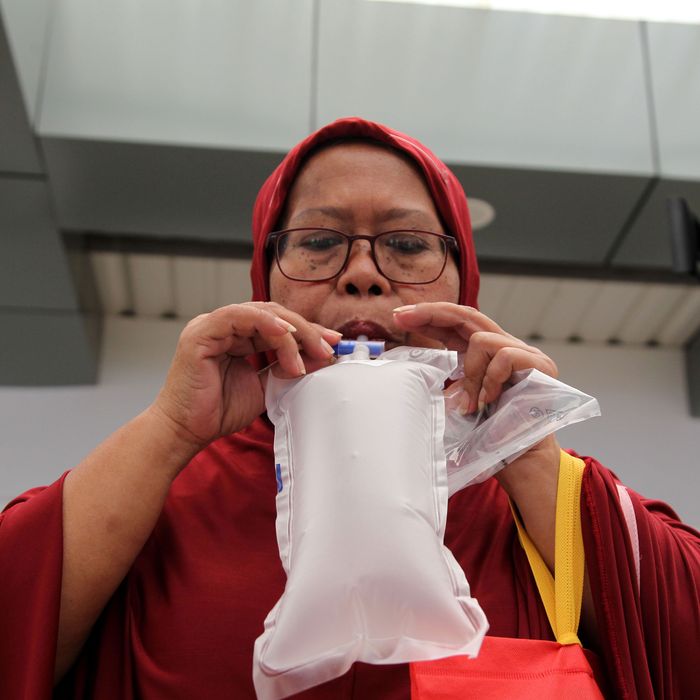 A traveler exhales into a COVID breath test in Jakarta, Indonesia.
Photo: Anadolu Agency/Anadolu Agency via Getty Images
After two years of putting swabs up our noses, the Food and Drug Administration has approved a test that can detect COVID in a breath sample, with results coming back in less than three minutes.
Developed by a company in Texas called InspectIR that specializes in portable opioid- and cannabis-detection devices, its COVID-19 Breathalyzer will be used in places where tests are collected and analyzed, including doctor's offices, hospitals, and mobile sites. According to the FDA, the device is roughly the size of a piece of carry-on luggage and can run 160 tests per day. It uses a technique called gas chromatography-mass spectrometry, which identifies chemical compounds associated with the virus that may be in a person's exhaled breath. If a test comes back positive, it should be checked with a PCR test, similar to the recommendation for rapid at-home tests.
The device was approved following a study in which the Breathalyzer identified 91 percent of positive samples correctly and 99 percent of negative samples correctly — making it roughly as accurate as rapid antigen tests. While it may take months for InspectIR to supply the nation's mobile testing sites and walk-in clinics with Breathalyzers — the company estimates it can produce 100 devices per day — it could be an effective tool to help understand the inevitable next wave of cases.