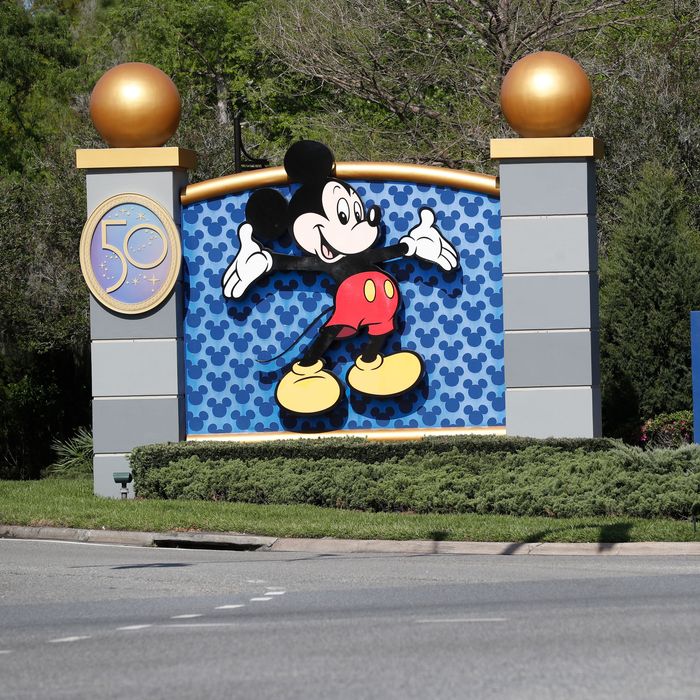 Photo: Octavio Jones/Getty Images
The 55-year tyranny of Mickey Mouse over central Florida's Reedy Creek Improvement District may soon come to an end — thanks to the Walt Disney Company's latest cultural affront as perceived by state Republicans.
This week, both houses of Florida's Republican-controlled legislature passed a law to abolish Disney's special tax district, which allows the company to maintain its own roads and operate its own fire and police departments in its 25,000 acre Disney World resort. The vote to revoke the pro-business protection comes as an apparent rebuke of Disney's (late) decision to condemn Florida's "Don't Say Gay" law, which bans public schools from "encouraging" discussion on sexual orientation and gender identity.
Passed in late March, Disney wrote in a statement that the bill "should never have been signed into law" by Governor Ron DeSantis, who has taken all opportunities to wage culture war to advance his national profile. Soon after, DeSantis claimed that Disney "crossed the line" by politely repudiating his party. The governor then feigned that he was "shocked" when he learned of the establishment in 1967 of the Reedy Creek Improvement District granting Disney the boring powers of a local government. At a press conference at the beginning of the month, he said the company "alienated" many Floridians with its "woke ideology" and claimed the "political influence they're used to wielding" is no longer as powerful. "And so the question is, why would you want to have special privileges in the law at all?" he asked. The question revealed a deeper message to corporations operating in Florida: Corporate protections for companies in the Sunshine state are dependent upon cooperation with the administration's rightward turn.
"What world are we living in right now?" Democratic state Senator Audrey Gibson asked on Wednesday. "It's the freedom state of Florida. If they disagree with the governor, he brings out the Gatling gun." Democrats have
also warned that the law could burden nearby homeowners with major tax increases if they are forced to pay off the bond debt from Disney. The bill is now headed to the desk of the governor who started this culture war front.
This post has been updated.