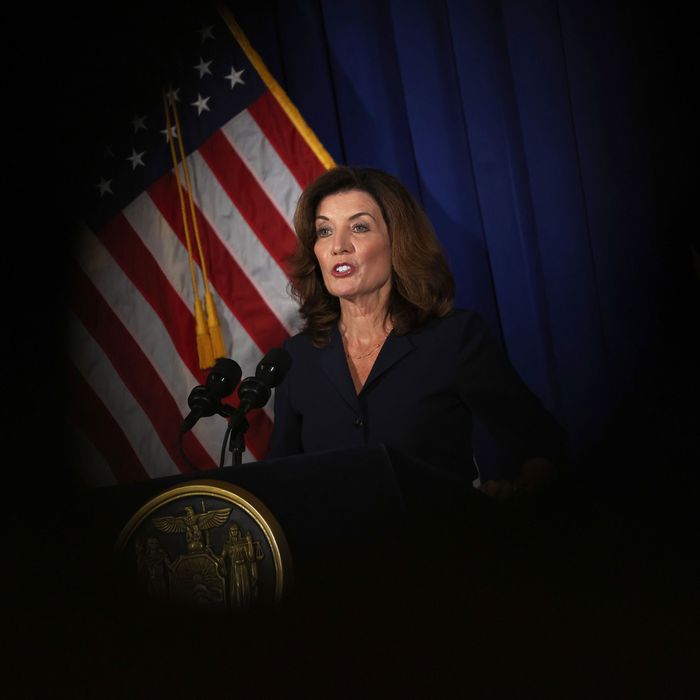 Photo: Michael M. Santiago/Getty Images
Kathy Hochul's ascent to the New York governor's mansion was a unique one, a sudden rise in the aftermath of months of allegations against and investigative reports about her predecessor, Andrew Cuomo. Following his resignation, Hochul became New York's first female governor, and she selected Brian Benjamin, a state senator from Harlem, to serve as lieutenant governor, the role she held for seven years.
But in the middle of her campaign for her first full term, Hochul once again found herself contending with a scandal involving her running mate. In mid-April, Benjamin surrendered himself to authorities, facing five federal charges including bribery. Prosecutors unsealed an indictment that alleged that, as a state senator, Benjamin directed thousands of dollars in state funds to a real-estate developer in exchange for donations to his 2021 bid to be city comptroller. Benjamin submitted a not-guilty plea and was released on bond and later resigned as lieutenant governor. That doesn't eliminate him from the ballot for the Democratic primary this summer, though, on which his name will appear next to Hochul's.
With the primary election only months away, here's a look at the few options that Hochul has at her disposal.
Changing the law
New York's election laws do not allow for a candidate to be removed from the ballot after they've been charged with a crime. A person's name can only be removed from the ballot if they were to die, move out of state, or be nominated for another office. Hochul has stated that she won't ask Benjamin to move, but in recent days she has been advocating to revise the law.
Amy Paulin, a member of the state assembly representing Westchester County, sponsored a bill that would expand the criteria that could result in a candidate's removal from the state ballot. "Under my proposal, if someone has a life-threatening illness, has been indicted for a crime, or has resigned from the office for which they are nominated, they can get off the ballot," Paulin said in a tweet. "It's not fair to voters to have someone on a ballot who isn't a viable candidate."
The proposed bill has been met with a tepid response by Albany lawmakers, with many unsure about changing the laws at this point in the election cycle.
"I really, really, really don't like to change rules in the middle of a process, and certainly in the middle of an election. She did speak to me last night and we will continue the conversation. Right now, there's no bill in the Senate," said Senate Majority Leader Andrea Stewart-Cousins, as reported by WRGB in Albany.
There have been reports that discussions about the bill have picked up this week, but it remains unclear whether such a law would take effect in enough time for Benjamin's name to be removed before the primary.
Selecting a new candidate
Just as Hochul was able to select Benjamin as her lieutenant governor, she has the ability to select a replacement for him. But that move could prove to be difficult in a scenario where Benjamin remains on the ballot. So far, with the June 28 primary date looming, Hochul has yet to hint at a possible name for a new running mate.
New York is one of several states that holds separate races for governor and lieutenant governors in which candidates campaign as an individual ticket but ultimately have to be voted upon individually. In New York's case, the races are separate in the primaries only, with the winners listed on the same ticket in the general election. This has the potential to result in a scenario where Hochul is victorious in June and Benjamin loses, leaving Hochul in the general election with a running mate she didn't campaign with.
On the Democratic side, there are two other major candidates for lieutenant governor. Ana María Archila, a progressive activist, is running with Jumaane Williams, the city's public advocate, who is challenging Hochul for the title of governor. Diana Reyna, a former City Council member and deputy Brooklyn borough president, has joined Congressman Tom Suozzi's gubernatorial bid. Both Archila and Reyna would make history if elected, becoming the first Latina to serve in that role and the first Latino ever elected to statewide office.
In an interview a day after Benjamin's resignation, Hochul was asked if she might try to align with one of her rivals' running mates. "I have not even heard that rumor, so no. This is very early in the process," Hochul said at the time.