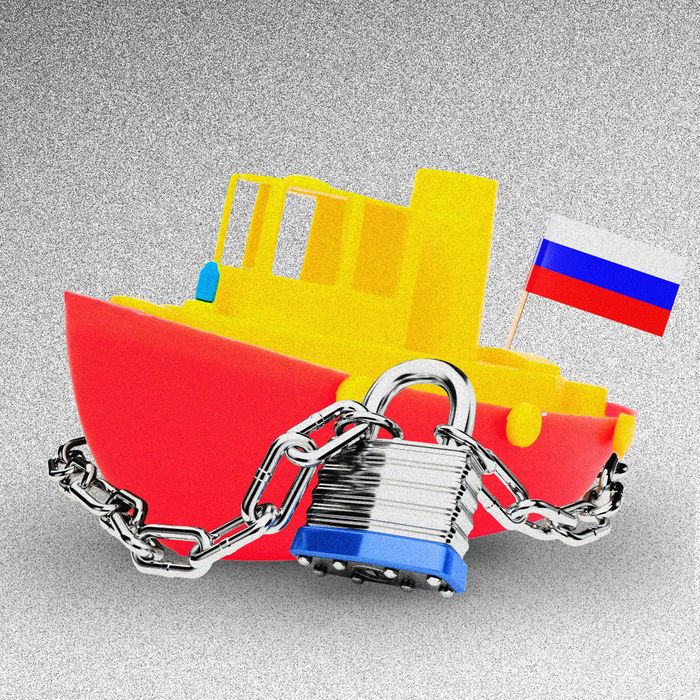 Photo-Illustration: Intelligencer; Photos: Getty Images
In early March, a European vogue for seizing Russian oligarch yachts swept the world. And then the fad stopped — until now. This morning, observers reported Spanish police and the FBI entering Tango, a yacht docked in the stunning harbor of Palma de Mallorca. Tango is owned by Viktor Vekselberg, a friend of Russia's president, Vladimir Putin. Here, to our knowledge, are all the boats seized so far in response to Russia's invasion of Ukraine.
Tango
Owner: Viktor Vekselberg.
Seized by: The United States, in its first high-seas adventure, in cooperation with Spanish authorities, who have become experts in the taking of big boats. The U.S. sanctioned "Kremlin insider" Vekselberg, who has a U.S. green card and residences in the New York City area, in early March. It's also after his plane, an Airbus A319.
On: ~ April 4.
Current location: Palma de Mallorca, Spain.
Ragnar
Owner: Vladimir Strzhalkovsky.
Seized by: It's not technically seized, and its owner is not on the E.U. sanction list even. But the big sleek boat is in Norway and everyone is refusing to give it fuel. So it's … stranded? Beached?
On: March 16.
Current location: Narvik.
Crescent
Owner: Igor Sechin, most probably (people like to say Putin owns this boat, is why we say that). Former Putin deputy and former head of Russian state oil company; also, he's single!
Seized by: Spain.
On: Possibly March 4, but widely announced March 16.
Current suspected location: Tarragona, Catalonia.
Lady Anastasia
Owner: Alexander Mikheyev. Runs the helicopters division of a subsidiary of Rostec; the yacht just survived an attack last month by a Ukrainian sailor. He told the crew to abandon ship and then tried to sink it. "I don't regret anything I've done," he said. (He was arrested.)
Seized by: Spain.
On: March 15.
Last location: Calvia, a Mallorca marina.
Valerie
Owner: Sergei Chemezov. KGB man, Putin pal from Dresden, CEO of Rostec; barred from entering the U.S. since 2014 (whom among us).
Seized: March 14.
By: Spain.
Location: Barcelona.
Sailing Yacht A
Owner: Andrey Melnichenko. Made his riches in banking and fertilizer; certainly a billionaire; once hired Jennifer Lopez to do a private concert for his wife's birthday. Has another extremely large boat, the Motor Yacht A, which we're keeping an eye on.
Seized: ~March 11.
By: Italy.
Suspected current location: Trieste.
Lady M
Owner: Alexei Mordashov. They like to call him Russia's richest man, because he probably is (we say "probably" because Putin kind of owns everything); has another very nice boat, Nord, but it's in Seychelles, where it won't be grabbed … at this time.
Seized by: Italy.
On: ~ March 4.
Suspected current location: Imperia.
Amore Vero
Owner: Igor Sechin. Sometimes you need two boats, after all. (Then you have none.)
Seized by: France.
On: March 3.
Current location: La Ciotat.
Lena
Owner: Gennady Timchenko. When your friend (Putin) gives you a license to enrich yourself in the oil trade, what could go wrong? Besides being sanctioned since 2014.
Seized by: Italy.
On: ~March 5.
Current location: Sanremo.
Dilbar
Owner: Alisher Usmanov.
Seized by: Germany.
On: March 3 (?).
Current location: Hamburg?
Status: Dilbar is either seized or frozen; at the very least, the staff (96 of them) wasn't able to be paid and so the boat is effectively impounded no matter what.