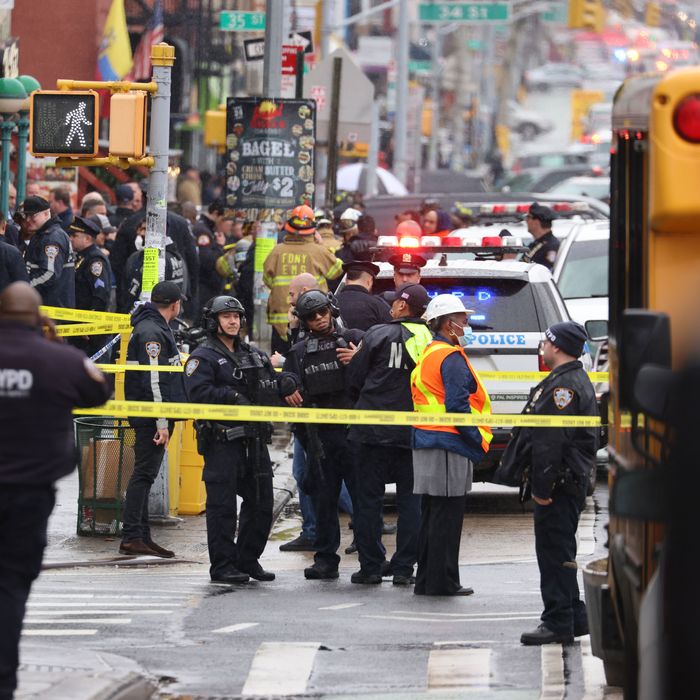 New York City Police and Fire Department officials on the scene of the shooting.
Photo: Justin Lane/EPA-EFE/Shutterstock
After a daylong manhunt, police said Wednesday they have apprehended the man who allegedly opened fire inside a train car in Brooklyn on Tuesday, unleashing the bloodiest attack on the subway in recent memory.
Frank James, 62, was arrested after he reportedly told police where he was in Manhattan. He was hit with terrorism charges by Brooklyn federal prosecutors under a terrorism statute and faces up to life in prison for the attack that wounded ten people and injured dozens more. His motive is not clear, but he made disturbing social-media posts prior to the attack about Mayor Eric Adams and New York City.
New York's most-wanted man somehow evaded capture for more than 30 hours, then practically turned himself in a bizarre final twist to an inexplicable rampage. Authorities struggled to conclusively link James to the attack, until Wednesday morning when they upgraded him from a "person of interest" to suspect. At 10:20 a.m., authorities issued a citywide alert with his name, age, and description. Hours later, police said they received a tip that James was at a McDonald's in the East Village. When officers arrived, he was already gone. Just a block away on First Avenue, a security-camera installer named Zack Dahnan saw James openly walking down the sidewalk. "I told the police, this is the guy! Catch him! Catch him!" Dahnan said during an impromptu press conference later.
Officials pieced together the most detailed timeline yet of the attack during a press conference announcing James's arrest. Early Tuesday morning, he drove a rented U-Haul from Philadelphia to Brooklyn. After exiting the van dressed like a transit worker in a reflective vest and jacket, he boarded a Manhattan-bound N train. Just before 8:30 a.m., after the train left the 59th Street station, James is accused of throwing smoke grenades inside the second car from the front of the train. He then is accused of firing 33 shots with a 9-mm. Glock handgun as smoke filled the car. When the train pulled into the next station at 36th Street in Sunset Park, straphangers barreled out, coughing and bleeding on the platform.
At the same time, police said, James crossed the platform to another train that pulled out of the station moments later. He exited the system at the next stop and melted into the city, but not before leaving behind a trove of evidence, including the pistol that was traced to him via a federally licensed gun dealer in Ohio that it to him in 2011. Despite a lengthy criminal record involving charges in New York and New Jersey, officials said he had never been convicted of a felony that would have barred him from legally purchasing a firearm.
Mayor Adams, who is isolating in Gracie Mansion with COVID, broke the news of the gunman's arrest. "My fellow New Yorkers, we got him. We got him," the mayor said before city and federal officials detailed how it happened. A day earlier, Adams inveighed against what he called a "cult of death" that allows so many people to be shot.
The FBI suggested it might have been worse. Federal agents executing a search warrant on a storage unit belonging to James and an apartment in Philadelphia where he resides found a magazine and ammunition for an AR-15-style rifle, according to court papers. Agents said they did not recover such a rifle, which has been notoriously used in mass shootings across the country.
On Tuesday, eyewitnesses described how a routine part of the lives of millions of New Yorkers suddenly became a nightmare.
Hourari Benkada was headed to his job at the New Yorker Hotel in midtown when he boarded the train at 59th Street. He told CNN he took a seat next to the gunman and fled to the other end of the car with dozens of passengers when the smoke grenades went off. "I couldn't see after the smoke bomb and then I got hit on my knee," Benkada said in a separate interview with the New York Daily News, where he recounted shielding a pregnant woman from gunfire. "We were trying to break the door, and the train took forever to reach the station," he said. An emergency-call button didn't work either.
Fitim Gjeloshi was in the same car where he noticed the suspect muttering in the corner. "I looked at him, and I thought to myself he was talking to himself for like a while, so I looked at him, and I was like, this guy must be on drugs," Gjeloshi told the New York Post. "He opened one of his gas tanks, and he said, 'Oops, my bad.' He pulls out an axe, he drops it, he takes a gun out, he starts shooting."
That's when, in an adjoining car, WNYC journalist Juliana Fonda heard "loud pops" and noticed a commotion. "The reaction of the passengers was terrifying," she told Gothamist. "They were trying to get in our car, away from something happening in the back of the train." Fonda described passengers banging on the locked door as the train hurdled forward.
Riding a few cars over were Daniel Gamz and Johnathan Muravick, headed to class at Brooklyn Technical High School. When they reached 36th Street, they said the conductor told passengers over the loudspeaker to get off immediately. As they exited, Muravick saw a man limping away, holding his leg. "We didn't know there was a shooting at first; I thought someone had a stroke or something," Gamz said. They and others fled aboard an R train across the platform thanks to "a quick-thinking motorman and conductor," AM New York reported.
Raymond Chiodini, a photojournalist, was riding on that R train when it pulled into the station seconds after the attack ended. When the doors opened, he saw wounded passengers on the blood-slick platform and pulled an injured man by the hood of his sweatshirt into the train before it took off. "A surprising amount of the victims were up and awake and cognizant and talking or screaming — or in agony," Chiodini said. Then he began taking photos.
Meanwhile, other eyewitnesses recorded the aftermath with their phones.
Fernando, a 70-year-old Sunset Park resident, saw people running out of the station, including one man who was visibly bleeding from his leg. "It's crazy, totally crazy," he said in disbelief.
Much of Sunset Park remained locked down hours after the attack ended, with helicopters swirling above and Fourth Avenue choked by countless police vehicles and fire trucks. Nearby schools were locked down, but students and teachers could be seen peering through the classroom windows. Train service remained suspended for hours, leaving one resident to wonder how he would get to work without the subway.
— With additional reporting by Nia Prater. This post has been updated throughout.