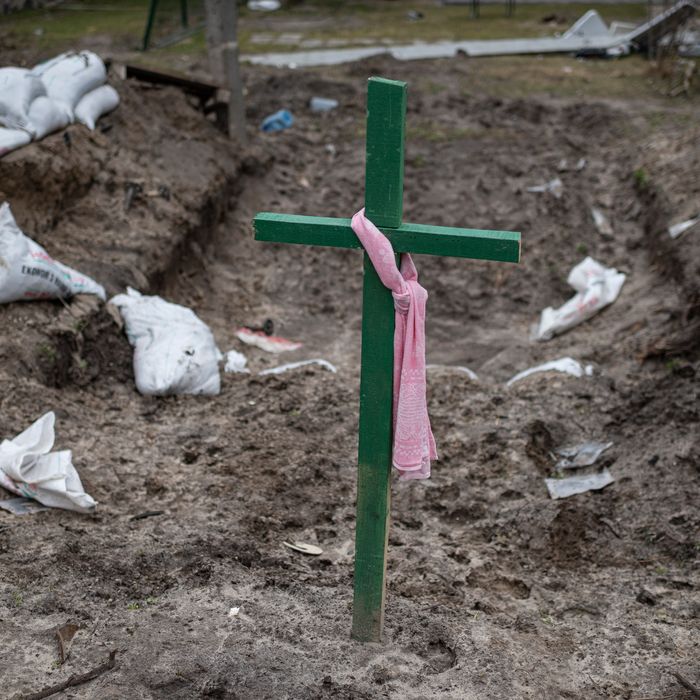 A green cross stands above an abandoned military vehicle position where locals buried four people, on April 5, 2022 in Bucha, Ukraine. The Ukrainian government has accused Russian forces of committing a "deliberate massacre" as they occupied and eventually retreated from Bucha, 25 km northwest of Kyiv. Dozens of bodies have been found in the days since Ukrainian forces regained control of the town.
Photo: Alexey Furman/Getty Images
A stream of horrifying footage and reports has emerged from Ukraine since Russia invaded on February 24, but mostly from areas not under occupation, such as Mariupol in the south and Kharkiv in the east, both of which have been pounded by Russian air and artillery strikes. Over the past week, as Ukraine has regained control of most of its territory in the country's north and some in its south, a fuller scope of Russia's apparent war crimes has come into view, most infamously in Bucha, outside Kyiv. Below, a look at some of the atrocities and abuse allegedly committed by Russian forces.
The nightmare in Bucha
What happened to civilians in the town of Bucha has already prompted widespread international outrage as well as a push to implement additional sanctions on Russia and calls, including from President Biden, to prosecute those responsible for war crimes. As many as hundreds of civilians appear to have been killed in the town, which is northwest of Kyiv, while it was occupied by Russian forces. After the Russians withdrew last week, video footage showed a street littered with bodies, most of whom appeared to be civilians who had been dead for a long time — their corpses simply left where they had been killed. Some of the dead had their hands tied and had been shot in the head. Multiple bodies were found by a building that Russian forces had used as a base. They were captives who had been executed. The stories locals have shared are harrowing. Per The Wall Street Journal:
"Valentina Ivanovna was shot near that house," said an elderly woman, indicating an apartment stack. Neighbors pushed close and said they had heard Russians shooting, mostly at night when they hid in their homes. Others said Russian troops worked from a base at 144 Yablonska St., where killings happened at night. "There are six dead people in my yard," said a woman. "They were buried because we were not allowed to take them somewhere."




Onto a rise past a grassy basketball court, a row of bodies was visible in a hole in the ground through a slit in a concrete carapace, eight or nine torsos wrapped in plastic, faces newly lifeless, yet to gray in decay. A man looking on said that he and others had found a woman dead behind her bullet-riddled apartment door. Down the road from city hall, behind St. Andrew's Church, a hole held a pile of bodies, thrown any which way. From the dirt tossed upon them appeared an elbow, a knee, the sole of a running shoe. One body was wrapped in a plastic shopping bag, white with red roses.
The Economist's Oliver Carroll spoke with one of the survivors of a summary execution:
The events in Bucha have drawn so much attention that Russia has been trying to manufacture an easily debunked counternarrative blaming the murders on Ukraine.
The killing of a mayor and her family in the town of Motyzhyn
According to the Telegraph, Russian troops on March 23 kidnapped the mayor of Motyzhyn, a town west of Bucha, along with her family members. Last week, their bodies were found among others in a shallow grave:
Appalling photographs show the corpses of an unknown number of men and women, some of whom have their hands tied behind their backs, lying partially covered in a shallow grave. The burial pit was discovered in a forest near the town of Motyzhyn, around 20 miles west of the city of Bucha, where further mass graves have been discovered. The mayor of Motyzhyn, Olga Sukhenko, was pictured lying face down in the grave alongside her husband Ihor and their son, Oleksandr. Mrs. Sukhenko's body showed "signs of torture," according to the mayor of the neighbouring village of Kopyliv, who added that her arms and fingers had been broken. Vadym Tokar, head of the Makariv village council which neighbours Motyzhyn, said: "The bodies are still lying there, we can't get them out because there is a suspicion that they are mined."
Cluster bombs and mock executions in Chernihiv
Chernihiv, a regional capital less than 50 miles from Ukraine's border with Belarus, was surrounded by Russian troops for weeks but never fell. Per the Washington Post, locals said Russia used cluster munitions, twice shelled a hospital, and once shelled a breadline — though it's not possible to confirm whether those targets were deliberate or just indiscriminate. The Post adds that as with Kyiv and other cities, Chernihiv's outskirts became Russia's front line:
Facing stiff resistance, Russian troops were only able to encircle Chernihiv. That meant once-bucolic villages on the city's perimeter, like tiny Lukashivka, were not a safe haven. Instead, they endured weeks of fierce artillery battles punctuated by Russian cluster bombing. By March 9, Lukashivka — former population 288 — had come under control of a Russian battalion led by a man known as Titan, who residents said terrorized them with vicious beatings and mock executions …




As Russian losses in the village mounted, the violence against civilians worsened. Titan found Horbonos's father-in-law, Anatoly, 70, walking one evening. Anatoly recalled how Titan forced him to guzzle from his vodka bottle, then slammed his rifle butt into his stomach twice, rendering the old man unconscious. "We've lost 30 men today, so now you will suffer for it," he remembered hearing Titan say before he lost consciousness.
Residents gunned down in the streets of Trostyanets
Trostyanets, a spa town of about 19,000 people outside Kharkiv, was occupied by Russian forces from the first day of the invasion until Friday, when they pulled out. According to the New York Times, locals initially found the hundreds of occupying soldiers to be amiable (if confused). Then supplies started to run out and the looting began. Eventually the town came under bombardment by Ukrainian and Russian forces, and much of it is now demolished. Der Spiegel's Christoph Reuter reports that over the past week, "You're alive!?" has become a new kind of greeting among residents reemerging since the Russians pulled out of the town on Friday:
Russian controls of the population grew increasingly brutal as time passed. Those found to be carrying smartphones would lose them — in the best-case scenario. Young men were taken to the interrogation center the Russians set up at the train station and beaten. One young man — who insists that he learned the coordinates of a Russian position in the city completely by accident through a Telegram group — presumably only escaped death because his mother came and begged for his life on her knees. And because a soldier from the Caucasus felt sorry for her.




Those who were still on the street after 3 p.m. were at risk of being shot dead. A fate that befell a cyclist and a man who was running to the hospital because his wife had gone into premature labor. A 60-year-old veteran of the Soviet war in Afghanistan named Alexander Vilinsky was also shot dead because he refused to be driven out of his home by Russian troops.
Residents told the Times that most atrocities happened after separatist fighters from Donbas replaced Russian troops in mid-March. The Guardian's Shaun Walker also reports about the execution of at least two people in the nearby town of Bilka, where Russian forces positioned hundreds of vehicles:
Alexander Kulybaba, a pig farmer who protested against the takeover of his barn, was shot on the spot on 2 March, the day the Russians arrived in the village. Mykola Savchenko, a kindly electrician with a handlebar moustache, who together with his wife, Ludmyla, had six foster children, went out on the first morning to find somewhere to charge his and his wife's mobile phones because the electricity was already down. "I'm just popping out for five minutes," he told her. He never came back. Ludmyla stood outside her home weeping on Monday, holding a stamped death report from the police that explained in neat handwriting that her husband had been "brutally tortured and then killed with a shot to the heart and one to the head." An inspection found broken bones in his fingers and arms.
A math teacher tortured in Lotskyne
The Post reports on one family's story in Lotskyne, a rural village of about 2,000 residents north of Mykolaiv in southern Ukraine, which Russian forces occupied for about ten days in March before being pushed back. A 59-year-old math teacher was among some of the residents whom Russian troops took away:
Tatiana Bozhiko said they accused her husband, Serhii, of sympathizing with Ukraine's right-wing Azov Battalion. But Serhii never served in the military or belonged to any militias, she said. Tatiana suspected his real crime was that he had the most pro-Ukrainian viewpoints in town and didn't hide them. When Tatiana saw her husband the next day, his face was covered in bruises and his arm was in a sling, she said. He had been shot in the elbow. The Russians still didn't release him. "They promised me he'd be home in the evening," she said …




Bozhiko continued searching for her husband even after the Russians suddenly left the area on March 18. Her neighbors found his dead body buried the next morning. She said they spotted the grave because one broken arm was sticking up from the freshly piled mound of dirt. Serhii's corpse was so mangled that the local doctor didn't let his wife see it. Her son, Volodya, said pictures of the body he reviewed later showed that Serhii had multiple gunshot wounds and broken limbs, indicating that he was probably tortured before he was killed.