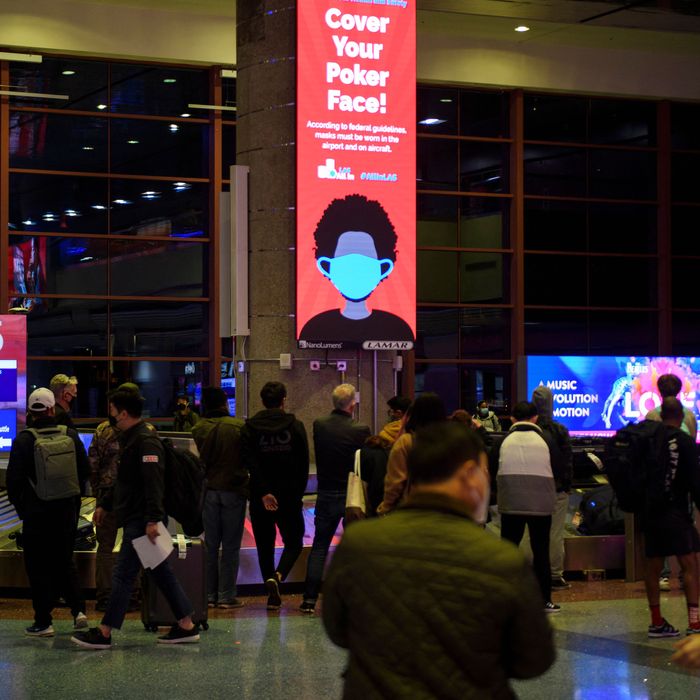 The federal mask mandate for public transportation had recently been extended until May 3.
Photo: Patrick T. Fallon/AFP via Getty Images
A federal judge's ruling on Monday striking down a federal mask mandate for airlines and public transportation has resulted in a messy patchwork of regulations across the country as businesses and authorities figure out their own ways forward absent national rules.
Several U.S. airlines, including Delta, Southwest, and United, quickly announced that they were no longer requiring face masks on their flights, and on some flights already in progress, passengers were told they could remove their masks if they wanted, prompting celebrations, confusion — and anxiety. Amtrak, New Jersey Transit, and the Washington Metropolitan Area Transit Authority have also ditched their mask requirements.
Meanwhile New York City's mandates remain largely in effect after the Port Authority and Metropolitan Transit Authority announced they would not change policies. Similarly, the mask mandate for the city's taxis and ride-sharing services remains, though Uber and Lyft have both announced that they are no longer requiring masks outside of the city, Gothamist reports. Masks will also still be required on public transportation in Chicago, Portland, and Seattle, though Atlanta is ditching their mandate on MARTA trains. In Philadelphia — despite a reintroduced indoor mask mandate last week — riders on SEPTA trains and buses will not be required to wear masks.
The Centers for Disease Control, which issued the mandate, had recently extended it through at least May 3 in light of a rise in COVID-19 cases across the country fueled by the BA.2 Omicron subvariant. The CDC continues to recommend wearing a mask while using public transportation and while inside transit hubs as well as in regions experiencing high levels of virus transmission.
On Tuesday, when asked if Americans should continue to wear masks on planes, the president replied: "That's up to them." Later that day, Health and Human Services Secretary Xavier Becerra had a different message, suggesting the administration would most likely appeal the decision. "We are right now in the process of deciding, and we likely will appeal that ruling," he said. "Stay tuned."
The judge behind the controversial ruling
The confusion followed the decision by U.S. District Court judge Kathryn Kimball Mizelle, who ruled in favor of a lawsuit brought against the CDC by the Health Freedom Defense Fund. The Wyoming-based conservative group, which opposes vaccine and mask mandates, alleged that the order first implemented by the CDC in February 2021 was "arbitrary and capricious" because some travelers, including toddlers, are not required to wear masks.
In her 59-page ruling, Mizelle wrote that federal enforcement of the mandate — in which domestic travelers without a mask can be "forcibly removed from their airplane seats" — is a form of "detention and quarantine." Because "the power to conditionally release and detain is ordinarily limited to individuals entering the United States from a foreign country," Mizelle determined that the CDC had overstepped its authority. Mizelle also said the CDC had failed to allow for public comment on the mandate, thereby violating a federal law requiring the executive branch to adhere to certain rules when it issues new regulations.
Mizelle is one of the more controversial judges Trump appointed to the federal judiciary. Named to the lifetime position at 33, she is the youngest U.S. district judge chosen by the former president, with just eight years of experience out of law school. When the announcement was made in late 2020, the American Bar Association determined that Mizelle was "not qualified" to be a federal trial-court judge because she had never tried a case after being admitted to the bar.
This post has been updated throughout.