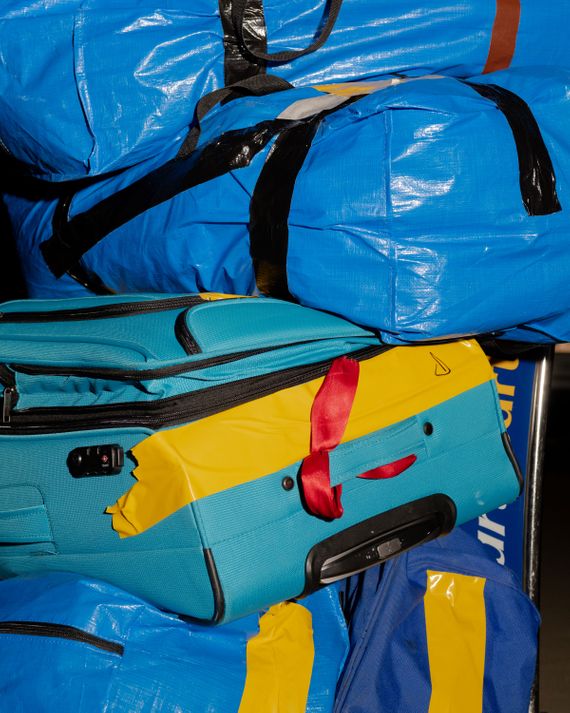 This article was featured in One Great Story, New York's reading recommendation newsletter. Sign up here to get it nightly.
In a black T-shirt that says "warrior" in Ukrainian, Ivan Sikorskyi swerves around potholes on the Queens cemetery belt in his Dodge Caravan with a silver chrome skull on the top of the gear shift. Behind him are two blue duffels and a suitcase filled with body armor, drone batteries, and tourniquets; stacked on top are three combat helmets from a stranger in Pittsburgh. Sikorsyki isn't sure how the man got his number. "People just call me and ask if I can deliver to Poland," he says.
These calls have been coming nonstop to the 33-year-old plumber since Russia invaded the country he grew up in. Two or three times a week, he takes off from his apartment in Ridgewood with a "Stand With Ukraine" sign in the window and makes this run to JFK airport, part of a network of volunteers shipping combat supplies to the front lines 5,000 miles away.
For years, Sikorskyi and others like him have been donating to Ukrainians fighting Russian-backed separatists, sending over Salomon boots and reconnaissance drones roughly once a month through commercial shipping firms such as Meest and DSV. But when Ukraine's airspace closed following the Russian invasion, he and others started fundraising on Facebook for a makeshift operation that sends dozens of checked bags with a passenger on Poland's national airline, LOT, to Warsaw. Then it's on to Ukraine by van. At first, there were some concerns about sending supplies to a warzone, but the TSA is surprisingly lenient about what goes in a checked bag, and a representative for the airline said it doesn't object.
Despite a wrong turn on the airport's maze of roads, Sikorsyki is early to the short-term parking lot of Terminal 7, and he runs off to grab a bunch of heavy-duty luggage carts. On his return, another SUV shows up from central New Jersey. Nataliya Douglas has brought ten military-surplus bags she bought on her credit card for $3,000 at the advice of her brother in Kyiv, who is coordinating with an understocked territorial-defense force of Ukrainian volunteers, who are not as well supplied as the country's standing military. She heard about this supply run only two days ago. "We're like little ants," she says. "Our antennas are up when trouble is in our homeland far away." Inside each olive-green duffel is a full kit for one soldier: a ballistic helmet, a bulletproof vest, military pants, a fleece top, knee pads, elbow pads, gloves, and a Ziploc with nutrition bars. On top lies a piece of computer paper with Bible passages in Ukrainian — "there stood not a man of all their enemies before them; the Lord delivered all their enemies into their hand" (Joshua 21:44).
More Ukrainians arrive with suitcases, including Sikorskyi's partner, Dima Topchiy, a financial analyst living in Bensonhurst who's been supplying Ukraine's forces on and off since 2014. He started a Facebook group to solicit donations from other Ukrainian Americans to fill soldiers' requests — especially the body armor he chases down on the bountiful American military-surplus market. Upon delivery, the soldiers send him photos of themselves giving a thumbs-up next to suitcases filled with just-add-water pizza meals and $1,100 Autel drones. As the fighting ramped up, similar groups began crowdfunded shipments for commercial flights out of Newark, Philadelphia, Miami, and Chicago.
In less than two hours, a total of six vehicles showed up with infrared binoculars, a handheld thermal sight, and plate-carrier vests loaded in donated and dollar-store luggage. A cardboard box with loose bags of hemostatic gauze, chest seals, and emergency burn dressings is placed on the ground. The volunteers, speaking mostly in Ukrainian, shove the small packets into suitcases with extra room in a game of wartime Tetris.
Then the woman they've been waiting for arrives. Iryna Ames, who flew six hours from central Washington, is on her way to Warsaw to help her paralyzed mother, her brother, and his two children who fled from Donetsk, in eastern Ukraine. "Old people are like trees," she says of her mother. "They have roots, and if you take them out, they can die." She will fly alone with all the bags, which are tagged with yellow tape and their final destination written in Sharpie. "I never knew these guys before," she says, pleased to meet the people who contacted her on Facebook when she posted that she was going to Poland.
After about 90 minutes, the group lugs everything to LOT's counter, tucked into a downstairs corner of the terminal. "God help us," one airline employee says when he sees the blue-and-yellow caravan headed for him. The group paid in advance for 32 suitcases at a "pretty painful" $107 per bag, according to Topchiy. One member of the group shows up late and adds four of his bags to make it an even three dozen. But Sikorskyi's team isn't alone: Two more groups of Ukranians they don't know show up at the counter towing a dozen bags each.
After Ames is through security, the crew goes outside to smoke and chat, standing in small circles with an air of accomplishment. Their conversation is interrupted by more phone calls: Sikorskyi is coordinating a pickup of body armor in Newark for another flight in less than 48 hours.
The next day, Ames lands in Warsaw on a red-eye flight she spent praying instead of sleeping. She heads to baggage claim, where her 36 pieces tagged with yellow tape and ribbons dominate the carousel. With a handful of helpers, she hauls the bags to the curb and hands them off to Arsen Drobakha, a 26-year-old Ukrainian American videographer who has been running supplies over the border for weeks. He also has had very little sleep, leaving Ukraine at 5 a.m. in a donated Fiat Ducato van with 627,000 kilometers on it.
For this run, the van is way overweight. "There's probably less than a centimeter between the wheel and the plastic bumper," Drobakha says over the phone. "Anytime I would hit a bump, they would hit." A little wear on the fender liner is the kind of concern that is overlooked during wartime. "I could have fit like ten more bags," he says. If a trip is less than 30 bags, it's not really worth the gas. He synchronizes his arrival with another flight from Miami bringing two dozen more bags and two Ukrainian women from Florida, who saddle next to him on the van's front bench. They're headed to Ivano-Frankivsk, a city in western Ukraine that's recently come under Russian attack, but he will take them only as far as his destination in Lviv.
Born in Ukraine, Drobakha moved to the United States when he was 4 and grew up in a house outside Philadelphia, where he and his older sister had to go outside if they wanted to speak English. At 23, he moved to Kyiv for an internship and met his future wife, Violetta. They and their dachshund were among the first waves of refugees to leave Kyiv. "None of my friends left, and we were made fun of for it, which is fine," he says. After a 72-hour wait in their car at the border, they holed up with another group of friends in Warsaw, where they followed the war on social media. "It felt terrible not being able to be on the ground and helping people," he says.
Untrained in combat, he realized he could pitch in by ferrying aid across the border. With his sister, Yulia, organizing luggage shipments at home, his father, Valentin, and brother-in-law, Andriy, flew from Pennsylvania to join him. Since the invasion, Drobakha has been making two or three runs each week across the border to Lviv, where the territorial-defense forces distribute the supplies to the front. Ukraine has forbidden men of military age from leaving the country, but Drobakha is allowed to travel across because he holds a U.S. passport. Among the volunteer drivers on the Warsaw-Lviv route, Sikorskyi considers the Drobakha family to be the best. "Very punctual," he says.
In the beginning, the trips were fairly smooth. Long waits leaving the country were common, but coming back in, soldiers at sandbagged checkpoints in the fields of western Ukraine waved the luggage through without much scrutiny. Recently, with Lviv facing Russian missiles, checkpoints have grown more stringent. On a delivery to a military base outside Lviv in mid-March, Drobakha missed a Russian strike by an hour. "It's a pretty surreal feeling," he says. "Sitting in traffic, it's always in the back of your head that a rocket could just drop on you at any moment."
Four hours later, after some gas-station cappuccino and kebabs, Drobakha and his two passengers from Florida make it to the border, where Ukrainian soldiers ask to see their papers, poke around the bags, and ask where the gear is going. They get through, and Drobakha drops the women at a well-stocked military compound, where much of the luggage is unloaded and their contents enter the stream of military gear heading east. Drobakha isn't sure what happens to the suitcases lifted from the spare rooms of Ukrainian Americans abroad. "They probably just throw them away," he says. There's little time to ponder such things. It's getting late, and he has two more drop-offs to make tonight before driving back to Warsaw in the morning. A man from Philly needs a ride.
This post has been updated.