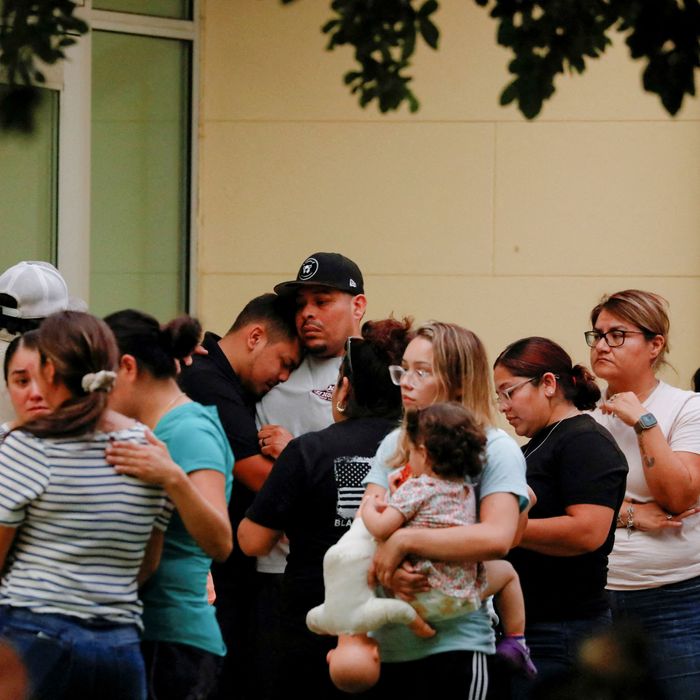 People react outside the SSGT Willie de Leon Civic Center, where students had been transported from Robb Elementary School after a shooting in Uvalde, Texas, on May 24, 2022.
Photo: Marco Bello/REUTERS
A fuller picture of what happened during the shooting that killed 19 children and two teachers at a Texas elementary school has finally begun to become clear after days of authorities laying out different timelines for the attack and having to correct the record multiple times, often leaving the public with more questions than answers. A top Texas police official acknowledged Friday that officers on the scene wrongly delayed confronting the gunman inside a classroom in the school, even though children trapped in there with him were making repeated 911 calls asking for help.
The country's deadliest school shooting in a decade began Tuesday morning, when 18-year-old Salvador Ramos shot his grandmother at a residence in Uvalde, a working-class, majority-Latino city of about 15,000 people 85 miles west of San Antonio. The gunman then drove to nearby Robb Elementary School, where nearly 600 second-, third-, and fourth-graders were finishing their last week of classes. After crashing nearby, he fired into the school, then eventually entered the building through an open door. Inside, he locked himself inside a fourth-grade classroom, where he murdered 19 students and two teachers before law-enforcement — 78 minutes after the gunman entered the school — finally breached the classroom and shot and killed him. Below, the latest on this still developing story.
.

Justice Department is investigating the police response to the shooting
The Department of Justice announced Sunday that it would conduct an incident review of the now widely criticized law-enforcement response to the attack. "The goal of the review," a DOJ spokesperson said in a statement, "is to provide an independent account of law enforcement actions and responses that day, and to identify lessons learned and best practices to help first responders prepare for and respond to active shooter events." It's not clear how long the investigation will take.
.

Bidens visit Uvalde, attend Mass, speak with victims' families
President Joe Biden and First Lady Jill Biden traveled to Uvalde on Sunday They first visited the memorial for the victims outside of Robb Elementary school, joined by Uvalde school officials, the town's mayor, Governor Greg Abbott, and Representative Tony Gonzales. The Bidens then attended Mass at the town's Catholic church, Sacred Heart, which has continued to be an epicenter for the grieving community. After, the Bidens met with victims' family members and survivors of the attack, as well as first responders.
The president didn't give any public remarks during the trip, but as the Bidens returned to their motorcade following the Mass at Sacred Heart, onlookers reportedly chanted "Do something!" at the president — and he responded, "We will."
.

Police acknowledge delaying confrontation with gunman was "wrong decision"
Officials have offered contradictory and false statements from almost the moment the attack ended Tuesday, adding to the growing furor over how law enforcement handled the incident. On Friday, Texas Department of Public Safety director Steven McCraw finally provided the first detailed, and apparently accurate, account of the attack, including the timeline and the botched police response. He acknowledged that the police commander on scene — now identified as Uvalde Central Independent School District police chief Pete Arredondo — waited too long to confront the gunman, and it's not yet clear whether the delay cost any of the victims their lives.
In a press briefing, McCraw confirmed, as a DPS official had on Thursday, that a school resource officer was not on campus when the attack began and drove to the school following reports of a shooter. The officer actually drove past the suspect, who was hiding behind cars in the parking lot as he made his way toward the building.
At 11:33 a.m., the gunman entered the building through a door propped open by a teacher who had left the school to retrieve her cell phone to report the gunshots. He fired more than 100 rounds into nearby classrooms and entered a pair of adjoining classrooms, rooms 111 and 112, where he committed his attack. Two minutes later, three Uvalde police officers entered the building. The gunman fired at them, and two of the officers received grazing wounds.
A tactical Border Patrol unit arrived at the school at 12:15 p.m. and was part of a group of 19 officers stationed in a school hallway near the classroom the shooter had locked himself in. Law enforcement eventually breached the classroom door at 12:50 p.m., after receiving keys from the janitor to unlock the door, and shot and killed the gunman.
Throughout the more than hour-long standoff, at least two children inside the classroom made numerous 911 calls reporting that multiple people had been killed — and that they and other kids in the classroom were still alive — and repeatedly asking for help. "Please send the police now," one caller said.
McCraw said the incident commander on scene, Arredondo, made a judgment call that the situation was no longer an active-shooter scenario and that they were instead dealing with a suspect who had barricaded himself in a room. That appears to mean Arredondo thought there was no one left alive in the classroom. McCraw criticized that decision. He confirmed that two kids who called 911 from inside the classroom survived, but when asked by a reporter how many children could've been saved had law enforcement breached the room sooner, he was less clear.
"I don't know," he said.
McCraw said officers did help evacuate people from the building during that span of time, but confirmed that Arredondo, whom McCraw never named, had halted the tactical unit and other officers from attempting to enter the room during this period.
"The on-scene commander considered it a barricaded subject and that there was time and there were no more children at risk. Obviously, based upon the information we have, there were children in that classroom that were at risk, and it was, in fact, still an active-shooter situation and not a barricaded subject," McCraw said. "From the benefit of hindsight where I'm sitting now, of course it was not the right decision. It was the wrong decision. Period."
Asked if the parents of children at the school deserved an apology from law enforcement, McCraw answered, "If I thought it would help, I'd apologize."
It's not yet clear whether the incident commander was aware of the 911 calls made from kids inside the classroom.
McCraw confirmed the gunman had a total of 60 gun magazines (and 1,657 rounds of ammunition) that were found in several locations including inside and outside the school, in his home, where he crashed his truck, and on his person.
.

Police Chief Arredondo had active-shooter response training
Uvalde Central Independent School District police chief Pedro "Pete" Arredondo, 50, has not been reachable since the director of Texas DPS revealed that he, as the commander on scene of the police response to the shooting, had made the "wrong" decision to delay breaching the classroom. The San Antonio Express reports that Arredondo, a 25-year law enforcement veteran who was recently elected to Uvalde's city council and was set to leave his job as police chief, did receive training in active shooter situations when he was previously a police captain, for three years, at Laredo's United Independent School District. The police chief of that department, Ray Garner, told the Express that Arredondo was an "excellent officer" and that he was involved in the department's training on active shooter scenarios. "We train (officers) to go straight for the shooters and neutralize them," Garner said. The Express also reports that Arredondo served 16 years in the Uvalde Police Department in a variety roles, and his first job in the department, in 1993, was as a 911 dispatcher.
.

Abbott "livid" about being misinformed, insists attack shows gun-control laws don't work anyway
"Yes, I was misled. I am livid about what happened," Texas governor Greg Abbott said Friday about the misleading statements from Texas law-enforcement officials — which he helped disseminate to the public — in the days following the shooting. Earlier in the week, Abbott had praised the police response, citing it as the reason the attack hadn't been worse. On Friday, after one of the state's top police officials acknowledged the botched police response and officials' false statements, Abbott insisted the information he had shared with the public was what he himself had been told. "The families whose lives have been destroyed, they need answers that are accurate. And it is inexcusable that they may have suffered from any inaccurate information whatsoever," he added.
Abbott claimed that the laws he has signed loosening gun regulations in Texas did not play a factor in what happened at Robb Elementary. "No law that I signed allowed him to get a gun," he said, then issued vague promises to mount a legislative response to the attack. On Wednesday, Abbott's Democratic challenger in the governor's race, Beto O'Rourke, interrupted Abbott's press conference on Uvalde and angrily accused him of "doing nothing" to prevent school shootings. "This is on you," O'Rourke said.
Earlier Friday, speaking in a prerecorded message to the NRA's annual convention in Houston, Abbott said he didn't think any law or limitation would have deterred the gunman in Uvalde: "There are thousands of laws on the books across the country that limit the owning or using of firearms, laws that have not stopped madmen from carrying out evil acts on innocent people in peaceful communities." He added, "In Uvalde, the gunman committed a felony under Texas law before he even pulled the trigger. It's a felony to possess a firearm on school premises, but that did not stop him, and what he did on campus is capital murder."
.

Parents pleaded with police outside the school amid the chaos and inaction during the attack
As news of the shooting got out in the tight-knit community, parents rushed to the school to search for their children and found mayhem. Angeli Rose Gomez, whose children were in the second and third grades, told The Wall Street Journal she was one of many assembled parents who urged officers stationed outside to go in. "The police were doing nothing," she said. "They were just standing outside the fence. They weren't going in there or running anywhere." According to Gomez, she was placed in handcuffs by U.S. Marshals who claimed that she was interfering with an investigation. She was able to get local police officers whom she knew to convince the Marshals to release her but saw other parents get accosted by law enforcement, including "a father tackled and thrown to the ground by police and a third pepper-sprayed." Gomez was able to get her two children out by scaling a fence herself and running inside to grab them.
.

The victims
The victims killed in the attack include 19 students between the ages of nine and eleven, as well as two teachers, both women in their 40s. In addition to those killed in the shooting, the husband of one of the teachers suffered a fatal heart attack two days after the shooting.
The dead, who have been publicly identified by family members, are listed below.
Navaeh Bravo, 10
Jacklyn Jaylen Cazares, 9, who according to her obituary, "was a free spirit that was always willing and wanting to help others. Her favorite color was sage green, she loved to sing, make videos on TikTok, and interact with her friends on Snapchat. She loved all animals but her four dogs were her world. She yearned to become a veterinarian and dreamed of visiting Paris one day."
Makenna Lee Elrod, 10, who according to her obituary, "loved to play softball, gymnastics, loved to dance and sing, play with fidgets, and spend time with her family. She was a member of the 4-H club and loved animals. Makenna made friends everywhere she went."
Jose Flores, 10, loved to play baseball and won an honor-roll certificate a few hours before the shooting.
Eliahna Garcia, 9
Irma Garcia, 48, was a teacher and mother of four who had taught at Robb Elementary for 23 years. A family members has said she died trying to shield her students from the gunman. Two days later, her devastated husband of 25 years, Joe Garcia, 50, died of a heart attack shortly after returning home from leaving flowers at a memorial outside the school. A GoFundMe set up to support their orphaned children, who are between the ages of 12 and 23, has since raised more than $2.5 million.
Amerie Jo Garza, 10
Tess Mata, 10, loved the Houston Astros and was saving money to go to Disney World.
Maranda Gail Mathis, 11, who according to her obituary, was a "sweet, smart and a shy tom boy who enjoyed being within nature and spending time outdoors. Those who knew Maranda, knew her great imagination and often expressed her love for unicorns and mermaids, especially if they were her favorite color purple."
Eva Mireles, 44, was a fourth-grade teacher at the school and mother to a college-aged daughter, according to her family. She had been co-teaching with Irma Garcia for five years, had been an educator for 17 years, and was a specialist in bilingual and special education. Her obituary is here.
Alithia Ramirez, 10, who according to her obituary, "was a smart, talented, reliable, extremely loving young lady who dreamt of attending art school in Paris. She was very reliable, always wanted to take care of everyone, and was a role model to her siblings. She also loved to play soccer."
Maite Rodriguez, 10, who according to her obituary was "was a sweet girl and those who know and loved her were blessed with her kind, ambitious, friendly and sweet soul. She was an AB honor student who enjoyed learning about animals and the ocean; especially dolphins, whales, and dogs. She dreamt of attending The University of Texas A&M in Corpus Christi to become a Marine Biologist because of her caring heart towards wildlife and the animals within it."
Annabelle Guadalupe Rodriguez, 10
Layla Salazar, 10
Jailah Silguero, 10, and Jayce Carmelo Luevanos, 10, were cousins in the same class.
Rojelio Torres, 10
Eliahna Torres, 10, who according to her obituary, "was a master of jests and loved making people laugh. At such a young age, she was nurturing and always putting others before herself. She had grown a love for playing softball and could spend hours watching TikTok videos."
.

The Gunman
Ramos legally purchased two weapons just days after his 18th birthday, according to the Washington Post, and 375 rounds of ammunition. CNN reported that seven 30-round magazines were recovered from inside the school.
The Post reports that Ramos messaged a girl in California on May 12, asking her to share photos of his guns. She reportedly didn't know Ramos and found the messages "scary and strange."
On the day of the attack, Ramos reached out again, writing to the girl, "I'm about to" and never finished the sentence. He also wrote that wanted to share "a lil secret."
Classmates told the Post that he had dropped out of high school, began wearing black, and posted about a "wish list" of guns on social media. According to those who knew him, Ramos had a stutter and strong lisp, which resulted in him being bullied during middle school and junior high school. He lashed out against peers and strangers and vandalized homes and cars with BB guns and eggs. Ramos also posted a screaming match with his mother on Instagram, and neighbors said they witnessed conflicts between the two, which included police visits to the house. A next-door neighbor said Ramos had moved to live with his grandmother a few months before the shooting.
Two hours before the attack began, one friend said Ramos texted him, sharing a meme that asked why the school was still open.
Governor Abbott said on Wednesday that Ramos had no known criminal or mental-health history and that there was no advanced warning of an attack before the day of the shooting.
But according to Abbott, Ramos posted a series of messages on Facebook just prior to the attack. Thirty minutes before the shooting, Ramos wrote, "I'm going to shoot my grandmother." He later followed that up with, "I shot my grandmother." The third post, approximately 15 minutes before he arrived at the school, read, "I'm going to shoot an elementary school."
A Facebook spokesperson posted on Twitter that the messages were "private one-to-one text messages that were discovered after the terrible tragedy occurred."
.

The deadliest school shooting in the U.S. since Sandy Hook
The attack was the deadliest school shooting in America since the 2012 massacre at Sandy Hook Elementary School in Newtown, Connecticut, which killed 27 people, including 21 children and six adults. (The gunman killed his mother separately.)
Hours after the shooting in Texas, Connecticut senator Chris Murphy, who pushed for reform after the Sandy Hook, gave an impassioned speech on Capitol Hill. "I am here on this floor to beg, to literally get down on my hands and knees to beg my colleagues: Find a path forward here. Work with us to find a way to pass laws that make this less likely," he said.
Uvalde is the deadliest school shooting in Texas, surpassing the ten killed at a high school in Santa Fe in 2018. There have been at least 30 other shootings at U.S. K–12 schools this year, according to CNN.
Tuesday's attack is also now the deadliest mass shooting in the country this year, following the ten people killed at a Buffalo, New York, supermarket ten days earlier by a self-proclaimed white supremacist targeting Black shoppers. It was also at least the 212th mass shooting this year in the U.S. in which four or more people were killed or injured, according to the Gun Violence Archive.
.

Biden: "Why do we keep letting this happen?"
In an emotional address from the White House on Tuesday night, President Joe Biden asked the question on most Americans' minds: "Why do we keep letting this happen?" He then made an impassioned call for action on guns, expressing fury that virtually nothing has happened on the national level despite an ever-growing list of bloody attacks on schools, places of worship, workplaces, and stores. "Where in God's name is our backbone?" he said. "As a nation, when in God's name are we going to stand up to the gun lobby? It's time to turn this pain into action. For every parent, for every citizen of this country. We have to make it clear to every elected official in this country: It's time to act."
"What in God's name do you need an assault weapon for except to kill someone? Deer aren't running through the forest with Kevlar vests on, for God's sake. It's just sick," he continued. "I am sick and tired of it. We have to act. And don't tell me we can't have an impact on this carnage."
Biden, who lost his wife and 13-month-old daughter in a 1972 car accident and his adult son to cancer decades later, spoke of the loss suffered by the parents of those killed in the attack.
The president and first lady will visit Uvalde on Sunday.
This post has been repeatedly updated throughout.