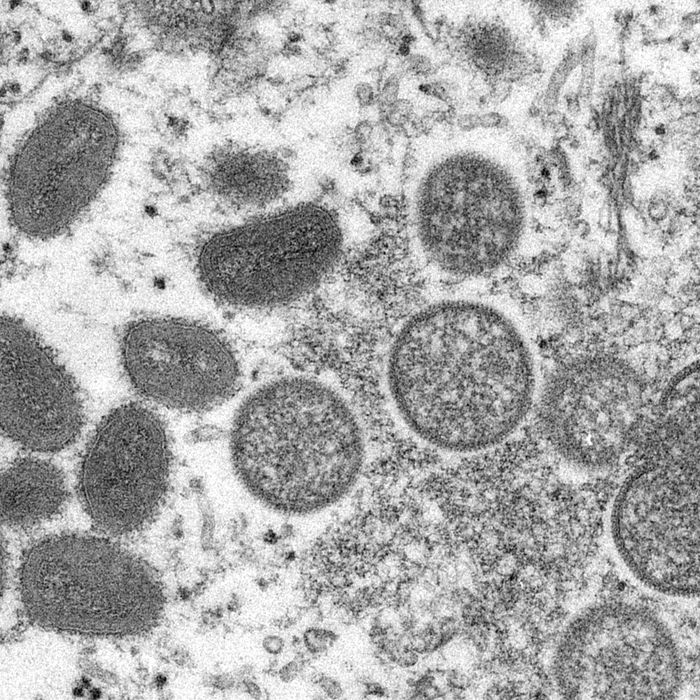 You can tell this thing is bad news.
Photo: Uncredited/AP/Shutterstock
Things have been so calm on the infectious-disease front lately. Why not throw another obscure illness into the mix?
Monkeypox, a virus usually confined to parts of Africa, is suddenly turning up around the western world. Since a case was reported in the U.K. in early May, leading to a small outbreak there, monkeypox has surfaced in more than a dozen countries, including Spain, Portugal, Italy, Sweden, Germany, Canada, Australia, and as of last week, the United States.
On Sunday, President Biden said monkeypox is "something that everybody should be concerned about," and that, "We're working on it hard to figure out what we do and what vaccine, if any, might be available for it." National security adviser Jake Sullivan told reporters that the U.S. already has vaccines available to address an outbreak, should it occur.
Europe has now confirmed nearly 100 cases, and the outbreak prompted an emergency World Health Organization meeting on Friday.
The first American case was confirmed last week in Massachusetts, in a man who had recently traveled to Canada, where authorities are investigating more than a dozen suspected cases. A New York City resident tested positive for monkeypox on Friday, according to state health officials.
Health authorities in Massachusetts said the patient there was in "good condition" and "poses no risk to the public." The New York patient is now isolating while the state waits for the CDC for confirm the case.
Monkeypox is endemic in West and Central Africa, and does not transmit easily among humans. The fact that there are clusters in so many different countries is unusual and highly suggestive of that dreaded phenomenon: community spread. The first U.K. case was seen in a man who had been in Nigeria and had developed a rash before returning. Since then, eight more cases have been confirmed in the U.K., all of them among people who had no obvious connection to the first one. The U.K. Health Security Agency said that the cases were seen "predominantly in gay, bisexual or men who have sex with men." Most of the cases seen in the U.K. have been mild, and no deaths have been reported there or elsewhere.
In a statement, Dr. Susan Hopkins, chief medical adviser at the U.K. Health Security Agency, said, "We are particularly urging men who are gay and bisexual to be aware of any unusual rashes or lesions and to contact a sexual health service without delay." There is less information about the population exposed in other countries, though the Toronto Star reported that most of the 20 suspected cases in Quebec were among gay men in their 30s to 50s.
Monkeypox, a cousin of the much deadlier smallpox, was first identified among monkeys in 1958 and in humans ten years later. The virus can spread from animals like mice and squirrels to people, as well as from human to human via bodily fluids and respiratory droplets — though usually only after close contact. It causes fever and body aches, as well as a telltale, lovely-sounding rash consisting of flat bumps that later turn into pus-filled blisters. Symptoms usually last between two and four weeks. One strain of monkeypox is highly deadly, with a fatality rate of about 10 percent; another strain, which is the one detected in the U.K., causes death in less than 1 percent of cases. Monkeypox's presence is thought to have been reduced by the smallpox vaccine's prevalence decades ago. But with smallpox eradicated, the vaccine was discontinued, and older people's inoculation-based immunity may have waned. The vaccine, which has found to be highly effective against monkeypox, could be brought back into action to combat a major outbreak.
America has seen scattered cases of monkeypox before. In 2003, a Midwest outbreak tied to travel in Ghana affected more than 70 people, though only two fell seriously ill and no one died. Last year, there were two recorded cases, both in people who had recently traveled to Nigeria.
While acknowledging that the outbreak is unusual and raises unanswered questions, experts stressed that any risk to the public is low, given monkeypox's relatively low rate of contagiousness.
Tom Inglesby, director of the Johns Hopkins Center for Health Security, told the Washington Post that "I think the risk to the general public at this point, from the information we have, is very, very low."
Reassuring words — though where have we heard that kind of sentiment before?
"I don't think people should be freaking out at this stage," Carl Bergstrom of the University of Washington told The Atlantic's Ed Yong, "but I don't trust my own gut feelings anymore, because I'm so sick of all this shit that I tend to be optimistic."