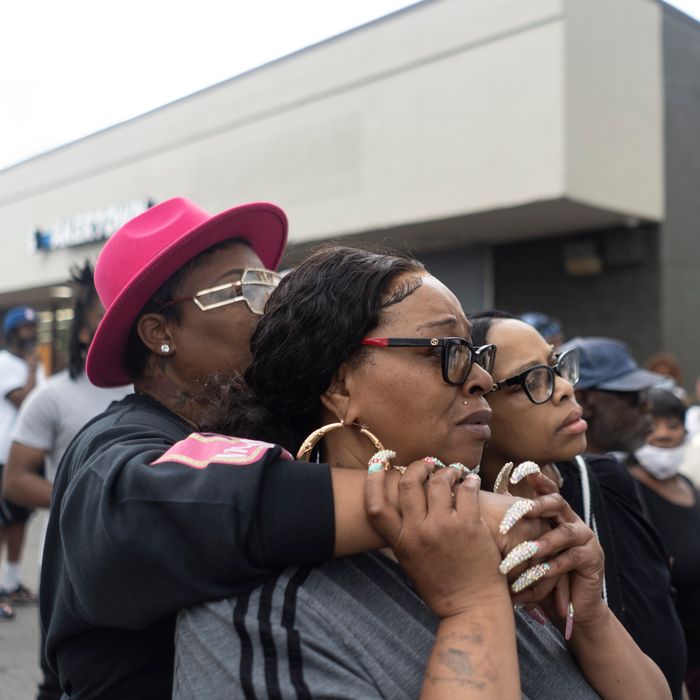 Police investigate a shooting at a Tops Friendly Market in Buffalo on Saturday.
Photo: Libby March/The Washington Post via Getty Images
Ten people were killed and three wounded on Saturday when a white-supremacist gunman opened fire at a supermarket in a Black neighborhood in Buffalo, New York. The premeditated terrorist attack was the deadliest mass shooting in the U.S. yet this year as well as the worst in Buffalo's history. Below is everything we know.
.

What happened
Ten people were killed and three wounded when on Saturday afternoon, an 18-year-old white gunman opened fire in and outside of a supermarket in a predominantly Black neighborhood in Buffalo. All of the people the gunman murdered were Black, half of whom were 65 or older.
The gunman, Payton Gendron, attacked the Tops Friendly Market on Jefferson Avenue, roughly two miles north of downtown Buffalo in the Masten Park neighborhood on the city's East Side. He had been planning the rampage for months and specifically targeted the neighborhood because the zip code had such a high concentration of Black residents — more than 72 percent — in the last census.
"This was pure evil. It was straight up a racially motivated hate crime from somebody outside of our community … coming into our community and trying to inflict that evil upon us," Erie County Sheriff John Garcia said Saturday. "This is the worst nightmare that any community can face, and we are hurting and we are seething right now," added Buffalo Mayor Byron Brown.
Police said that around 2:30 p.m. on Saturday, the gunman pulled up to the front of the supermarket, got out of his car, and began shooting people in the parking lot. He was armed with a high-powered assault rifle equipped with a high-capacity magazine. The gunman also wore body armor and a helmet equipped with a GoPro camera, which he used to livestream the attack on Twitch.
An armed security guard, retired Buffalo police officer Aaron Salter, fired at the shooter, but the bullets were stopped by his body armor. The gunman then shot and killed Salter, entered the store, and continued his massacre.
In a 180-page document packed with racist, anti-immigrant, and anti-Semitic views that the gunman allegedly published online prior to the attack, he said he was going to try to kill as many Black people as he could, and cited the so-called "Great Replacement" theory popular among white supremacists. According to the Associated Press:
Portions of the Twitch video circulating online showed the gunman firing volley after volley of shots in less than a minute as he raced through the parking lot and then the store, pausing for just a moment to reload. At one point, he trains his weapon on a white person cowering behind a checkout counter, but says "Sorry!" and doesn't shoot.
A store employee who was able to run and escape through the supermarket's back exit told the Buffalo News that she thought she heard as many as 70 shots. Those who were unable to flee the store tried to hide from the shooter. Many inside initially believed the gunshots were fireworks.
After responding police officers confronted the gunman in the entrance of the store, he pointed his rifle at his chin. Officers then convinced him to drop the weapon, after which he was tackled by police and taken into custody. Gendron was later arraigned on murder charges and remanded to custody without bail. His next court appearance is on Thursday. He is facing a federal hate-crime investigation as well.
The AR-15-style assault rifle he used in the attack had been legally obtained but illegally modified, and was adorned with a racist slur and a number that corresponds to a white-supremacist slogan. A hunting rifle and a shotgun were also found in his car.
On Sunday, Buffalo Police Commissioner Joseph Gramaglia said that the gunman had been in Buffalo — which is a three-hour, 200-mile drive from where he lives in Conklin, New York — for at least a day prior to the shooting. "It seems that he had come here to scope out the area, to do a little reconnaissance work … before he carried out his just evil, sickening act," he told ABC News. A Tops manager told ABC that she had seen the gunman the day before posing as a beggar:
Shonnell Harris Teague, an Operations Manager at Tops, said she saw the alleged shooter Payton Gendron sitting on a bench outside of her Tops store the day before the shooting on Friday around 1:30 p.m. He sat outside the store for several hours dressed in the same camouflage outfit with a camper bag on his back, she said. "He had the same clothes on, but he had camper gear on his back like he was asking people for change," Teague said.




Gendron entered the store several hours later in the evening, and appeared as if he was bothering customers, she said. Teague asked him to leave, and he did so without an argument. "I asked him can he please leave the store — you're gonna have to stand outside," Teague said. He left without an argument, she added. The next time Teague saw him, was on Saturday in the midst of the mass shooting at her store .
The gunman's parents are reportedly cooperating with law-enforcement investigators and were interviewed by federal agents on Sunday.
Governor Hochul, a Buffalo native, flew to the city from Albany soon after the attack and said at a Saturday-night press conference that "there is no depth to my outrage" over what happened. She specifically cited the fight against white supremacists in her remarks as well: "It strikes us in our very heart to know that such evil lurks out there. Yes, I'm here to console the families and the community that is feeling so much pain right now, but mark my words, we'll be aggressive in our pursuit of anyone who subscribes to the ideals professed by other white supremacists."
The rampage in Buffalo was the deadliest white-supremacist attack carried out in the U.S. since the El Paso Walmart massacre in 2019.
.

What we know about the victims
Of the 13 victims, 11 were Black — including everyone the gunman killed — and two were white. Four people were Tops employees, and the other nine were customers. The identities of the victims, who ranged in age from 20 to 86, were released by Buffalo Police on Sunday night. Five senior citizens are among the dead. These are the people the gunman murdered:
Celestine Chaney, 65, grew up on Buffalo's East Side; made suits for M. Wile and baseball caps for New Era in the city; and loved church, bingo, and her six grandchildren, all of whom she was the "primary babysitter" for when they were little, her son, Wayne Jones, told the Buffalo News.
She and her older sister, JoAnn Daniels, were shopping for shrimp and strawberry shortcake at Tops on Saturday, he said. They tried to run to the back of the store after the gunman began firing. "She fell and I thought she had got up and was behind me, but she wasn't behind me," Daniels told the News. She later learned her sister had been killed after seeing an image on Facebook that showed her body lying on the floor of the store. "She was a breast cancer survivor and she survived aneurysms in her brain, and then she goes to Tops and gets shot," she added.
Roberta Drury, 32, a customer at Tops, was living in Buffalo with her brother and his family, and the two had been rehabbing an old bar he had bought, their sister, Amanda, told the Washington Post. Roberta, who was Black, was adopted by the white Drury family when she was 18 months old. On Saturday she was shopping for groceries to make dinner. "This is just ugly on a level that as a family we can barely wrap our heads around," her sister said.
Andre Mackniel, 53, lived in Auburn but had been visiting family in Buffalo on Saturday and went to Tops to pick up a birthday cake for his son, who turned three that day. Mackniel's fiancé reportedly expressed her anguish in a Facebook post later that night: "Today is the best and worst day of my life. Today my baby was born but today my soul mate was taken. How do I tell my son his daddy's not coming home ? How do I as a mother make it ok? Someone please tell me because I really dont know."
Katherine "Kat" Massey, 72, a customer at Tops, was a staunch advocate for civil rights, education, and her community, her friend, former Erie County legislator Betty Jean Grant, told the Buffalo News. Massey occasionally wrote for two Black newspapers in the city, the Buffalo Challenger and the Buffalo Criterion, and among many letters she wrote to the editors of the News was one last year calling for more federal firearm regulations, noting that existing laws were having no effect on the city's gun-violence problems. "We lost a powerful, powerful voice," Grant said. Massey, a Buffalo native, lived with her younger sister, Barbara Massey, who told the Washington Post that she was the "glue" that held their family together.
Margus D. Morrison, 52, was picking up food at Tops for a family movie night with his wife and daughter on Saturday, his stepdaughter, Cassandra Demps, told WIBV-4. He and her mother had been together for more than 25 years and had three children. He was a school bus aide for the Buffalo Public Schools who kids called "Mr. M.", as well as a longtime former security guard. His younger brother, Frederick Morrison, told the Washington Post that he should be remembered as someone who was "a joy to be around."
Heyward Patterson, 67, worked as a jitney driver, which is why he was at Tops on Saturday. His wife, Tirzah, told the Buffalo News that he was a generous and outgoing "all-around person, with a good heart, good spirit, very mild, and a sense of humor." He was also a beloved deacon at the State Tabernacle Church of God, where he regularly worked in the church's soup kitchen.
Aaron W. Salter, 55, was a retired 30-year veteran of the Buffalo Police Department who was working as an armed security guard at the Tops supermarket on the day of the attack. He immediately opened fire on the gunman in an attempt to stop the rampage, but the gunman was protected by his body armor, and he then returned fire, killing Salter.
"I'm pretty sure he saved some lives," one of Salter's three children, Aaron Salter III, told the Daily Beast. "He's a hero."
The Buffalo News reports that in addition to his career in law enforcement, Salter was a bass player, public school educator, and amateur scientist who had partially turned his garage into a lab and was passionate about attempting to invent the world's first car engine that could use water as a fuel source.
Geraldine "Gerri" Talley, 62, was running Saturday errands at Tops with her fiancé, Gregory Allen, who she just sent up a separate aisle to get some iced tea when the gunman opened fire inside the store. Allen survived, barely. Talley, a mother of two, was killed.
Originally from Alabama, one of nine siblings, Talley had spent most of her life in Buffalo, where she had worked for companies assisting people with substance use disorder, and was well know among friends and family as a very talented baker. Her younger sister, Kaye Chapman-Johnson, told ABC News that "she was just truly an amazing woman," and that her death had left the family "destroyed."
Talley met her fiancé, Allen, about seven years ago, he told the Buffalo News, when both were working for a company that helped people with mental illness and substance use issues transition to community housing. Allen told the News that he had to duck and dodge bullets after the gunman opened fire inside Tops, but was able to get into a cooler to hide. "When I went into the cooler, the guy just went past me by like an inch," he said. "He would have shot me. I was lucky he didn't shoot me."
Ruth Whitfield, 86, a customer at Tops, was a mother of four children, including retired Buffalo fire commissioner Garnell W. Whitfield. He was among those holding vigil outside the Tops on Saturday night. He told the Buffalo News, "My mother was a mother to the motherless. She was a blessing to all of us. She loved God and taught us to do the same thing." Ms. Whitfield had spent Saturday taking care of her husband of 68 years at the nursing home where he lives, as she has for the past eight years. She then stopped at Tops to do some shopping on the way home.
Pearl Young, 77, a customer at Tops, was a mother to three, grandmother to eight, and still going to work every day as a longtime substitute teacher for the Buffalo Public Schools. She lived a life "full of giving," her brother-in-law of more than 50 years, Bishop Glenwood H. Young, told the Buffalo News. He said she was a mainstay at church, where she taught Sunday school and led youth groups.
According to the Washington Post:
The day of the shooting, Pearl Young went out to breakfast and asked to be dropped off at the Tops Friendly Market store afterward to shop. [Her son] Damon Young was planning on picking her up, and the two had been communicating back and forth. Then she stopped responding and his phone began buzzing with news alerts about the chaos unfolding at the store. "She wasn't answering, wasn't calling back," Young said.
He later learned from police that she had been shot and killed. "My mom was good," he told the Post. "She was a good person, man. She was."
Three people who were wounded in the attack, but survived:
Christopher Braden, 55, remains hospitalized in stable condition, according to the Buffalo News.
Zaire Goodman, 20, is a Tops employee who was collecting shopping carts in the store's parking lot when the attack began. He survived being shot through the neck and back, and was treated and released from Erie County Medical Center. His mother, Zeneta Everhart, is a staff member at the office of State Senator Tim Kennedy.
Jennifer Warrington, 50, is a pharmacist at the Tops store, and was treated and released from Erie County Medical Center.
.

How to help those affected by the attack
GoFundMe has set up a hub for verified fundraisers launched on the platform to help the victims' families and others affected by the attack.
.

Additional troubling details about the gunman's plans and past continue to emerge
Buffalo Police Commissioner Joseph Gramaglia told CNN on Monday morning that "There was evidence that was uncovered that [the gunman] had plans, had he gotten out of here, to continue his rampage and continue shooting people," and had "even spoken about possibly going to another store."
"He was going to get in his car and continue to drive down Jefferson Avenue and continue doing the same thing, Gramaglia said.
The evidence Gramaglia referenced was a nearly 600-page document uploaded to a file-sharing site on April 29. It apparently compiles messages he posted on Discord between November and April. According to the Washington Post, the document contained a lot of new information about the killer's plans and preparations. That included, per the Post's report, a trip to the Tops supermarket in Buffalo two months before the attack, during which he was confronted by a security guard who had noticed his suspicious behavior:
"I've seen you go in and out … What are you doing?" the guard told Gendron on March 8, according to an account in the document. Gendron replied that he was "collecting consensus data" before making excuses and leaving for his car, according to the account, adding: "In hindsight that was a close call." …




The document refers to the supermarket as "attack area 1" and describes two more Buffalo locations as other attack areas to "shoot all blacks" during an apparent reconnaissance trip that spelled out the travel paths to each one, timing needed for each shootout and the estimate that more than three dozen people would be fatally shot in all.
"Several images, including detailed sketches of the Tops store layout, were included alongside the written account of the March 8 visit," the Post added. The gunman also noted the locations and movements of the two armed security guards at the supermarket that day, and counted how many people, Black and white, were in the store. The Post was able to confirm a speeding ticket the gunman detailed receiving that same day while en route to Buffalo.
.

The gunman also made a school-shooting threat last year
In what was clearly a massive red flag, Gendron made a school-shooting threat last year, authorities said Sunday. A law-enforcement official told the Associated Press that Gendron threatened to carry out a mass shooting at his school, Susquehanna Valley High School, last June around the time of graduation. New York State troopers were called to the school as a result and took Gendron for a mental-health evaluation at a hospital. He was then released after a day and a half. Buffalo Police Commissioner Joseph Gramaglia said Sunday that Gendron had no further contact with law enforcement, since "nobody called in any complaints" about him.
Someone familiar with the investigation told the Washington Post that "the teen had been asked at school about his future plans, and replied 'murder-suicide.' It was enough to raise concerns, this person said, but not enough to take further as an investigation."
.

The killer's purported motivation
The gunman appears to have posted a 180-page document online on May 12 detailing his racist, anti-Semitic, and anti-immigrant beliefs. In the document, he claimed he was radicalized online on sites like the infamous 4chan message board, and was inspired to kill by other white-supremacist attacks around the world, including, specifically, the white-supremacist gunman who in 2019 massacred 51 people at two mosques in Christchurch, New Zealand — and also livestreamed his attack.
Like that extremist, Gendron advertised his belief in the "Great Replacement" conspiracy theory, which claims that white people are being replaced by people of color. The theory has become increasingly popular among white supremacists, racists, nativists, and others on the far right, and has even been promoted by Fox News host Tucker Carlson.
It is more than clear that Gendron — who wrote about designing and livestreaming his attack to maximize the media coverage it would get — hoped to further promote the theory and his other beliefs, as well as inspire others to carry out murderous rampages, just as he had been inspired by previous attacks himself.
The document, which was circulated on 4chan on Saturday, also included recommendations for which weapons and equipment to use to carry out similar attacks. Much of the document was plagiarized from the like-minded diatribe written by the Christchurch murderer, according to an analysis by the anti-extremist Khalifa Ihler Institute.
Gendron also had an account on the messaging platform Discord, where he posted to-do-list items in preparation for the attack, and prior to it, invited others to an online space where he posted both the Twitch livestream and the 180-page document.
.

Recordings of the killer's livestreamed video continue to circulate online, prompting criticism of social media companies
Twitch, the social-media platform where the gunman broadcasted his killing spree live, said Sunday that the video was taken down less than two minutes after the attack began. Screenshots of the stream indicate that less than two dozen people were watching the video as it aired. But as the Washington Post reports, recordings of the footage are already spreading across the internet:
By Sunday morning, videos showing the carnage had begun circulating online, including in at least one linked post on Facebook that was online for 10 hours and had gained more than 500 comments and 46,000 shares. The site where the video had been hosted, Streamable, removed it hours later, after it had already been viewed more than 3 million times.
Clips of the video have also been shared across Twitter, the AP reported Sunday, as well as a variety of video-hosting sites and extremist message boards.
Governor Hochul, in media appearances on Sunday morning, called, as she had the night before, for social-media companies to do more to combat the spread of white-supremacist ideology. "People are sharing these ideas," she said on Meet the Press. "They're sharing videos of other attacks. And they're all copycats. They all want to be the next great white hope that's going to inspire the next attack." On This Week, Hochul said that "the CEOs of those companies need to be held accountable and assure all of us that they're taking every step humanly possible to be able to monitor this information."
.

The attack targeted a Black community's epicenter in one of America's most segregated cities
The gunman allegedly chose to specifically carry out his attack in Buffalo's East Side because of its high concentration of Black residents. As the New York Times pointed out on Sunday, it got that way as "a direct result of decades of segregation and systemic racism, researchers have consistently found." One analysis based on 2010 census data concluded that Buffalo-Niagara Falls was still the sixth most segregated metro area in the country:
Segregation is also a root cause, according to experts, of why efforts to bring an economic renaissance to Buffalo have done little for Black residents. A University at Buffalo report in 2021 found that living conditions for Black residents of the city, across measures of health, housing, income, and education, had improved little and in some cases had declined over the preceding 30 years.
The Tops supermarket the gunman targeted holds a special significance for the community as well. There was no full-service grocery store in the neighborhood when the Tops regional supermarket chain opened its location on Jefferson Avenue 19 years ago, a problem community members had been campaigning to solve for more than a decade. Tops became an epicenter for the neighborhood, both for groceries in what had been a food desert, and for the neighborhood's only pharmacy — but also as a community hub.
Now the store — which the killer allegedly targeted because of its popularity, and where four employees were among the victims — is a crime scene and remains closed for the foreseeable future. That will limit access to fresh food and produce for those in the neighborhood who don't have the ability to travel to other supermarkets.
Tops has already vowed to reopen the store as quickly as possible, the Buffalo News reported Sunday, and the company says it is working to provide alternatives for the neighborhood in the meantime, including donations of food and free shuttle-bus service to another nearby Tops location. Governor Hochul has made the reopening of the store a priority as well, and the organization Buffalo Community Fridge is set to provide free food near the closed Tops starting Monday.
This post has been updated throughout.