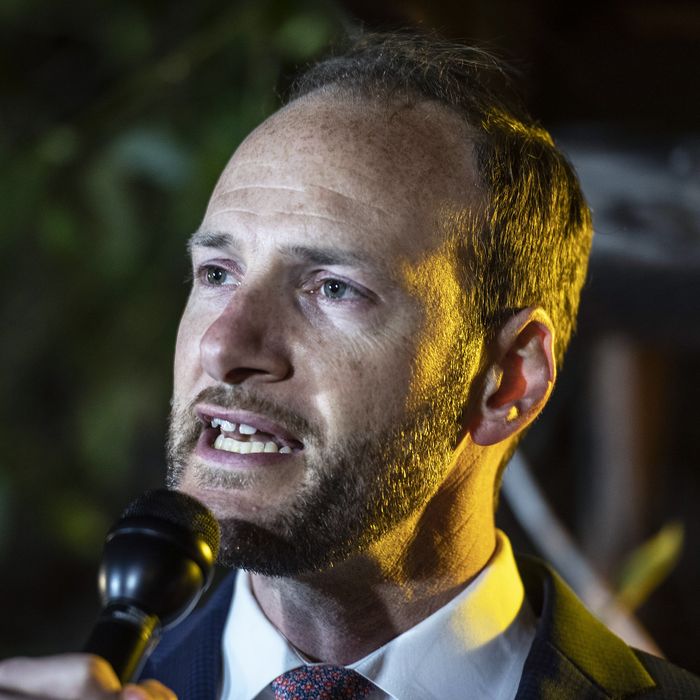 Chesa Boudin speaks to supporters after being recalled by voters.
Photo: Terry Schmitt/UPI/Shutterstock
San Francisco voted overwhelmingly on Tuesday to recall Chesa Boudin, the city's progressive district attorney, potentially dealing an enormous blow to a once ascendant criminal-justice-reform movement. In Los Angeles, on the same night, billionaire Rick Caruso won a plurality of votes with a tough-on-crime platform in the mayoral election, heading to a runoff with Democratic congresswoman Karen Bass.
Both low-turnout elections played on complex local dynamics but were clear rejections of a certain strain of liberalism that buoyed reform-oriented prosecutors across the country and sought to defund the police. Los Angeles and San Francisco, Democrat-dominated cities, were at the vanguard of such efforts. Boudin was elected in 2019 and his predecessor, fellow progressive George Gascón, moved to Los Angeles in 2020 to defeat a more conservative incumbent. But the national rise in crime unsettled both cities, with a spike in burglaries and homicides repeatedly seizing headlines and rampant homelessness and drug use that have come to define Los Angeles and San Francisco alike.
The recall vote in San Francisco was a remarkable rebuke of Boudin — 60 percent voted to pull him from office — and could derail efforts his office had undertaken that, just a few years ago, enjoyed wide support from liberals. A new DA could seek to reinstitute cash bail, curtail diversionary programs, and shy away from aggressively prosecuting police officers who abuse civilians. Across the country, candidates for DA may think twice before occupying the progressive lane that Boudin so proudly sought. It's still unclear just how far beyond the Bay Area the recall will resonate, but it was, in every sense, a backlash vote by liberals and a reflection of the dissatisfaction a wide range of residents, up and down the income ladder, felt about the San Francisco they had come to know.
Boudin was an easy scapegoat. Decades of failed housing and mental-health policies have fed a homelessness crisis in a city that was never as liberal as it appeared. The pandemic appeared to fuel deep sociological challenges that no politician or prosecutor had easy answers for. Still, his rejection reflected visible grassroots anger at both these conditions and his policies, particularly Boudin's unwillingness to bring heavier charges against shoplifters and other kinds of petty thieves that had come to define, in the popular imagination, 2020s San Francisco. Wealthy, older voters were eager to dump Boudin, as were middle-class non-white voters, particularly Asian Americans. Victimized by a surge in hate crimes, Asian voters felt Boudin had not responded properly to their plight. In 2021, Boudin drew sharp criticism for failing to describe the murder of Vicha Ratanapakdee, an 84-year-old Thai man, as a racially motivated crime. While denouncing the crime, Boudin said the defendant was "in some sort of a temper tantrum" and said there was no evidence to charge him with a hate crime. His office would later charge him with murder and elder abuse, but it wasn't enough to assuage anger in the community. Like with the school-board recall, the organizing work of Asian Americans paid off. The Asian vote, in particular, is a warning for Democrats; they are not a demographic the left can take for granted or assume will easily fall into their coalition in the future. No Republican was on the ballot Tuesday, but right-leaning candidates who speak the language of law and order will be able to campaign for their support and win.
Meanwhile, Mayor London Breed refused to support Boudin, and much of the business and tech establishment that dominates the city was ready to end his career. Breed, a center-left mayor with strong ties to the city's elite, will now own many of the festering problems voters pinned on Boudin. While Boudin's defeat, in the short term, is a victory for her administration, voters will no longer have a proudly progressive prosecutor around to absorb all of their outrage. If his replacement, who Breed will appoint, does not immediately solve the vexing quality-of-life challenges of the city, Breed's political future will rest on whether the Tenderloin is ever cleaned up or people stop breaking into automobiles. No single prosecutor can fix a city, let alone a mayor, and Breed, along with the backers of the recall, will come to understand that booting Boudin was rather easy, the equivalent of demanding a new paint job on a crumbling apartment building.
Notably, right-wing cash also materialized against Boudin, with the Republican megadonor William Oberndorf spending more than $900,000 against the incumbent district attorney. Boudin did have labor unions and outside money in support of him, but it was not enough to overcome a wave of discontent in the city. For the national conservatives who took particular joy in the travails of San Francisco's progressive wing, Boudin's defeat offers much fodder. It could, in turn, motivate right-wing donors to seek to establish recall mechanisms in other states.
The outcome in Los Angeles, though, was not so decisive. Caruso, a former Republican who developed the Grove and other popular malls in the city, unloaded almost $40 million to shoot to the top of the polls and discombobulate a sleepy race that was supposed to be Bass's to lose. Caruso blanketed the city with TV and digital ads and secured the backing of several major celebrities, including Kim Kardashian and Gwyneth Paltrow. His campaign, in many ways, represented conservative backlash: He promised to hire more cops and championed the broken-windows policing pioneered by Bill Bratton, the former police commissioner of L.A. and New York. Like Rudy Giuliani and other right-wing mayoral candidates of yore, he vowed to crack down on perceived disorder in the city.
Caruso was also able to exploit the blind spot of California's left — the belief that it is progressive, and accepted by broad numbers of people, to allow the unhoused to sleep in tents on public property. But, borrowing from some on the left in the housing movement, he also promised to build 30,000 new shelter beds, convert more hotels and motels into shelters, as well as petition the federal government to triple the number of Section 8 vouchers. He called for an expansion of permanent supportive housing and rental protections. Bass, a more conventional Democrat, had a quieter promise to add more police, too, along with ending the street encampments and building more affordable and permanent housing. In a one-on-one matchup, she can still win in November, especially if she mobilizes Black voters and the Democratic Establishment rallies firmly behind her. She will be competing fiercely with him for Latino votes. Unlike Boudin, who had no opponent, she will have all summer and fall to define what she is up against.
The collision between Caruso and Bass is likely to be bitter and attract more national attention than any Los Angeles mayoral election in recent memory. The differences between the two candidates are stark. Bass, a former chair of the Congressional Black Caucus, is the prototypical left-leaning candidate that wins elections in a city where Bernie Sanders beat Joe Biden just two years ago. She will hope a coalition of Black and Latino Angelenos, along with liberal whites, is enough to fend off Caruso, who could potentially surpass the $100 million Michael Bloomberg spent in New York to win a third term as mayor.
For Caruso, the question will be whether his messaging around crime and homelessness will resonate with many working-class voters, who  could be willing to break with a longtime Democrat to back a political outsider. His pitch is that he can improbably remake Los Angeles in the image of the beloved Grove. There could be enough voters who believe him. For progressives, 2022 could be a very precarious year.